A 'Good Wind Behind Your Back': Head Custodian Sam Tartic Shares His Story of Resilience, Focus
South Forsyth High School's 16 year-olds are typically concerned with standard teenage problems: classwork, social circles, driver's licenses, relationships and so on. 
When South's Head Custodian Sam Tartic was 16, his concerns were very different. Originally from Bosnia, Tartic's youth and education were interrupted by the Bosnian War. 
"Overnight I became a refugee," Tartic said. "I didn't know where to go, what to do, how to continue my schooling." 
He'd dreamt of learning professional photography after high school, but his life took another route – one that would lead him across oceans and borders, and finally to the steps of South Forsyth High School, where he is an integral part of running "the school that never sleeps."
The Journey
Fate and geopolitical turmoil led Tartic originally to Germany. Living there for six years, he had to adopt a brand-new culture, learn a new language and assimilate into a new environment. Tartic made the most of his experience in a new country as he developed skills and "never took no for an answer." 

"I was always handy," he said. "What my eyes see, I think I could do it. That was my mindset all the time. So, I have never taken 'no' for an answer. I will just try it."
When Tartic first came to the United States, he found himself mired in the same culture shock he'd experienced when he first arrived in Germany as a teen. 
"Again, I didn't have a chance to finish school, so I didn't know where I belonged," Tartic said. "I [had] never spoken any word of English whatsoever, so it was a really unusual situation." 
Due to his aptitude for problem solving, Tartic saw an opportunity to flip houses, which taught him a variety of valuable skills. He relied on his "handiness" to carve a path for himself in the United States as he did in Germany.
"There's a natural gift [probem solving]," Tartic said.
In 2009, he got the opportunity to work with South Forsyth High School, and eventually realized he could use his natural gifts to accomplish more around the school and improve the day-to-day lives of students.
"Exposure, Shutter Speed, and Focus"
Despite having to sacrifice many opportunities and hobbies to create a life for himself in the U.S., Tartic never gave up his passion for photography.
As a photographer, Tartic says the three basic elements to the skill —exposure, shutter speed, and focus — are the very principles that have helped him prosper through great adversity and brought him to where he is today. 
"
Photography was my first love, and I studied a little bit photography in Italy."
— Sam Tartic
Tartic explained how he applies these principles of photography to his life and his current job. Every day, he stays focused and handy as he completes tasks around the school, and he never hesitates to gain exposure to new or different situations in the field. 
"How well you expose in this life, how well you focus in this life, what's your speed of learning?" Tartic said. "Like photography, I expose myself to [new things]. So, they'll know who I am, what I'm capable of doing. And they know how fast I could deliver the final result. I'm always focused on whatever [I'm working on]."
But Tartic isn't only applying his photography skills in a metaphorical sense; SFHS has given him opportunities to use his passion in his profession. He has taken several landscapes of the campus that are hung up around the building.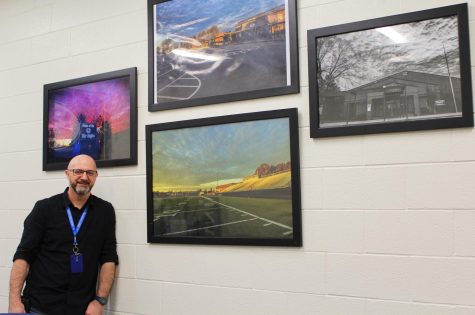 "There's some pictures that I took in the conference room," he explained. "I took some historical pictures [of South Forsyth] because before [the main hall] was built, where the tree is right now in front of the school, there was empty parking lot."
"A School That Never Sleeps"
A big part of his job, and the job of the custodial staff as a whole which many students may overlook, is that they work together to keep the school safe as well as clean.
Mr. Tartic describes how, together, the custodial staff works to "make sure every classroom is very clean and effective every day of their life," especially given that South is a "school that never sleeps." 
"
We're always in the background, but at the same time we're preparing the stage for everyone else."
— Sam Tartic
He explains how a regular school day for him starts off before sunrise with a walk around campus, followed by quick checks and formulating a plan for the day's work based on teacher and custodial reports.
"I start the day by making sure everything works perfectly, and then we have fire panels and safety panels that I have to check to see if every room is working properly," Tartic said. "Every time [a student] enters a classroom, we make sure the classroom is in the best way possible given the circumstances, and given the number of events that we have."
Much like everything else he's taken on in his life, keeping "the school that never sleeps" operational is no small feat, but Tartic says it's worth it given the resulting benefits to the community.
"My favorite part is when a student says 'thank you' to me for everything I do," Tartic said. "It makes me feel like I'm, you know, handy to society." 
"A Well-Oiled Machine"
The custodial staff as a whole work together to accomplish their goals of keeping South Forsyth safe, clean, and functional.
Tatric's fellow custodian and assistant, Sonya Lopez, describes how he was the one who first taught her "how you run the campus." She describes how she enjoys working alongside him to "give service for students, teachers, parents, [we] help everybody."
"
It means a lot when you have good wind behind your back all the time."
— Sam Tartic
Principal Laura Wilson is also a large part of the driving force that makes South's custodial team strong.  "She gives us all necessary tools to provide a job well done," Tartic said. "[The Administration has] really gave us like a green light for many things."
Tartic is proud to say the Administration's support plays a huge role in South retaining a full custodial staff, which is not typical in the current economic climate.
Although specific events could be stressful to facilitate, such as athletic events that can draw up to 2,000 people, the support Tartic receives from coworkers and the administration ensures he has nothing to fear. 
"We are ready for everything, so it's just amazing," Tartic said. "[We are] a well-oiled machine."
In addition to incredible self-motivation, Tartic's journey to South and the feats he's been able to accomplish here have reinforced for him the importance of being surrounded by the right people, no matter where you are.
"It means a lot when you have good wind behind your back all the time," he said.