iCelebracion!: South Forsyth High School Celebrates National Hispanic Heritage Month
On Thursday, Oct. 13th, Hispanic music, aromatic cultural cuisine, and friendly faces transformed the South Forsyth High School (SFHS) dining hall into a cultural celebration.
National Hispanic Heritage Month, which extends from Sept. 15th to Oct. 15th, celebrates the culture, achievements, and heritage of Hispanic Americans. In honor of this month, the National Spanish Honor Society (NSHS) put together daily Spanish trivia for South's morning announcements with a first-come-first-serve reward for the fastest and most accurate answers.
The cafeteria festival was the culmination of the efforts of NSHS President Francisco Valentinotti, Vice President Mohana Malapati, Secretary Sarah Uchida, and Communications Officer Jenan Romman. Full of students educating their peers about different Hispanic countries, the Hispanic Heritage Fair was a great way for students to gain exposure and find out about the cultures of Latin America and Spain.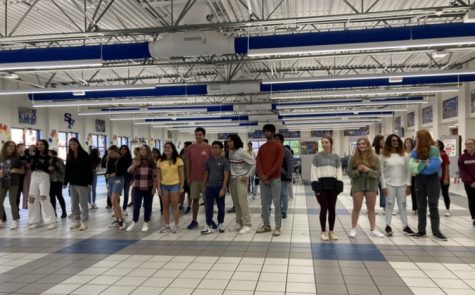 "The best thing about the Hispanic Heritage [festival] was the knowledge being shared about the cultures and the rapport amongst everyone," said Dr. Gloria Green, a Spanish teacher at SFHS. 
Members of NSHS represented thirteen Latin American countries (Argentina, Chile, Costa Rica, Cuba, Dominican Republic, El Salvador, Guatemala, Honduras, Mexico, Panama, Paraguay, Peru, Spain, and Venezuela) with food, culture, and fun mini-games. Many students and several teachers came to try out the authentic food and listen to the interesting and informative presentations.
Everyone enjoyed participating in the fun games at each presentation. Loteria, or bingo, Chaco driving (a remote-control car obstacle course), and inflatable bowling were some of the more popular activities. After approximately an hour of going through stations, the guests and hosts partied to popular Hispanic music.
"There was so much information about the different cultures, and the food was fantastic. Everyone was enjoying everything, and it was amazing," said Janyra Rodriguez-Romeu, a Spanish teacher at South.
All participants had a great time learning about different Hispanic countries, tasting the various refreshments, and dancing to the beat. It was truly an amazing way to celebrate National Hispanic Heritage Month at South Forsyth High School.