Samsung Releases New Cutting Edge S22 Models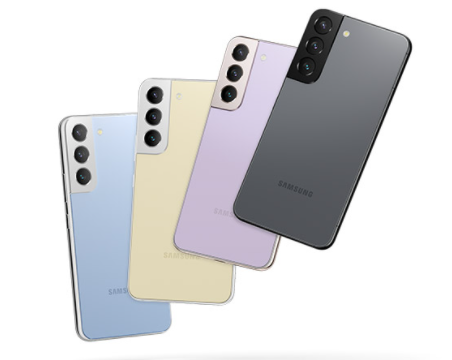 With over 300 millions phones released in just around five different series, Samsung never falls short of capturing the needs of the day-to-day smartphone. On February, 25th, 2022 Samsung announced their release of the Samsung Galaxy S22 lineup of phones to the public with an array of new features. The series was released with three phones: the Galaxy S22, S22 Ultra, and S22 Plus. 
A World of Color
All three phones came out with four options of colors: Classic Phantom White, Green, Pink Gold, and Phantom Black. However, the S22 Ultra added exclusive online colors including Graphite, Sky Blue and Red, while the S22 and S22 Plus come with the additional options of Graphite, Cream, Sky Blue, and Violet. Samsung features a IP68 waterproof lineup, allowing your phone to stay around 5 feet under water for nearly 30 minutes. Options for storage for all three phones are 128GB and 256GB, while the Ultra version also comes with a 512GB and 1TB option. 
The S22 Base Model
The S22 base model was released with a 6.1 inch screen similar to the iPhone 11 base phone. The screen is a Flat FHD+ model allowing a resolution of 1080 pixels, with 900 pixels being the lowest resolution allowed to deem a screen high definition. The screen also incorporates an Ultrasonic Fingerprint Face Recognition feature, allowing quick and easy secured access to the phone. The phone is featured at 1300 nits, which allows the phone to reach peak brightness and a 120 Hz refresh rate embedding a smooth and swift display experience. With its armor aluminum frame and Corning Gorilla Glass, Samsung insures maximum durability. The front camera features a 10 megapixel camera and on the back sits a 12 MP ultra wide camera, a 50MP wide angle camera and a 10MP telephoto camera all equipped with 30X space zoom. This phone is powered by a 3700mAh battery and USB type C charge port for swift charging and long lasting battery life. 
The S22 Base Plus
With the S22+, we see a 6.6 inch FHD+ screen with Ultrasonic fingerprint face recognition as well. The display features a 1750 nits sensor allowing a better color display in the sun and a refresh rate of 120 Hz refresh rate. The phone allows the same cutting edge durability as the base model and features the same camera setup for crisp photos. This phone has an upgraded battery at 4500mAh allowing almost double the charging speed and battery life. 
The S22 Ultra
The S22 Ultra is among the most popular of the series with over 10 million units sold and it features a 6.8 inch Edge Quad HD+ screen being in between 4k and FHD+. This screen allows for high end color and resolution, allowing for the same software as the s22+ with a higher resolution. This phone incorporates the same durability but a major upgrade in camera. This phone spotlights a 40 megapixel selfie camera, as well as four rear cameras: a 12MP ultra wide camera, a 108MP wide-angle camera and two 10MP telephoto cameras with 100X space zoom. The phone has a 5000mAh battery allowing for swift charging with an even longer battery life then the rest of the lineup. This phone is the only one of the series that is S pen compatible. 
All three phones released with a Dynamic AMOLED screen display with two times vision boost to maximize the brightness.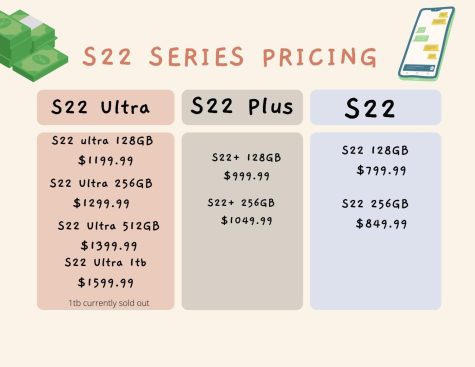 Samsung's release of the S series and Notes series among others annually allows Samsung users to have multiple options for cutting edge new technology. Samsung's presence since 1938 has revolutionized how information is accessed and allowed users to continue to create and work with ease.