Bright Colors and Brighter Smiles: Cumming Fairgrounds Celebrates Holi
Vibrant colors sprinkled the scene and cars packed the parking lot underneath the sun at the Cumming Fairgrounds on March 19th.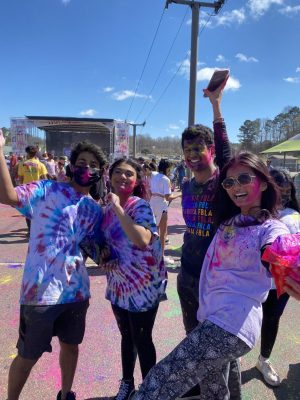 Students, friends, and families joyfully celebrated at the largest color festival of Georgia: "Holi Hai". Specifically, the Sewa International organization sponsored the 15th annual color festival. This cultural community event was a family-friendly celebration filled with dancing, Indian food, play zones, Bollywood music, and more. 

"Holi to me serves as the unifying factor between me and my community," said senior Rasagna Vuppala. "This one festival brings together people across the city so we can share the joy in celebrating together with lots of fun, dancing and color. After two years of being unable to celebrate Holi like usual alongside a big crowd, celebrating Holi at the Cumming Fairgrounds felt very surreal but rewarding."

Sewa International is a Hindu-faith based non-profit organization dedicated to serving the community regardless of heritage, gender, or race. While this organization focuses its efforts on disaster relief, Sewa International works with its volunteers to address a variety of topics such as healthy lifestyles and the importance of education. This ambitious humanitarian organization is dedicated to aiding the community and beyond, making it a mission to positively impact the lives of those around the world. This event was one of many cultural celebrations that highlighted the diversity within the South Forsyth community. 

"

I love getting to spend time with my friends/family and running around throwing color on each other. No one is afraid to randomly come up to you and put some color on your cheek. To me, this event means meeting new people."

— Sophomore Kripa Mahadevan

Holi is a Hindu festival where celebrants play with colored powder alongside their family and friends, marking the beginning of the spring season and honoring good over evil with the passing of winter. This year, Holi was officially on March 18th; however, everyone started celebrating this festive event quite earlier, soaking in every moment to dance around in flying colors and spend these cherished moments with their friends and family.

The event began on Sunday afternoon at 11:00 A.M, lasting until the late afternoon. Many people from around the county visited, including many students from South Forsyth High School. Celebrants either came prepared with their own colorful powder or purchased packs of bright powder from the various stands set up at the festival along with other booths. Loud music burst from the center stage where people full of colors danced the day away. 

South Forsyth Dance Company also had the opportunity to perform a Bollywood Hip-hop fusion dance for the crowd, displaying a beautiful merge between both vibrant cultures. They performed a dance known as "Brown Bois," intertwining their passion for dance with this colorful celebration.

The SFHS Dance Company performs at the SEWA Holi Celebration. Video used from https://www.youtube.com/watch?v=2NqepjlAe4o.

"I was extremely proud of the dance company and the work we showcased," said junior Swapnika Gullapalli, Vice President of SOFO Dance Company. "It felt great when other people from South Forsyth started cheering for us as well, making the weeks worth of practice completely worth it."

This year's Holi celebration was definitely one for the books as the Coid-19 Pandemic has prevented many in-person cultural celebrations for the past two years. With the bright colors and festive music, individuals from all backgrounds came together for a fun and lively day at the Cumming Fairgrounds. "Holi Hai" brought together students from South to cover each other from head to toe in vivid colors and immerse themselves in rich Hindu culture.