SFHS Science Olympiad Bonds Together at the Regional Tournament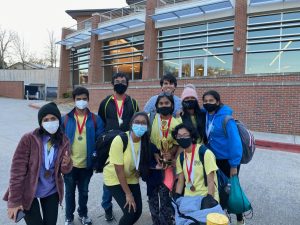 On February 19th, the South Forsyth High School Science Olympiad (SciOly) traveled to the University of North Georgia for their Regional Tournament.
With over 40 competitors, these members worked with dedication and passion as they placed second overall against many other competitive state teams. The team was recognized many times throughout the awards ceremony as they earned 30 medals in 20 events.
The impressive skillset of each student did not go unrecognized as all 42 members placed in the top ten for at least one of their many events.
Science Olympiad is an organization dedicated to helping students find their passion in science as well as grow in professional skills such as teamwork and communication. This organization "explores the world of science" with competitive events in topics such as genetics, chemistry, anatomy, geology and biology. While the events range from testing to hands-on activities, every student has the ability to get involved in diverse competitions and discover their academic interests and talents. SFHS Science Olympiad is one of the many local chapters working to help its members strengthen their scientific background and create a memorable experience.
As for South, the team competed in many events such as Forensics, Disease Detectives, Astronomy, Dynamic Planet, and more. Ranging from events for the life sciences to technology/engineering, each event was aligned to focus on a specific science topic, allowing students to become an expert in that subject as they worked with their partners to showcase their skills and win the competition. For a complete list of Science Olympiad competitions and event descriptions, please click here.
With such diverse events, each member is able to test out different skills and find what they are passionate about. 
"I would describe SciOly as 'an experience that teaches you that every bit matters,'" said junior Rasmit Devkota, Science Olympiad Vice President. "SciOly isn't about being 'smarter' than other teams or spending hours and hours every single night into your events; it's about setting aside a little bit of effort every morning or every evening until you accumulate enough to win."
However, what set the team apart at the Regional tournament was not how many medals they won or how many events they competed in.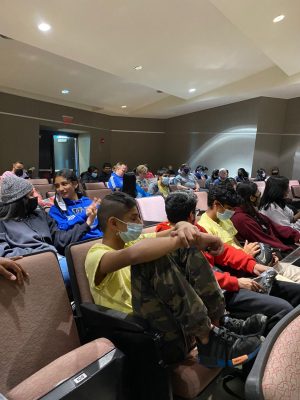 While the team is recognized for its academic talents, the SFHS Science Olympiad team is also known for its teamwork and collaborative skills. The strong communication and trust each member brings to the team strengthen the overall bond of the group, creating a comfortable atmosphere within the organization during each tournament and practice.
"My favorite part of the Regionals Tournament was spending the day with the team!" said junior Arnav Hande, Science Olympiad Vice President. "We have developed a super friendly community, and it was great just hanging out with members who shared my interests."
The team would not be where they are without the strong leadership of its officers and the dedication of its members during each Wednesday afternoon practice. Within each practice, the team works tirelessly to practice their skills, test their knowledge, and create endless memories as they further their passion for science. 
As the Science Olympiad season continues, the team is preparing to take on the whole state of Georgia at their State Tournament later this month. The team is beyond ready to bring home the gold this year as they get ready for the biggest competition of the year.
"I've been doing Scioly since I was in 7th grade," said Hande. "It's always been a way for me to have unique experiences in the STEM fields I'm passionate for. From building a catapult to analyzing mortality data, SciOly gives me memories I can't get anywhere else."