Senior Spotlight: FBLA's Abhishek Pasupuleti Means Business
Abhishek Pasupuleti is the epitome of "Success Starts Here," personifying this year's Future Business Leaders of America (FBLA) theme. Known for his academic prowess and engagement with FBLA, Pasupuleti has spent the last four years carving out a profound legacy at South Forsyth High School.
Through FBLA, an organization that promotes leadership development and teaches business skills, Pasupuleti has won several national, state, and regional awards. Notably, he was a 2019 National Winner in Entrepreneurship, snagging the 4th place title in his freshman year. He was also a national competitor in Advertising and the Community Service Project, where Pasupuleti pursued his passion for volunteering and bettering the local community.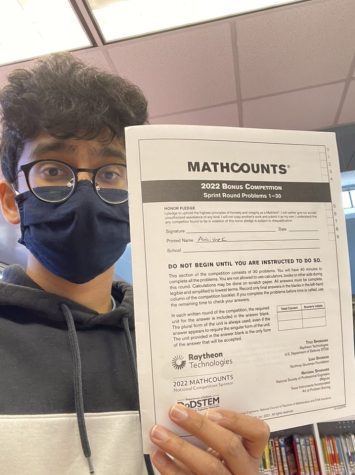 "During the COVID-19 pandemic, we felt that children, especially elementary schoolers, didn't get these experiences that we as children cherished – like having a book read to them. Their parents were struggling, working double shifts, and a lot of them were hospitalized too," says Pasupuleti.
He and his team conducted a project to bridge this gap during the pandemic, greatly influencing the lives of several children across the district. However, Pasupuleti's impact on the community continues beyond this specific undertaking. He has also served as a lead tutor in SEWA's Aspire program, where he taught students at Cumming Elementary School and worked with Bhutanese refugees in Clarkston.
Due to his extensive involvement, Pasupuleti received the FBLA Achievement Award, a Community Service Award (CSA) presented to individuals with 500 or more community service hours.
In addition to his community-oriented pursuits, Pasupuleti is an influential leader. He currently serves as the Georgia FBLA State Projects Vice President, developing and coordinating new projects and events throughout the year. He also represented our district in the 2020-21 school year by serving as the Region 12 officer.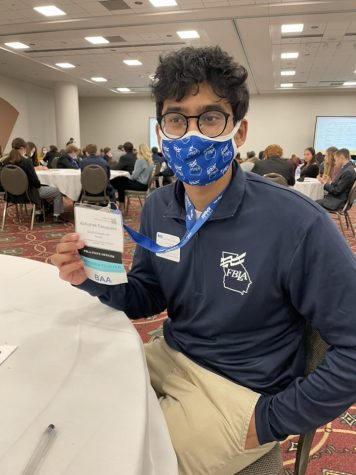 "It's been incredible meeting unique individuals from across the state and learning how to put together a big scale event," Pasupuleti tells us. "FBLA has diversified my view of the world."
In addition to FBLA, he is significantly involved in HOSA-Future Health Professionals, a Career Technical Student Organization (CTSO) that develops its members' health science knowledge and interpersonal skills. Pasupuleti initially joined the organization to explore the medical field. His experiences through club activities and competitions have solidified his passion for medicine.
Pasupuleti also spent time exploring the healthcare industry through virtual and in-person shadowing. He is currently an intern at GI-North, a medical practice that provides gastroenterology services.
"My academic experience at South has been really challenging," Pasupuleti adds, "South offers a wide variety of classes that allowed me to explore fields beyond my interests in biology and chemistry. I've enjoyed almost every class I have taken, specifically AP Biology and AP Chemistry."
"
My biggest motivation is my immigrant parents. They have worked incredibly hard to make a life for my brother and me. I want to make them proud and give back to them in the future. I also have a desire to make something of myself.
— Abhishek Pasupuleti
At that moment, the pieces of his story began to click, and Pasupuleti's high school journey merged into a singular pathway. His leadership, compassion, and academic inclinations all guided him to the field of medicine.
Today, Pasupuleti hopes to continue giving back to the community as he begins the next stage of his journey at college. He will attend Johns Hopkins University in the fall, pursuing neuroscience with the goal of becoming a neurosurgeon.
As he wraps up his senior year, Pasupuleti parts with a few words of advice: "Don't be afraid to step outside of your comfort zone and try new things. High school has a lot of unique opportunities, and you never know what will ignite your passion. The biggest advice I would give is to embrace the moment!"