South Social Leaders Radiate Love at "No Stranger Left Behind" Event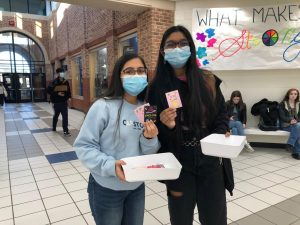 On February 14th, South Forsyth High School's South Social Leaders planned an exciting and welcoming event for Valentine's Day. The event, known as "South Social: No Stranger Left Behind," took place in the Dining Hall where students were invited to stop by before their first class and make a Valentine for a stranger. 
In addition to the event in the Dining Hall, some leaders in the Main Hall Atrium handed out sweet Valentine's Day cards and treats to students as they walked into the building. The morning was definitely filled with love as the students made their way to the dining hall to participate in the day's fun social.
There were a variety of options for students to pick from when it came to making Valentines. Students had the option to choose a decorative card as well as a fun item to go with the card such as a heart-shaped lollipop, stress ball, pencils, or a keychain pop-it. South's Social Leaders hoped this event would encourage students to meet new people and create meaningful conversations as they wrote Valentine's day cards to strangers. 
"
My favorite part about the Valentine's Day Social was the joy it brought to others. Everyone who was getting these items was so happy.
— Junior Leader Donovan D'Silva
South Social Leaders is a movement organized by a group of dedicated students who hope to create purposeful relationships within the school. These leaders recognize that not all students may have someone to talk to or connect with, and with the various socials throughout the year, they hope to foster an environment where their peers feel comfortable to meet new people and simply talk with one another. While there may be many stressors (in or outside of school), the purpose of these socials is to bring the South Forsyth community together and discover the joy of making new conversations and friendships.
"I'm a South Social Leader because I feel that being a high schooler these days isn't easy. Peer pressure and grades are making all of us so drained," said junior leader Wendy Zhang. "I want to change that here at South Forsyth by being the conversation starter, the one to say 'hey, we are here for you and you're never alone.'"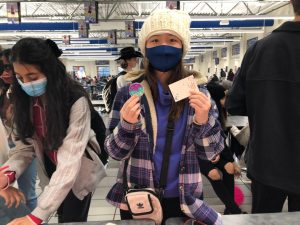 Additionally, South Social Leaders also delivered hundreds of Valentines to various students to further their mission of spreading love throughout the school. Volunteers from SFHS Student Council helped the Social Leaders make hand-written Valentines during Instructional Focus (IF). Each card was created with love and packed with a small sticker or tattoo for students to enjoy on Valentine's Day.
"My favorite part about the Valentine's Day setup initiated by the South Social Leaders would be when I was handing out the cards during IF," mentioned Zhang. "As I walked in [their IF classrooms], I could feel the stress that the students were feeling, and as I handed them their cards saying 'hey, someone chose you as their Valentine and have an amazing day' their faces lit up with a big smile, and I could tell they felt the love."
Ultimately, this Valentine's Day at South was definitely one to remember. South Social Leaders were beyond grateful for the large number of students who came together to create cards for their peers. These leaders hope to continue creating these socials to encourage students to come together and make new memories with their peers.
With events like these, the South Social Leader's movement is sure to have a lasting impact on the War Eagle community.