Diligent, Daring, and Determined: A Celebration of Black History Month
Carmel Yonas, Opinions Editor & Senior Reporter
February 15, 2022
From February 1st to March 1st every year, the United States, Germany and Canada celebrate Black History Month – a time of paying tribute, remembering and celebrating Black lives. The purpose of Black History Month is to recognize and validate Black achievements as well as honor the fallen and their fierce advocacy for the Black community.
Remarkable individuals such as Dr. Martin Luther King Jr., Michael Jordan, Whitney Houston and many others have made enormous contributions to the history of America. From activists to athletes, these incredible folks changed the ball game for Black people, literally and figuratively.
Prominent Politicians
Dr. Martin Luther King Jr., a civil rights activist, preacher and spokesperson, was the youngest person to win the Nobel Peace Prize at the age of 35. Throughout the course of his life and fame, King became known for his active role in politics through non-violent protests for African-American rights. King's most famous speech, "I Have A Dream", discussed the brutal reality of segregation and hope for the Black and White communities to not only co-exist, but to love each other.
Famously perceived as a woman of character and class, Rosa Parks, a civil rights activist and politician, was arrested on December 1, 1955 for refusing to get up from her seat on a public bus. Although Parks was not the first person to do so, the injustice of her experience became a rallying cry for the Civil Rights Movement and played a major role in the Montgomery Bus Boycott. Parks not only made history, but she catalyzed the social momentum that led to desegregation of public transportation in America.
Another renowned politician who worked alongside King and Parks is John Lewis. Throughout his life, Lewis fought for civil rights and was the leading figure in the walk from Selma to Montgomery, also known as Bloody Sunday. Besides being a civil rights activist, he represented Georgia's 5th congressional district in the House of Representatives for 33 years and served as chairman for the Student Nonviolent Coordinating Committee (SNCC). Throughout his career, he received numerous accolades such as the Martin Luther King Jr. Nonviolent Peace Prize and the Presidential Medal of Freedom in 2011.
Astonishing Athletes
The NBA recognizes Michael Jordan as the greatest basketball player of all time. Before Jordan played professionally, he attended the University of North Carolina – Chapel Hill and was the first freshman ever in school history to begin his first game as an underclassman.  After ending his college career a year early, the Chicago Bulls drafted him to play for the NBA and his unparalleled success took off from there. A couple of his finest achievements include: 14-time NBA All Star, Three-time NBA All-Star MVP, Five-time NBA MVP, and Six-time NBA champion. Jordan also became the first athlete billionaire in history and the first athlete to own a basketball team (Charlotte Bobcats) after retirement.
Highly recognized as the best tennis player of all-time, Serena Williams is an inspiration around the world. Since Williams turned professional in 1995  as a 14-year-old, she's went on to win 39 Grand Slam titles, 23 singles titles, 14 double titles and two mixed double titles.  Overall, she's a Four-time Olympic gold medalist and has accrued a net worth of $210 million, the most of any female athlete. Williams is the first, male or female, to win three out of four Grand Slams six times; she and her sister Venus are the most famous African American tennis players currently.
In America's history of boxing, only one name comes to mind: Muhammad Ali. Also known as The Greatest, Ali was a boxer, philanthropist, activist, poet, and entertainer. In terms of his athletic career, he became the first fighter to win the world heavyweight championship three times. In 1990 he was inducted into the International Boxing Hall of Fame and received the Presidential Medal of Freedom in 2005. In addition, he was a Gold Medalist in the 1960 Olympics for the light heavyweight competition and became the youngest fighter to dismount a returning champion at the age of 22.
Amazing Actors and Actresses/Authors/Artists
Denzel Washington, one of the most distinguished individuals in the acting industry, is an actor, producer and director. Washington has worked with some of the best directors such as Spike Lee and Tony Scott to create stunning masterpieces we watch today.  Throughout his acting career, Washington accumulated numerous accolades including the Academy Award for Best Actor (2022), the Cecil B. DeMille Lifetime Achievement Award (2016), three Golden Globe Awards and a Screen Actors Guild Award. Apart from entertainment, Washington is also known for his philanthropic works and donations to the Fisher House Foundation, as well as to the Wiley College.
Another notable figure in movie production is Morgan Freeman. Freeman is an actor, narrator and director, and he's most known for his role in Shawshank Redemption and other famous movies/tv-shows such as Going In Style, Driving Miss Daisy and Bruce Almighty.  Now 84, throughout his life Freeman has received over 20 awards in cinema: the National Board of Review Award for Best Actor twice in 1989 and 2009, The Screen Actors Guild Award for Outstanding Performance by a Male Actor in a Supporting Role in a Motion Picture in 2005, a Golden Globe Award for Best Actor in a Motion Picture – Musical or Comedy in 2012, and a Golden Globe Cecil B. DeMille Award in 2012.
Out of all the rich and illustrious American celebrities, Oprah Winfrey immediately comes to mind. Winfrey is a television producer, author, philanthropist, actress and talk show host. But what makes her story so inspiring is that like most Black stars, Winfrey endured a rough childhood and early life full of poverty. But as she navigated through her early adult life, Winfrey became the first African-American to host a show nationwide, The Oprah Winfrey Show, at the age of 32.
Through the run of the show, Winfrey earned the title of "self-made millionaire" and later became the first African-American female billionaire. On top of that, Winfrey received the Presidential Medal of Freedom in 2013 and the Cecil B. DeMille Award in 2018, along with multiple other awards for her show. After she retired from her show, Winfrey turned her attention primarily to philanthropic work. She donates to  The Oprah Winfrey Foundation, The Angel Network and The Oprah Winfrey Operating Foundation, among other causes.
"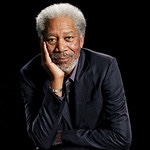 Challenge yourself. It's the only path which leads to growth."
— Morgan Freeman
Marvelous Musicians
When reminiscing over great musicians in American history, the entire world was once obsessed with singer, songwriter and dancer Michael Jackson. Jackson is considered one of the most popular and influential musicians of the 20th and 21st century. At the age of 5, he joined a band with his brothers called the Jackson Five; this formed his solo career and eventual fame during the late 1900s and early 2000s.
Throughout his career, 18 of Jackson's singles hit No. 1 on the Billboard 100 for the week as well as one of his albums, Thriller, which stayed No. 1 for 37 weeks. A couple of his most famous songs include "Thriller", "Bad", "The Girl is Mine", "Billie Jean", "Beat It" and "Wanna Be Startin' Somethin'". Not only did Michael write best selling songs, he created popular dances like the Moonwalk, Anti-gravity lean and Circle slide. The King of Pop opened a new and exciting door to the current styles and choreography we love in the 21st century.
Similar to the beloved Michael Jackson, Whitney Houston, also nicknamed "The Voice", was one of the most powerful singers in the late 1900s and early 2000s. Although all of her songs skyrocketed in sales, "I Wanna Dance With Somebody", "I Have Nothing" and "I Am Every Woman" were some of her best hits in the 80s and 90s.  Receiving over 20 awards in her career, Houston also received the Billboard Music Award for Top Female Artist in 1993, Grammy Award for Best Female Pop Vocal Performance in 1986, 1988, and 1994, Grammy Hall of Fame in 2013 and countless other awards. Classy, talented, and fierce, Houston changed the world of pop one song at a time.
Overall, history and the world would not be the same without the perseverance and leadership of Black Americans. These notable figures will forever be celebrated and remembered due to their excellence in their careers and in life.