Swim and dive team gives back
On December 2nd, the swim and dive team participated in a Day of Service to give back. The team held a snack drive and donated two hundred individually wrapped snacks to Corners Outreach and worked as a group to provide activities for kids through Corners Outreach. Corners Outreach is also a non profit organization that helps to increase high school graduation rates and improve career opportunities for families. A small group sorted through clothing and put up Christmas lights for No Longer Bound. A twelve month long inpatient program to assist addicts, regenerate men, and reconcile families.  They also donated three hundred and sixty five dollars in gift cards to The Place for their holiday house. The Place is a non profit organization that helps families in hard times with necessities. They also run thrift store to raise money for the cause.
Courtney Carden, a member of the swim team, commented on what she learned during the service projects: "Swimming isn't just about what we do in the pool. It is about bettering ourselves and working together as a team and helping the community."
Through donations of money and time, the swim team has helped many families in the Forsyth area. They are trying to make in impact in people's lives.  Will Thomas Sheffield, another member of the team, stated "At No Longer Bound I was reminded of how simple it can be to serve others. At the same time I learned a good amount about my teammates and how to put up Christmas lights."
About the Writer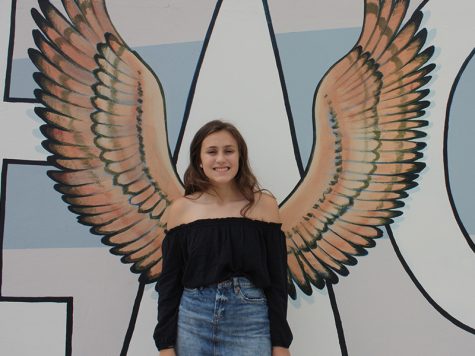 Lauren Bunker, Staff Writer
Lauren Bunker is your average teenager. She's super stressed about school, really bad about time management and a little bit too dramatic. When she is not dribbling through players at soccer, you can spot her drawing her favorite thing, eyes. But her absolute love is writing. She knows that someday, she will impact the world greatly through her writing. But for now she is not only excited about her first year of journalism but also her first season of competitive soccer. She loves watching law and order or any 80's movie while petting her cat and absolutely hates country music. She spends her time planning her future and avoiding eating meat because she feels bad for the animals. She dreams of working in global issues department of the UN so she can help make the world a perfect place for all people. She's lost count of the amount of books she has and likes so many she can't choose a favorite. Please contact me at
[email protected]
or at my twitter @lbunkerthefeed .