Balancing the Scales for Women in the Workforce
When senior Shivani Murugapiran, president of the SFHS Girls Who Code chapter, walked into her data operations internship, she noticed that something felt off.
She was the only girl on her team, and it made her wonder: "Did I get this position because I was the only girl who applied, or…because I was qualified to actually work there?"
That made me ponder too: I remembered sitting in the back of ELA class, thumbing through my worn copy of the Odyssey. One thing I noticed in hindsight was the abundance of antiquated gender roles in a lot of the "classic" but outdated stories that we read in school. These timeless tales and classic myths shine an extremely negative light on the subject matter, treating women as something unworldly. I noticed in several instances how women were always villains, while the so-called 'hero' would always be a male, accomplishing valiant feats and fighting off sworn enemies in these epic legends often named after the men themselves.
But while I was reading, I told myself this was all simply a story; merely a fragment from the past. Things have changed in the 21st century. These gender discrimination problems couldn't still be prevalent in our time, right?
Apparently, they are.
Discrimination by the Numbers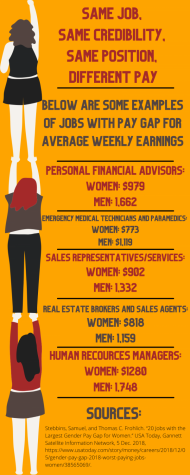 It's true that our world has made immense progress on this front, but the primary way gender-based discrimination persists today is in the modern economy. A 2017 Pew Research Center study discovered that around 42% of the working female U.S. population faced some form of gender discrimination at work in the United States.
While gender-based discrimination in the workforce can take many forms, the gender pay gap is one specific issue getting a lot of attention today. It highlights how much more work our society has to do to make sure that all genders are treated equally.
According to the U.S. Department of Labor, for every dollar a man makes, the average U.S. woman makes merely 82 cents; the average is 2 cents lower for women in Georgia specifically. That means these women receive almost 20% less pay than men who do the same jobs. What's even more jarring is that race plays a huge factor in this inequality too. For every 62 cents a woman of African descent makes, a white man doing the same job makes one dollar.
Moreover, there are countless personal accounts of women facing discrimination on the job when it comes to employment or pay.
In the Girls' Club
Many of South's students, male and female alike, have started to take action after realizing this discrepancy.
Girls Who Code is one of South's many wonderful clubs which focuses on different facets of the same goal: introducing more girls to the future economy and helping open doors to different fields for many young women. In the case of Girls Who Code, the focus lies on technology. 
"I am optimistic [at] the fact that in the future things will get better as the industry diversifies," explains Girls Who Code President Shivani Murugapiran. "Just because you're a woman doesn't mean your voice is going to be less heard in the workplace," she adds.
Another local chapter of a national organization at our school is SFHS Women in STEM (or WiSTEM). WiSTEM "empowers and encourages young women to decrease the gap between social justice and academic fields." Clubs that focus primarily on fields like this help facilitate the amazing aspirations future women of the workforce have as they strive to make an impact on our society's well-being.
Another club in which SFHS students diligently work towards advocating for women's rights, especially in the broader range, is SFHS Girl Up. The club works towards "empowering girls across the globe in STEM and raising awareness for current issues."
So far, they have impacted over 75,000 girls through nearly 125 countries and all 50 US states.
Aditi Bang, president of SFHS' Girl Up chapter, explains how the club works to "form a strong family and tackle issues against women."
"
It does worry me when entering the workforce that I could be paid less than a male physician even though we both have the same qualifications. However, women are killing it in all the fields, and I am excited to see what else we are capable of!"
— Aditi Bang
The Mother of All Problems
"Women can be amazing mothers and number one at their job too," Bang elaborates. Despite this, she holds concern for the way this dichotomy plays out in the workforce. "However, I have heard stories that women are asked during interviews if they want children in the future and that can lead to a negative effect on their job decision," she concludes.
And she's not wrong. 
Apart from the wage gap, the US government has shaped the modern workforce in many ways that aren't as suitable and accepting of women. In the U.S., the federal government guarantees new parents 0 weeks of paid maternity leave and only six weeks without pay.  Considering the emotional and physical toll of welcoming a new baby, it's unfair to expect women to fulfill these unpaid responsibilities while receiving zero financial support from their actual job.
Dissidents argue that since education levels are near-identical for the female and male student population in developed countries like the US, the issue is not as pressing. They may conclude that because of the Civil Rights Act of 1964, which prohibits inequality in terms of gender, race, and sex, there is not much left to equalize in the working world. Many also may say that more females are starting to enroll in college than males; thus, we are making substantial enough progress that there doesn't need to be further stress on it.
However, even with this kind of educational opportunity, there are still many discrepancies that prevent women from reaching economic parity with men. A prime example of this is the COVID-19 pandemic. Everyone's experience with pandemic turmoil is different, but for women in the U.S. job market, many of whom are caretakers as well as employees, the career losses have been tremendous. In fact, it has pushed back women's participation in the workforce back by 30 years.
It's also reported that 1 in 3 women are planning on leaving the workforce due to many reasons like the gender pay gap and the imbalance of home duties. Although the pandemic has affected everyone regardless of race, gender or wage, the way that COVID-19 has affected the female population specifically in terms of economic parity has to be recognized in order to set the course for change.
The Future Is Female
As we progress, South Forsyth and its students have taken much initiative in helping young women enter a future workforce where everyone has equal chances at whatever they hope to pursue regardless of their identity. Still, there is a long way to go to reach this goal.
Ultimately, society should undertake greater action to reconcile the inequities of our past, make changes in the present, and ultimately shape a future for a more inclusive world. With even the slightest push in the 21st century, society can make the necessary mends in economic representation.