The Collection's cutest cafe: Pearl's Tea Experiences Success During its Recent Opening
In this past month, Pearl's Tea, a bubble tea shop, opened at the Collections in Forsyth County. Residents were excited for its grand opening in Cumming as many saw the store's promotions on social media, leading up to the opening.
In the past few years, the trend of bubble tea, also known as boba tea, has continued to increase in popularity within the country. Originating in Asia, this cultural drink soon expanded its borders as it made its way to the United States. With at least one bubble tea café in almost every state, Americans have grown to love the taste of these chewy tapioca pearls in a variety of their drinks. With this rising fame, there has also been an increase in boba shops around the local area.
The Pearl's Tea franchise originated in Georgia with locations in Suwanee, Doraville and Hamilton Mill, and is quickly working to expand its doors to more locations throughout the state and even in other states such as Texas. Known for its handcrafted milk tea, Pearl's Tea crafts its drinks with premium and organic loose leaf teas and matcha as well as freshly-made boba.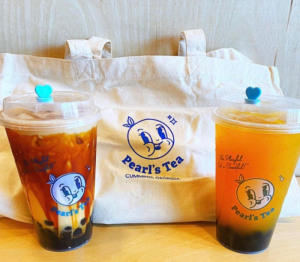 However, the story behind the opening of Pearl's Tea is based on the element of community. The prominent location of this shop allows the owners to create an atmosphere that enables its customers to interact and appreciate the company around them. Despite being one of the newest cafés in the area, Pearl's Tea is quickly becoming a staple shop in the hearts of many Forsyth County residents. In fact, many South Forsyth High School students enjoy hanging out at Pearl's Tea after school not only due to its close proximity but also because of the friendly and chill atmosphere that the shop gives off.
South Forsyth senior Praneet Venigalla shared his opinion on the newest Pearl's Tea location.
"It's really nice that Pearl's Tea opened here because there are not many boba shops in this area which have pretty good boba," Venigalla commented.
The simple and joyful vibe that the shop cultivates continues to bring more customers to this new bubble tea location. The owner of Cumming's Pearl's Tea, Cameron Lee, discussed the history of this café as well as his hope for the upcoming weeks after its opening. 
"Pearl's Tea originated with the mindset of bringing people together above anything else," said Lee. "The founders noticed bubble tea was more than just a beverage, but a common ground for people with different backgrounds and stories in their community. They had a vision to create an 'all people' friendly bubble tea shop that bonded over some great bubble tea and overall good vibes."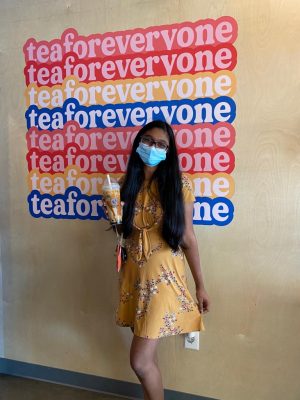 Alongside the importance of community, Pearl's Tea stands for its other core values such as quality service, positivity, and kindness. The shop reflects these qualities as the employees are always open to giving great recommendations to first-time customers.  Since its opening day, this café has become a prime hangout spot for families, couples, and friends. 
"My favorite part about working at Pearl's Tea is that it is very laid back, but our manager still pushes us to excel in every aspect, from making drinks to customer service" said senior Nhi Nguyen, a Pearl's Tea employee. "Our manager encourages genuine customer service, so not only are we connecting with our customers on a different level, but it makes working there a comfortable environment for everyone."
Some popular drinks at Pearl's Tea include the famous Brown Sugar boba, Strawberry Matcha and the Raspberry Hibiscus.
With a variety of drink types such as handcrafted milk teas, diverse lattes, and unique slushies mixed with cream, there is always something there for everyone. Since Pearl Tea's lives by the quote "Be Playful, Get a Cheekful," the store encourages its customers to do the same by indulging in the variety of toppings they offer. Individuals can mix and match toppings such as Pearl's boba, aloe vera, coffee jelly, and much more.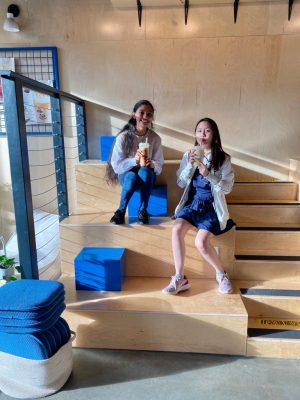 Furthermore, the café's ambiance provides a sense of comfort and decoration. The shop encourages its customers to interact as they set out different games for its customers to play and enjoy. Adorned with bean bag chairs and creative staircase seating, Pearl's Tea offers a variety of seating and photo opportunities for those interested in posting about their favorite drink or a fun picture with their friends. Customers can check out their Instagram for a chance to be reposted. 
In the end, despite being just a couple of weeks into its opening, Pearl's Tea has already gained its popularity in the Collections and amongst its customers. This new bubble tea shop is more than just a café; it's an opportunity to truly enjoy the moment and build memories with friends and family that will last a lifetime. 
"Pearl's Tea always had the vision of bringing people from all backgrounds together, and it was never just about serving bubble tea for them to the customers," said Lee. "Connections, conversations and friendship are deeply embedded in every aspect of the company. It's about the people, the community, and being an all-around space of comfort and belonging to our valued customers who are very much part of the Pearl's Tea family."
About the Writers
Shree Delwadia, Editor-In-Chief
Shree Delwadia is excited to be part of
The Bird Feed
as a senior! This year is her fourth year on staff, and she cannot wait to take on her new responsibilities as the Editor-In-Chief. By working on the staff as a writer and an editor, she has learned a variety of communication, teamwork, and accountability skills that she will take on to other roles in her life. At school, she is a part of MDJunior, Beta Club, and UNICEF.  In her spare time, she loves spending time with her friends and family or discovering new things to do. Two of her ride-or-die tv shows are
Grey's Anatomy
and
Friends
. Moreover, Shree has a strong interest in medicine and hopes to pursue a career in healthcare one day. You can contact her via twitter
@ShreeDBirdFeed
or using her email
[email protected]
.
Kate Geiger, Columns Editor
Kate Geiger is a junior at South Forsyth High School. She serves as the Columns Editor this year at
The Bird Feed
. She is passionate about writing and is currently developing a novel of her own. Kate is interested in reading dystopian books, and she can't wait to discover new and unique topics regarding the dystopian era. You can contact her at [email protected]