Kniting Yarn of Love and Warmth to NICUs: Madhatter Knits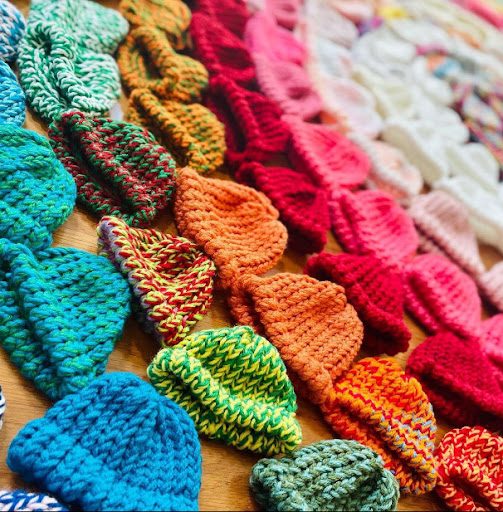 Fluffy balls of yarn unravel into tiny, fist-sized beanies. To create these mini-masterpieces, volunteers wrap the yarn a few times around the loom, hook it up, and repeat the process. 
At South Forsyth High School, a group of students started a local chapter of Madhatter Knits, an organization whose goal is to donate mini beanies to support the rocky start of premature babies and give them warmth during their fragile beginnings.
Founded in 2014, the Madhatter Knits Foundation allows anyone to contribute to their mission by volunteering, donating, starting a fundraiser and more. The South Forsyth High School club is part of the Georgia chapter, established a little less than a year ago. During this time, the organization made immense progress, and, as of now, the Georgia Madhatter Knits Foundation has nearly 70 volunteers from 5th-12th grades and continues to expand.
The organization has donated over 1,200 homemade-knit beanies to six different Neonatal Intensive Care Units (NICUs) in Georgia over the course of 10 shipments, including ones to the Children's Healthcare of Atlanta (CHOA) and the Emory Johns Creek Hospital.  
"
I love how Madhatter Knits Foundation is a family […] [The organization] is built on connection and love, and we will always continue to keep these building blocks as our base. "
— Aditi Bang, senior
To operate the in-school club, The SFHS Madhatter Knits conducts monthly meetings where volunteers submit their beanies, learn new updates and connect with the rest of their Madhatter family. The organization held its first meeting on August 20th where the officers introduced themselves, the purpose of the organization and their goals for the future to the incoming members.  
"As the officer team, we are excited to continue forth our journey and create a stronger impact by spreading more love to these premature babies!" senior Sonika Tatipalli, secretary of SFHS and GA chapters of the Maddhater Knits Foundation, says after the meeting. "Volunteers are looking forward to learning how to knit their very first beanies on their paths to helping preemies!"
View this post on Instagram
The organization states that its mission is endless because more premature babies are born every day in Georgia, so every day, there is a need somewhere for more beanies. According to Madhatter Knits, around 1 in 10 babies are born as preemies and one preemie dies every second because of it. These babies are commonly not able to keep their warmth and maintain a stable body, which is what the incubators are for. Since a lot of the heat that escapes exits from their heads, the beanies help reduce that heat loss and support them for their journey into the world.
Freshman Sravya Srikakulapu elaborates about her time with the organization, "I didn't have any knowledge in knitting before Madhatter, [but now] I knit quite a lot because it calms me down. Overall, I really enjoy it."
Knitting these beanies not only helps these babies, but also helps the volunteers because it's an extremely fun and relaxing way to spend free time. Each of these beanies takes only around 1 hour to make, the time decreases with more experience. Every yarn beanie consists of a small rim of 8 layers and a top of 10. All it takes is a ball of yarn, a 24-peg loom and a knitting hook to start the journey.
Moreover, not only is knitting a fun way to spend free time and an easy passion activity, but it also gives members 1 volunteer hour per beanie. As volunteers knit more and more, they are able to work towards the Presidential Volunteer Service Award (PVSA), a prestigious award presented to qualifying age groups based on the number of hours they serve with a respective organization. 
President of the GA Madhatter Knits Foundation, Aditi Bang concludes, "In the future, I hope to include more of our motivated youth in this organization and educate others about prematurity and what initiatives they can take to help advocate for prematurity, such as joining Madhatter Knits Foundation!"
Everyone is welcome to contribute to the cause as volunteers; interested students can click here.
Ultimately, the Georgia chapter has made monumental progress lately, including expanding to the South Forsyth High School, and they are continuing in their mission by finding new volunteers, making more beanies, and ultimately, helping more babies.