Atlanta shootings at local massage spas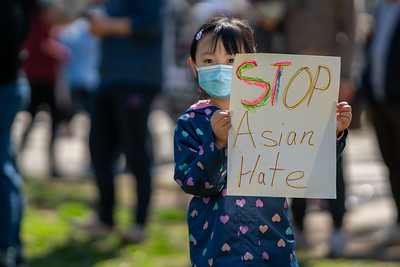 Delaina Ashley Yaun, Soon Chung Park, Paul Andre Michels, Xiajie Tan, Daoyou Feng, Hyun Jung Grant, Suncha Kim, and Yong Ae Yue. These names will be marked in history for many generations to come. On March 16th, 2021, the largest shooting since the start of the pandemic caused the loss of eight innocent lives. Twenty-one-year-old Robert Aaron Long, now charged with murder, killed 8 individuals at three different massage parlors in Atlanta. The victims of his crime included 7 women, 6 of which were of Asian American origin, and one male. This tragedy saddened the families and friends of these victims as well as other individuals all over the nation; in response, the residents of Atlanta honored the death of these victims as they continued to surround themselves with flowers and warm wishes.  
"I thought the recent shootings in Georgia were really inhumane, to target innocent people so suddenly," said senior Lina Jin. "This event evokes strong emotions within me because the women were mothers, sisters, and friends, and thinking about how it could have been someone I possibly knew is really scary." 
News stations reported the first shooting to be slightly north of Atlanta at the Young's Asian Massage shop, where 4 victims were killed. Long continued his shooting spree near two other spas in Atlanta: Gold Spa and Aromatherapy Spa, where more individuals were injured due to gunshot wounds. The police department in Atlanta worked to capture Long who had left the scene of the crime towards the south of Atlanta. However, after a long chase, Georgia state troopers were able to capture and detain Long from any more violent acts. The arrested shooter previously attended the Cumming campus of the University of North Georgia.
While the motive behind this shooting is still unclear, this shooting has raised many concerns regarding the hatred towards individuals of Asian American descent. 6 out of the 8 individuals who were shot were Asian females, which caused many individuals to question whether this shooting is a hate crime or not. A hate crime is defined as a known crime such as murder or arson which occurred due to an offender's bias towards a culture, race, religion, gender, or other identifying factors. 
Recently, more Asian-Americans are in hate crimes, especially in large cities in the United States. Specifically, from 2019 to 2020, the number of hate crimes has doubled from around 40 to 120. Due to the rise in hate crimes toward Asian Americans, this shooting only furthered the idea amongst many that the shooting was an example of a hate crime. 
Furthermore, in response to the shooting, many individuals gathered in front of the Georgia State Capitol on March 20th, 2021 to rally for justice towards the lost victims from the massage shootings. People of diverse backgrounds gathered together that day to peacefully fight for the future of their nation: the people who deserve the same protection as individuals of all races from racism and other hate. 
 "I think this event has stimulated much change around us," said junior Swetha Pendela. "The city has started hosting more rallies against anti-Asian or discriminatory crimes, and we can clearly see people together to support each other. I think these incidents have illustrated that there are many people who are good in society and that change will happen if we all work together." 
About the Writers
Shree Delwadia, Associate Editor
Shree Delwadia is excited to be part of
The Bird Feed
as a junior! This year, she serves as the Associate Editor, and cannot wait to take on new responsibilities.
By working on the staff as a writer and an editor, she has learned a variety of communication, teamwork, and accountability skills that she will take on to other roles in her life.
At school, she is a part of MDJunior, Beta Club, and Unicef.  In her spare time, she loves spending time with her friends and family or discovering new things to do. Two of her ride-or-die tv shows are
Grey's Anatomy
and
Friends
. Moreover, Shree has a strong interest in medicine and hopes to pursue a career in healthcare one day. You can contact her via twitter
@ShreeDBirdFeed
or using her email
[email protected]
.