The process of becoming a teen driver
Hang on for a minute...we're trying to find some more stories you might like.
Driving is a significant milestone in a teenagers life. It signifies the start of a more independent stage in their life. Not all teens are aware of the effort and time it takes to become a safe and responsible driver. Aditi Bhatia is a newly licensed driver at South Forsyth. When we spoke with her about this topic she explained that taking a drivers-ed class was very beneficial for learning the laws of the road.
"I think there are a bunch of things that you don't know unless you take a driving class, with a driving teacher," Bhatia says.
Learning all the rules of the road can be a challenging task. Practicing for many hours with a permit is a great way to be prepared to drive with a license.
Jennifer Deerwesten has had her license for over a year. She tells us, "Practice. Practice in the rain, practice in situations at night, practice in situations you're not comfortable in. It really helps."
"
Practice. Practice in the rain, practice in situations at night, practice in situations you're not comfortable in. It really helps."
— Jennifer Deerwesten
Tanya Kellogg, a junior, began her journey much earlier than many of her friends, at the mere age of 12. As a young child she watched car shows with her dad on TV which sparked her interest in cars. She owns a 1978 red CJ-5 Jeep and paid for it with her own money on February 26, 2016. It had previously been used as a farm vehicle and had been unused for about a year when she acquired it for $900.
Tanya explains, " It looked rusted out and old but my dad and I saw potential in it. I handed the man $900 for it and we loaded it on a trailer and left".
Generally, teens don't start considering buying a car until they get their permit or license, but for Tanya this purchase began when she was only 12 years old. She decided to sell her beloved four wheeler for a $500 jump start on savings for the jeep. She continued to save money by taking up various babysitting jobs during the last few years. By the time she was 16 she had enough money to buy the car and renovate it.
"My dad and I spent about a year and half working on it. We still had a few modifications to add to it after that," she says.
While working on the car she came across many challenges. In fact, for her, the whole jeep was a challenge. When she and her dad finally finished modifying it, Tanya had spent a couple thousand dollars on her car. The process was long and hard, and definitely took a lot of patience from her; but it also taught her many lessons.
She says," I think [this process] made me more mature just because I [learned how not to] depend on my dad… to buy me a car, and pay for my gas. It made me feel more grown-up because I was 15 at the time and I had the responsibility of a car".
Tanya thinks having a car that is completely hers is special because she feels that not many people her age have something as impressive as a car of their own that their parents can't change or take away from them.
When asked what her biggest piece of advice for upcoming drivers would be she said, " Don't be afraid of driving. Don't slack at it. The more effort you put into it, the better you will get".
While not everyone is as passionate about cars as Tanya Kellogg, the joy and responsibility of driving should still be taken seriously to ensure the safety of all drivers on the road.

About the Writer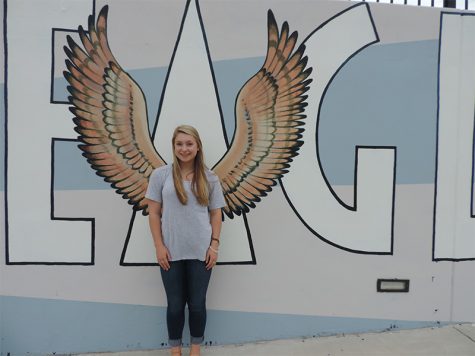 Anna Hicks, Online Editor
Anna is a freshman and is excited for her first year as a part of The Bird Feed. She has been a competitive gymnast since she was six years old and loves to be active. In her spare time she enjoys reading, being with her friends, and listening to any kind of music. Her favorite shows to binge on Netflix include Quantico, Riverdale, and That 70's Show. She is a lover of all things science and one day aspires to work in the medical field. Some of her wildest hopes and dreams include traveling the...