South senior, Anjali Joshi, receives a prestigous award
On Friday, March 12, the South Forsyth High School faculty, Mercer's Assistant Vice President for Enrollment Management Kelly L. Holloway, and Assistant Director of Admissions Jackie Atchinson gathered in the SFHS College and Career Center to surprise an unsuspecting student with a prestigious award. Ms. Atchinson awarded senior Anjali Joshi the Stamps Scholarship. Mercer accepted Joshi after she applied back in December.
Moving into March, the stress of college funding fell off of her shoulders due to the Stamp Scholarship. Joshi was a virtual student this year and was confused when asked to come into the school. The surprise and confusion continued as she walked through the door and saw so many people smiling at her. When her eyes gravitated towards the certificate in Ms. Atchinson's hand, Joshi immediately realized it knew it regarded her future at Mercer. 
Mercer and their partner, The Strive Foundation, funded the Stamps Scholarship. After many review rounds and interviews with both Mercer and Strive, five lucky students were awarded the scholarship. Mercer invited students to participate in a Presidential Challenge, and the program slowly dwindled the pool from there. The program required students to turn in a portfolio explaining community and academic achievements. The scholarship pays for students' tuition, room and board, and gives students $16,000 in enrichment funds, a book stipend, and an iPad. 
To elaborate on the significance of this award it takes a special student to compete and win such a big award. After the committee reviewed Josi's profile, it was clear she was the perfect candidate. Looking forward, She wants to major in neuroscience, and then continue her education in medical school. Joshi has dreamed of becoming a primary care physician since she was a child and her love for the brain only deepened her dream of working with medicine.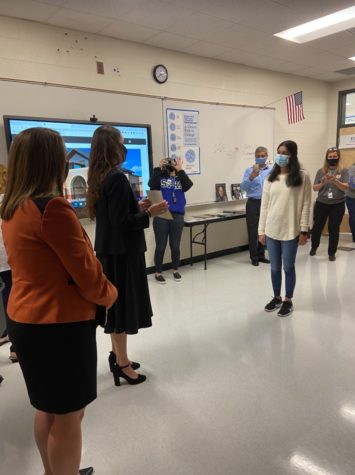 "As I want to become a primary care physician, I want to learn about how the brain impacts so many different parts of our body," Joshi comments, "so when I learned about neuroscience it clicked inside that it was the major I want to pursue."
Joshi is the vice president of the Science Olympiad and has been a part of the Science Olympiad for ten years. The exploration of STEM and different courses has allowed Joshi to find her passion for biology and chemistry while also having fun. 
Additionally, her involvement does not stop there, Joshi is also the vice president of HOSA, an organization for future health professionals.
"HOSA has been a really great opportunity to explore different careers in medicine and learn a lot more about the medical field," mentioned Joshi.
She already has plans for the future and plans to use the enrichment funds as a way to give back to the community.
"Personally, one of the aspects I am most excited about is the enrichment fund that the scholarship offers," exclaims Joshi. "It is a really great opportunity for me to get more involved in my community and really make a difference."
The Stamps Scholarship is a great achievement that Mercer hands out to a select few. After four years of hard work and dedication, Joshi will go to Mercer and continue her education and give back to the community.