South starting Track and Field season strong at Archer Invitational
Carmel Yonas, Opinions Editor & Senior Reporter
April 13, 2021
The first Track and Field meet of 2021 took place on February 27th at Archer High school. Out of 15 schools, South placed third. However, it wasn't easy to celebrate the victory, the earliest meet began at 9:00 in the morning, and teams made an appearance at least an hour prior. Along with setting up tents and equipment, the chilly wind only added to the stress of preparing for the events. Because Archer High School scheduled the meet to last throughout the afternoon, majority of field event participants and runners stayed to compete in more events. After last year's short and abrupt end to the season due to COVID-19, both incoming freshman and veteran athletes were hungry to set themselves apart from the competition.
In distance, South Forsyth coaches spread their varsity in various events like the 1600 (4 laps), 800 (2 laps), 4×8 (2 laps: 4 people passing a bouton), and 3200 (8 laps). For the mile (1600), sophomore Carmel Yonas completed with a time of 5:17, and landed in first place. She also competed in the 2 mile (3200), and won the race with a time of 11:31. Following in her footsteps, freshman Isabel Yonas achieved third place overall in the 3200 (11:45), which happens to be her first Track and Field high school race.
"I felt really proud of myself for placing 3rd in my first track meet even though I was kind of expecting it because of endurance from Cross-country and the motivation to run with my sister Carmel," said freshman Yonas. "Further, in the season, I think that running in the 4×8 and the 400 (1 lap) will help me with speed."
Additionally, Emma O'Connor, a senior at South, began the season with the 1600 (5:37) and 800 (2:32); she also placed in the top ten for both events. O'Connor dominated her races, and sprinted down the last 100 meters of the track, passing anyone in sight. Ultimately, she crushed the first meet of her last season.
Incoming freshman Molly Hanlon placed 19th for the 800 with a time of 2:44, and finished 15th in the 1600 (6:04). Despite her apprehension, Hanlon raced incredibly well and ended all of her events strong. Throughout training and meets, Hanlonwill be the girl to look out for.
Within the field events, junior Mel Pacheco jumped her way towards first place in high jump (5-00.00), along with freshmen Mary Adams (4-06.00) and Oakley Jackson (4-04.00) in ninth and 14th overall. In pole vault, junior Riley Jones won by a landslide. Her score averaged out to be 10-07.00 as she left the second place in the dust (9-06.00).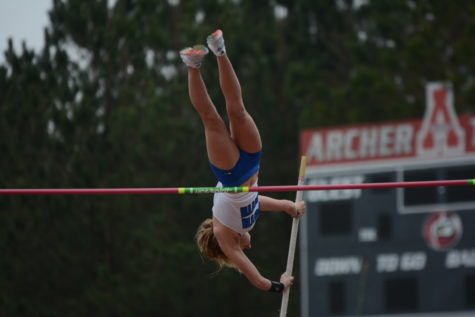 On the boys' side, sophomore Chris Nelson flew to the finish in first place, as he competed in the 100 (11.03) and 200 (22.48) meter events. Not a second slower in the 200, twin brother Josh Nelson sped to cross the finish line in second place by .10th of a millisecond. In addition, Josh ran the 400 for the first time and managed to break South Forsyth's school record with a time of 50.41 seconds. These twin brothers created a reputation not only in the sprinting world but in all events of Track.
"To be honest, I don't consider myself the fastest until I'm out there breaking records," Chris commented. "Throughout the season, I'll be striving to achieve my goal of becoming the speediest 100-meter runner by keeping up with training."
His brother Josh also gave his opinion regarding this meet.
"Currently in the season, I feel amazing about how my races are playing out. I know that if I continue to work hard in school and out of school, I'll be faster."
A couple of other great sprinters from South are senior Tre'Von Green, senior Sam Gullo, junior Khaiel Cartledge, sophomore Evan Bridges, and sophomore Eli Weems.
Transitioning over to the boys participating in distance, specifically in the 800 meter run, junior Nate Verska completed a time of 2:01:07 just minutes off sub two and placed 2nd overall. In the midst of it all, sophomore Ben Bergey ran with Verska and finished fourth with a time of 2:01:86. Milliseconds apart, the boys are predicted to end the season one in front of the other. Bergey and Verska baffled the other teams with their intense competition that pushed one another throughout the race.
Another South runner in the 800 is senior Sam Gullo, he placed 19th overall with a time of 2:12.  Gullo became a special and essential runner for South because of how he competed in both distance and mid-distance.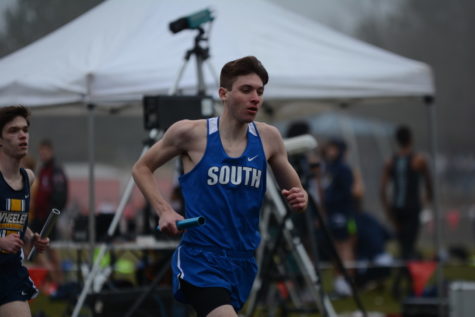 In the 1600, Nate Verska once again placed second overall, and ran a time of 4:24. Right behind him, Ben Bergey sprinted to the finish with his eyes locked on the clock, and he ended the race in fourth place. Also within the top 20, senior Devin Schmuckal accomplished a time of 4:51 and placed 18th. Although he felt that his time was not the best, he and the South distance boys all finished under 5 minutes for the mile.
Track and Field's longest event, the 3200, consisted of freshman Adam Zorko who placed 11th (10:48). Zorko began the season with a sub 11 minute 2 mile, which is impressive for a newbie and will only lower his time throughout the meets. 6 places away, senior Chris Wilusz dashed past the finish with a time of 11:21.
Furthermore, the boys field events comprised of first place in high jump (5-10.00) by senior Drew Schneider, fourth place in long jump (19-08.00) by sophomore Chris Nelson, 18th place in long jump (17-04.00) by junior Khaiel Cartledge, and fourth place in triple jump (40-09.00) by Josh Nelson. In the 110 meter hurdles, senior Brendan Neubert leaped to the finish, and unfortunately lost to first place by .80 of a millisecond (15.80).
South Forsyth began their season with a bang; runners and field event participants showed off their skills as they broke records throughout the day. Varsity freshmen runners, Isabel Yonas and Adam Zorko proved that age and grade are no match for their high-level performances. As for the seniors, they enjoyed their first meet to a final season and created special memories throughout the day. Tight competition within South field event competitors and sprinters enhanced their performances and outlined their abilities. South concluded Archer Invitational with solid results, ranging from veteran athletes to rising stars that strengthened the varsity top seven.