The Reality of Racial Inequality Towards the Black Community
Carmel Yonas, Opinions Editor & Senior Reporter
April 2, 2021
I can still vividly remember my mom turning on the news to the last seen footage of George Floyd. As I locked eyes with the CNN correspondent, I couldn't help but feel beyond enraged. There aren't enough words to describe how I felt at the moment; my eyes screamed in frustration as I sat on my couch, stunned. I could feel anger rising through my throat, and slowly finding its way to my heart where it rested, immutable to this day. The memory of watching George Floyd struggle for air, up until his final seconds alive, became a reminder of the disparity between Black and White people. During the summer of 2020, my cousin Rachel marched in protest for equality and justice in Washington D.C. Her passion and desire to spread the truth sparked my interest to actively participate. It was then that I decided to take action and write an article not only pertaining to Floyd's death, but also of the discrimination and disparity the Black population faces.
In the midst of our world today, one of the most controversial issues people face daily, is racial inequality. Although every race struggles with their own prejudice, the Black population has suffered since the birth of Slavery, and is still dealing with the repercussions. To this day, the Black population agonizes over human rights, a basic right that should not have to be fought for. With this being said, at times, it can be strenuous for those who are not Black to grasp the concept of being a Black American. Similar situations that occur in the Black population are also seen with White Americans. Yes, the White population most definitely faces human rights issues, but the difference for Black Americans is that they experience fear and mistreatment at a more habitual and alarming rate. Scholars have even described this difference in experiences as "White Privilege," meaning that skin color can become a deterrent in equal treatment.
On May 25th, 2020, in Minneapolis, Minnesota, a police officer arrested and killed African American George Floyd. He was accused of using a counterfeit bill, but his death is what shook people the most. Derek Chauvin, a police officer, held his knee on Floyd's neck for 8 minutes and 46 seconds, until Floyd stopped breathing. From that moment on, the United States of America seemed to open its eyes and see the reality of the brutality black men and women face in this country–black men and women like Emmet Till, Trayvon Martin, Breonna Taylor, and Ahmaud Arbery.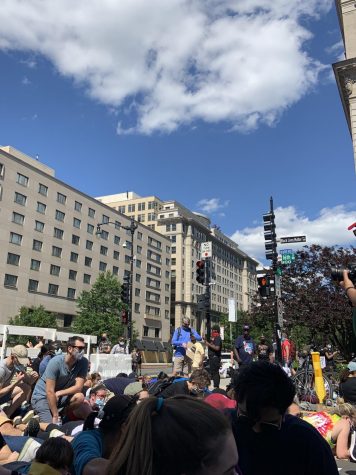 Upon the news of Floyd's untimely death, people began to march throughout Minneapolis, protesting in his name. Since May 2020, the protests have spread throughout many communities across the United States, gaining momentum and voice, even now, a year later. Advocating for justice and against injustice is flourishing. The Black community coined the phrase "Black Lives Matter"–not to raise Black lives as more important than any other life–but to show support for Black citizens like Floyd who have prematurely died as a result of a police altercation. The hashtag #Black Lives Matter has been used across all social media platforms to raise awareness, gaining unprecedented attention–as well as action–across the globe.
"Within a technological age as we live in today, the hashtag #BlackLivesMatter took hold on social media and prompted an active call of action," said Naran Butler-Houck, South Forsyth High School's social worker. 
Many individuals are not aware of the difference between the phrase Black Lives Matter and the BLM movement, so both names have been interchangeably used. Black Lives Matter simply means that every Black life is valuable. And the goal of sharing this phrase throughout all means of communication, is to project equality for Black people.
Throughout the summer, students from South participated in social justice protests as a way of expressing their support for Black lives. They began to understand more about the protests, and their experiences led them to envision new perspectives of what the Black community is truly advocating for. 
Junior Lily Barnett along with a couple of her peers decided one summer day to venture out onto the streets of an impassioned Black Lives Matter Protest in downtown Cumming: "No matter the crime, police have no right to determine someone's fate and whether they live or die; a criminal's punishment is determined in the courts."
"
"No matter the crime, police have no right to determine someone's fate and whether they live or die; a criminal's punishment is determined in the courts. "
— Lily Barnett
Differing from the hashtag of Black Lives Matter, The Black Lives Matter Movement dives deeper. The murder of Trayvon Martin on Feburary 26th, 2012 started it all. As a normal citizen residing in Sanford, Florida, he was on his way back from the store when the neighborhood watch captain, George Zimmerman, called police to report a suspicious being. An altercation between Zimmerman and Martin ultimately led to Martin being shot and killed (CNN Editorial Research). Only 17 years old and still in school, his life was stripped away from him within seconds, rallying many people together who felt his death was more than self-defense.
Martin's death shined a light on the fear many Black families live with when sending their children out into the world, a world that can stereotype people of color. His death sparked a fire in citizens to strive and reach towards equality, initiating the clarion call for justice.
It is crucial to understand the distinctions between the phrase #BlackLivesMatter, and the BLM movement itself.  Characteristics of the movement include their support for LGBTQ rights, their development of non-profit organizations to end gun violence (Wheelchairs Against Guns); and their fight against systemic racism, and police brutality.
Mr. Butler comments, "Additionally, there are other schools of thought that assert that their personal and moral beliefs make it difficult to fully embrace the BLM movement as well. Because of these differences, everyone who uses the slogan "Black Lives Matter" do not necessarily fully embrace support of or align themselves with the BLM organization. However, they do support and believe that people of color are disproportionately discriminated against, and call for systematic change to eradicate implicit bias, bigotry, racism, and structures that give life to those practices."
Furthermore, the BLM movement is not in correlation with the looting and rioting that took place all over the nation. In fact, the protestors peacefully advocated throughout their areas, while the looting was a completely different situation that is not part of the marching.
Just as the protests have focused on the value of all human life, so too have they focused on an institution perceived to have directly devalued Black lives: the police force. Members of the Black community, along with protestors, are calling for the police force to construct a reform; an alteration in methods of how officers are being taught to handle situations. 
I spoke with Corporal Kurt Chambers, a police officer and school resource officer at South Forsyth High School, to gain more insight into what it's like to be a part of the police community and how the police are trained in Forsyth County.
"I believe the general population, as far as George Floyd's death, were concerned because his story became worldwide. The interaction between law enforcement and communities became tense because of Floyd's situation. In fact, the resurgence of the Black Lives Matter Movement never faded away; he only added to cases such as Ahmaud Arbery, and broke the camel's back. George Floyd's murder revealed just how frail of a relationship law enforcement, and surrounding communities have."
"The policing community is very effective, but how can we discuss the issues affecting people in our communities that we are serving? Well, we try to have big community events, engage in social media, and diversify our ranks with people of different ethnicities, so it'll reflect on people within the community. I think those are different steps. I don't think that it's just because of the Black Lives Matter Movement, but that we've been trying to work and do better in relations to working with the community. As officers, we are not perfect, and still have long strides to go, but I believe the steps that we've taken, in addition to talking to people from the circles of the Black Lives Matter Movement, it's really opened our eyes to how we can address issues and make sure that our police officers are doing good community policing with the public, so that we are seen in the positive way, not in the negative way."
"We are required to do annual training of de-escalation, and community policing, of training scenarios or classes. In addition to that, we always have on-going education throughout the year, learning from videos and mistakes. What is the proper use of force to use? In certain situations, they change dynamically so it is hard to paint the perfect picture, but we do train to effectively take a person to custody, and do it in the correct way where there is not harm to the individual or us. So, there are different training that we do all the time as we continue in education."
Stanford University completed a study in 2016 regarding the Oakland Police Department and discovered shocking news, "60% of the people stopped by Oakland police in a one-year period were Black, even though just 28% of the city's population was Black at the time" (Parker). 
Such startling statistics are not surprising to the Black community–a community who, once freed from slavery, were met with "2000 racial terror killings of Black men, women, and children during the Reconstruction era between 1865-1876"–which is also why so many social protests continue to happen across the nation. Whether it is Oakland, CA or Cumming, GA, Black people deserve to be treated in a safe and professional manner by the police and others in positions of authority. Much like Oakland, with a well-documented rift between the Black community and the police, Forsyth County has in recent years had to confront its own dark history, one in which Black members of the community were forcibly driven from their homes and land in 1912. I asked Corporal Chambers to comment on the relationship between the community and the police force in Forsyth County, and his response sends a message of hope and comfort as we consider the big question: How will the strained relationship between Black Americans and the police ever be healed?
"Personally, I haven't seen any minority being treated differently, and I think we are doing a good job taking our time to hear what people have to say, even if we are dealing with a criminal element we really look at every individual as a human beings and treat them as such because they have rights that need to be protected. They also need to be cared for, so if we are taking them into custody we have to be mindful of that and how we do those tasks, but we do a great job. I haven't seen an officer behave in a way that was unprofessional because our department does an excellent job, we have some really great deputies here, training staff, and command staff where it's uniformed across the board. We have to treat people with professionalism and maintain high ethics, and if we stray off that course then it is dealt with punitively" stated Chambers.
Despite that, a common theme recognized within the Police community is Racial profiling: a negative factor that restrains the country from stepping closer to justice and equality. Black lives will only begin to matter when they are seen as first class citizens; the country will not be able to treat each race equally, if one feels superiority over the rest. Because of the imbalance, citizens have no choice, but to create a solution that will impact all races for the better of their community.
There are various ways to become a part of the solution like participating in Social Justice Protests, and actively joining clubs. At South, I am the Treasurer of the Black Student Union, an organization that welcomes anyone and everyone to participate.
During BSU meetings, officers open the discussion by reading aloud their mission statement to remind members what the club is all about, and why they gather once a week to speak on difficult issues concerning Black students: "To promote a campus-wide culture of diversity, inclusion, and unity through activities that educate students about black history and culture; and to support and nurture the cultural, social and educational experiences and needs of students of the African diaspora." 
The Black Student Union began in Florida out of a desire to create real change on the campus of Central Florida University. All BSU chapters across the country work with the same original idea at the heart of their endeavors. The BSU at South Forsyth High School was founded in 2016 and has, over the past two years, become more and more active in the community.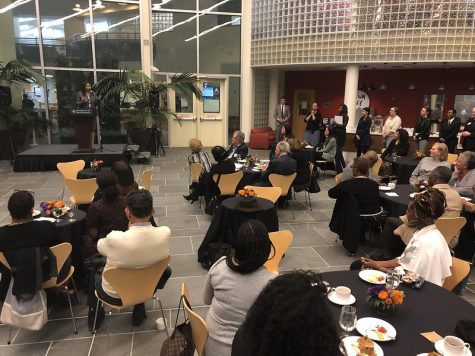 Social Worker Naran-Butler, also Co-Advisor for BSU says, 
"Last year, BSU took the lead in organizing the school's Cereal Drive for The Place Of Forsyth, and the Holiday House Toy Drive. We also had a Kwanzaa Presentation and Celebration with activities, BSU went to the Atlanta History Center as a group in honor of Dr. Martin Luther King Jr. Day, we obtained the support of the school to organize the campus-wide Black History Month with a Culminating Cultural/ Family Heritage Food Day where everyone brought in a dish that represented their family or their culture."
As the country focuses its dialogue on such important issues as racial equality in America, many students have become more and more engaged in the process of responding against racism and acting as advocates for a more socially accepting environment. Mr. Butler had much to say about how the BSU facilitates discussions around student concerns regarding race, race relations, and racial inequality.
"Just as with any other issue that may be presented to me, I meet the student(s) where they are, and provide various supports to all students, depending on what they share or express [….] (s)ometimes it's in the form of a listening ear, and an open mind. Supports may be through conversation or making connections to other supports and resources. Other times a situation may require advocacy, administrative intervention, or parental engagement; and sometimes it's a matter of shifting perspectives and […] addressing what is within one's locus of control. The level of engagement and support offered will vary and depends on the circumstances."
"Collectively, if a matter is brought to the BSU general body, the members of BSU support one another in the form of open dialogue where they have a safe space to share, while the group validates an experience and discusses next steps of how the matter could be best handled and addressed. The staff advisors are only facilitators in the process, and ensure all students have a voice and the exchange is done with respect."
Racial inequality is no secret to the world, countless upon countless of times discrepancy occurs in all varying types of lifestyles, with every race. However, Black men, women, and children have proven to be resilient individuals that are now diverting their pent up anger into achieving equal treatment for Black lives. In turn, individuals of a community can contribute to create a unified area by celebrating diversity, and actively finding ways to be a part of the solution. 
My journey through comprehending the hardship the Black community encounters diurnally, forced me to put behind my preconceptions. In doing so, I opened my mind, and acquired new information that guided me towards this essential question: Out of all races, why does the Black population continue to experience injustices? As I ponder on this inquiry every day, resentment and confusion take over. Then, the memories of George Floyd come rushing to my mind yet again, and my blood begins to boil. The Black community spends time shedding tears for their sons and daughters that died. How many more lives will have to be lost? What will it take for a Black mother to be comfortable allowing her son to walk down the street at night alone? When will Black parents end the "talk" of how to behave if pulled over while driving? America holds the ability to put its foot down, and end the norm of racial disparity; the Black population deserves a chance to thrive and discover their place in the world.
Disclaimer: The opinions expressed in this piece belong solely to their respective author(s). They do not represent the opinions of South Forsyth High School or Forsyth County Schools.