South's wrestling team wins against Collins Hill and Grayson
On January 9, 2021, South Forsyth's wrestling team hosted a small tournament and dueled with three other teams: Collins Hill, Walnut Grove, and Grayson. Ultimately, South came out victorious against Collins Hill and Grayson. To start off the day, South's captains stood face-to-face with Collins Hill's captains as the coin flip displayed the given choice to Collins Hill.
The first duel was South Forsyth versus Collins Hill. Mikey Meersman and Juan Cruz earned the team four points each with major decisions (a difference of 8-14 points), and Sai Gudipati won the team six more points. One of the highlights of this duel was South wrestler Neal Rajesh's match against Collins Hill wrestler Colby Threlkeld. They wrestled all the way through the three overtime periods with Threlkeld winning by one point. 
"Personally, I knew I could've done way better. I gained 15 pounds during the break, and I had to cut all the weight I had gained," said South junior Neal Rajesh. "I wasn't strong enough to wrestle at my top form because of the cut, so I know I could've done marginally better than I did today. For the team, an improvement would just be consistent practice like we have been doing and sharpening personal techniques so that we can control every match."
With all the forfeit points added into the other matches, the overall team scores showed 50-18 leading to a win for South Forsyth.
The second duel of the day was against Walnut Grove. The Meersman brothers earned a significant amount of team points for South. Andrew Meersman pinned Walnut Grove wrestler Landon Ricks at two minutes and 54 seconds. Matthew Meersman won with a major decision at 15-1. In the end, the overall team score was 36-34- a win for Walnut Grove.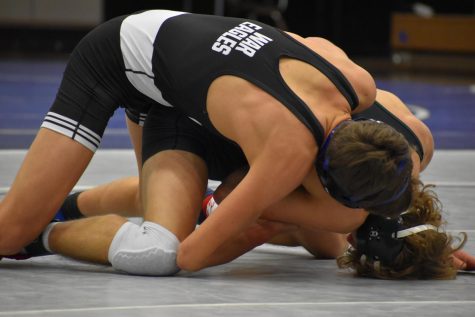 The last dual was South Forsyth against Grayson High School. Many of South's wrestlers pinned their opponents. Juan Cruz pinned at four minutes and 32 seconds, Andrew Meersman pinned at one minute and 26 seconds, Sai Gudipati pinned at 53 seconds, Matthew Meersman pinned at one minute and 17 seconds, and Sean Lupczynski pinned at two minutes and 30 seconds. The overall team score displayed a South win at 52-15. 
South wrestler Andrew Ferguson offered his thoughts about the day. 
"I did ok, but I still need to improve a bunch," said South junior Andrew Ferguson. "I thought the team wrestled well, but we all need to go harder at practice. I think overall there's a lot to improve on, but we are making our way. We just need to get over our simple mistakes."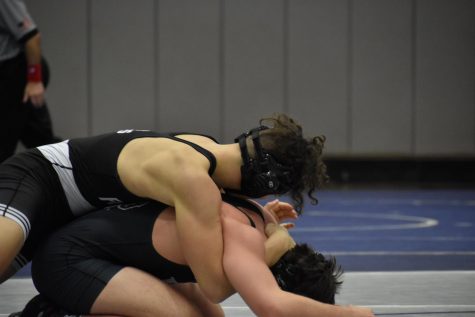 Overall, two out of three wins for South's wrestling team is a good day for South, especially when State Duals are coming up. Region duals are next Saturday the sixteenth at West Forsyth High School.
About the Writers
Lucy Moon, Staff Writer
Lucy Moon is a senior at South Forsyth High School joining journalism for her first year as a staff writer. Along with writing, teaching her after-school students is one of her passions. They always enliven her days, and they inspire her to continue her career in education. Lucy spends her free time reading books, eating Cheez-Its, listening to Nicki Minaj, or playing cards. She also enjoys reading up on horoscopes and knowing everyone's zodiac signs (she will know signs before names). You can contact her through Twitter
@lucyreneemoon
or email
[email protected].com
.