Sofo Swim and Dive Fights for Faith
On November 24th, 2020, South Forsyth Swim and Dive competed in a quad-meet with Lambert High School, Tift High School, and Pinecrest High School. This meet was in honor of Faith Johnson, a student and varsity swimmer of Lambert High School, who recently received a diagnosis of leukemia. Swimmers, students, and parents alike have overflowed with support for the Johnson Family during this hard time. 
View this post on Instagram
There have been several ways that Forsyth County sports teams have shown their support for Faith. On November 4th, Lambert hosted a meet to raise awareness for leukemia. Leukemia is a blood cancer that attacks the body's white blood cells in the body. This disease mainly affects the body's ability to fight infections and foreign invaders that enter the body. In response to Faith's diagnosis, Lambert High School arranged another meet to show their support for their fellow teammate. At this meet, the theme was an Orange-Out for leukemia awareness. This meet was a dual meet between Lambert High School and Denmark High school.
View this post on Instagram
Prior to the quad meet on November 24th, South Forsyth High School and Lambert High School hosted another dual meet in honor of Johnson. The swim teams paired with North Georgia Promotions to create a t-shirt that shows the deep-rooted support system in Forsyth County. The shirts display orange writing, which is the official color of Leukemia awareness. Also, the design also features a giant dinosaur, highlighting Faith's favorite animal. The dinosaur is proudly wearing an orange ribbon that supports the fight for blood cancer awareness.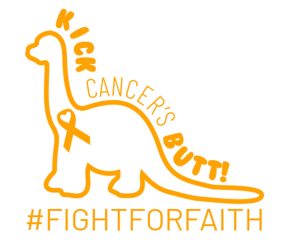 The meet overflowed with splashes of orange and immense support for Johnson's fight. Since the meet took place during the pandemic, all swimmers and attendees made sure to follow masking and social distancing guidelines. As for the results of the meet, South Forsyth placed second after Lambert respectively. 
Top 5 war eagle individual finishes include: 
Max Betzer (200 free, 100 back)
Julian Van Peteghem (200 free, 100 free)
Jenny Chung (200 free, 500 free)
Charlotte Tully (200 Free, 100 back)
Jessica Davis (200 free)
Derek Henry (200 IM, 100 free)
Jack Reynolds (200 IM)
Owen Rhone (200 IM, 100 fly) 
Lizzie Ryan (200 IM, 100 fly)
Devin Schmuckal (50 free)
Matthew Mahone (100 fly, 100 back) 
Lynn Kong (100 fly)
Brandon Kim (500 free)
Nathan Meyer (500 free)
Grace Drawdy (500 free) 
Caroline Blair (100 back) 
All students and swimmers across the county wish Faith a speedy treatment and recovery. The overwhelming support shown towards Faith has been contagious, and many people offer the family much support during this hard time.
In addition, Faith has a Caring Bridge where her family posts daily updates on her treatment. Click the link here to sign up to view the updates of her treatment plan and current prognosis. "Seeing all of the orange was so empowering because it really showed how much support Faith has from the swimming community," said Junior Lizzie Ryan. "It showed unity between all of the different swimmers coming together to support Faith." 
About the Writers
Grace Drawdy, Editor-in-Chief
Grace Drawdy is a senior and has been a part of
The Bird Feed
for four years. After taking on the role of the Associate Editor, she is excited to be the Editor- in- Chief. She hopes to finish out her final year with a bang, and lead the staff to reach new goals. You can find her making a splash at the Swim Atlanta Sugarloaf location where she is a year-round, competitive swimmer. Grace loves to live life loud. Her heart beats for kids fighting pediatric cancer, and she wants to heal them all. She loves spending time with her friends. In a rare moment of downtime, you can find Grace having a solo dance party or binging Netflix. You can contact her via
twitter
or
email
.