Georgia's best of the best XC: Meet of Champions
Carmel Yonas, Opinions Editor & Senior Reporter
November 30, 2020
On Saturday, November 14th, only the best runners from all regions in Georgia arrived at Meet of Champions. That's right, not everyone is invited. This race is what distinguished great runners from elite, and how well they preformed individually. However, because Cross-country season ended, or for any other reason of not to attend, many elite runners were not present. On the contrary, people finished the races second after second; competition spiked up to an unprecedented level. In addition, the morning weather was chilly with gusts of wind and not much sunshine, but spectators and runners prevailed.
Luckily, South boys and girls were invited to Meet of Champions, but the varsity boys decided not to attend. This meant 1 more week of practice for the girls, while the boys recuperated for track in the spring, or continued to run.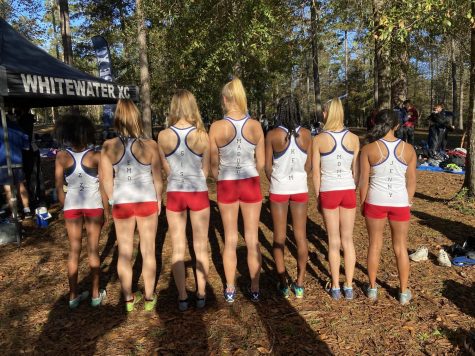 Advancing to the meet required a change in uniform because of the stricture in place, so the team wore old fashioned Nike jerseys, and nike pros to match.
While they collected the jerseys, Madi Butler, a senior, devised a plan to buy letters and spell their nicknames on the back. Creatively designed, the outfits became sentimental to each of the girls, and differentiated them from schools.
"I came up with the idea of nicknames, so we could all have something tangible as a memory of Cross-country this season" Madi said. "Even after the meet, we could wear the jerseys during track, or just for our everyday runs."
South girls finished the race with Carmel Yonas (sophomore) 1st for her team, and 2nd (18:05) overall. She stayed mentally tough throughout the brutal course, and accomplished her goal of sticking close to Makena Gates, 2nd in the state of Georgia. Carmel also was 9 seconds away from achieving a new personal record.
Although Isabel Yonas (freshmen) placed 27th (19:09) overall, she was 2nd for South and 4 seconds off from breaking her personal record (19:05). Yonas did an incredulous performance as a newbie with the competition she encountered; it might have helped that she, and her sister Carmel, ran this course at least twice prior to Meet of Champions.
Senior, Emma O'Connor, ran her fastest time of the season (19:49) and placed 50th overall. She finished 3rd out of her team, and like Madi Butler, felt sad this was her last race. O'Connor worked her hardest in the last 4 years of running Cross-country and Track. Through thick and thin, injury or no injury, she kept her training persistent. And because of this, is why she is an elite runner.
South varsity girls dominated Meet of Champions as a team, and individually. Siena Brennan, a sophomore, zoomed past 4 or 5 girls on the slight uphill to the finish line, and is 77th (20:27.12) by .59 milliseconds. Janisha Patil (sophomore), Molly Hanlon (freshmen), and Madi Butler finished their races with nothing left to give. In the end, each of the varsity girls concluded the season with flying colors, and are prepared to be the leading team next year.