SOFO XC State Championships 2020
Carmel Yonas, Opinions Editor & Senior Reporter
November 30, 2020
GHSA State Championships finally arrived for SOFO nation. On November 7th, they attended a statewide meet in Carrollton with Georgia's best teams in the region. Every year, the chance to stand up on the podium and claim the title, is open to anyone. This is what motivated runners throughout the season, and to give it their all. State has never been a course for personal records, known for being hilly, it's second in line after Milton's dreading reputation. However, teams and individual winners on this course would beg to differ.
Two years ago, South boys won as a team with a timed average of 17 flat, while the girls were runner up and achieved a time of 19:51. Last season, South girls placed 2nd as a team again and even had an individual title, Madelynne Cadeau. On the other hand, varsity boys finished 5th as a team with Brennan Bower in 6th place.
This season, girls varsity obtained an individual state title, and were 3rd as a team. Although the boys placed 9th, one of them finished in the top 10. Throughout it all, many teams were appalled by the new freshman that strengthened South's team, and their improvement as the season progressed.
Starting from the varsity girls, Sophomore Carmel Yonas (18:48) won State in Region-6 7A. She led the race from halfway through their second lap, and smiled as she sprinted to the finish out of breath.
Her younger sister, Isabel Yonas, finished 9th (19:54) and one of the only freshmen who placed in the top 10. Since the beginning of the season, Isabel's goal centered on advancing to the state team. But, not only did she make it to state, she ends up as the 9th fastest runner in Class 7A.
Next from South is Senior Emma O'Connor. She ran a splendid race, and paved her way to the finish in 40th (21:01). O'Connor's last run at state ended on a high note as her team placed a whopping 3rd, she couldn't be more joyous.
Back tracking to the events leading up to state, during the Regions meet, O'Connor felt motivated to run with everything in her so she could make an appearance at state. Within the next couple of hours, she qualified for just that.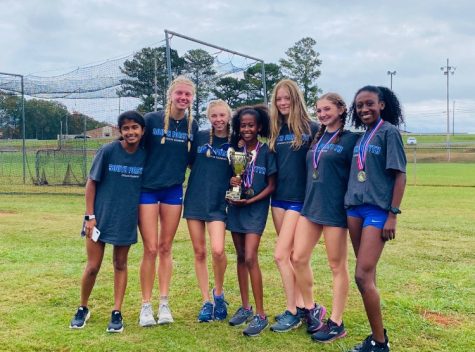 Emma proclaimed, "Running my last region race felt bittersweet, and I will miss my teammates next year. My reaction to winning regions was unbridled, we accomplished such an amazing goal! As for the state meet, I hope my team makes it on the podium, meaning we would have to be in the top 4. For state this year, I hope I place in the top 20 or 30."
These next Seniors, Ansley Rogers and Megan Milstead, never ran Spring Valley in all their years of Cross-country, but they're proud of it.
Rogers said, "It was tough to believe Region's was my last race because Cross-country has been a huge part of my life for four years. However, I used it as motivation to give my all and not hold anything back."
They've never failed to bring spirit to the team, and be everyone's number one supporters. As heartbreaking as it was, the girls worked hard from start to finish at Regions, and truly made it one for the books.
Milstead remarked, " As a senior, running Regions felt bittersweet. I was excited for my last race, but sad that it meant I would never run in another meet again. Our team was super pumped up though, and it felt very special to me."
Another Senior, Andrew Wilson, relished in the news that he'd be part of the top 12 headed to state. In his previous years, Wilson hadn't been top 7 or 12, so his last run at Regions became a valuable memory. At Coach Wood, Andrew barely touched the line before his younger brother Josh Wilson (freshmen) came only a foot after.
The showdown ended with Andrew .6 milliseconds ahead from Josh; he made sure that his younger brother wouldn't pass him in his last year. Fast forwarding too state, Andrew felt a mix of emotions as he rode on the bus for the first and last time with Josh. Nevertheless, both brothers couldn't have ended their season more sensational.
Andrew stated, "Running my last region race was surreal since the location of the region meet was also my first high school race. One of my goals that I hit this year was to make the state team and run top 12, which I was able to do. The main factor that motivated me throughout the season was the fact that this was my last cross country season ever, and I wanted to make it count."
Moving on to the varsity boys at state, Nate Verska (junior) amazed the crowd as he flew past the runners on the downhill to the finish and placed 9th (16:41). Verska came into the season prepared from summer training, and long miles. He crushed the meets, and achieved a well deserved time of 15:48 at Alexander/Asics. Verska preformed stupendously at state, and has one more year to win it all.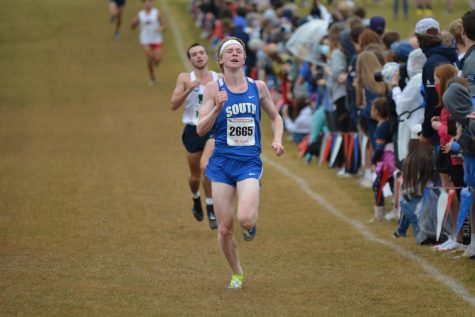 Nate said, " Leading up to state last year was stressful because we were going for the win; I didn't want to be the reason why we didn't. This year was a little bit more laid back because going into state I was very satisfied with my season. In spite of that, I made a goal to get top 10 knowing it would be a challenge to do so."
South's second fastest, Ben Bergey (sophomore), trailed right behind Verska in prior meets. However, Carrollton's course led him to be much further out than expected.
But, Bergey persevered through, and placed 50th(17:36) out of the tough competition. He had a great season overall and broke 17 minutes (16:26) at Coach Wood, his personal record for the year.
Ben exclaimed, "Achieving a pr is always a great experience. It feels as though all the work you've put in for several months finally comes together at the right time. Being in the top 5 and towards the front of a race has definitely felt new to me. As an underclassman, it's hard to compete with some of the seniors, but definitely boosts my confidence a good bit."
South Forsyth Cross-country concluded their season with rising stars like Isabel Yonas (freshmen), and Adam Zorko (freshman) expected to take the stage. Lets not also forget newbies Molly Hanlon (freshmen), and Siena Brennan (sophomore), they each had an awesome season as well. Other Seniors such as Devin Schmuckal, Sebastian Elisan, Chris Wilusz, Sam Gullo, and Aadi Jain soaked up their final memories of High-school Cross-country with the team. Senior, Madi Butler, wished that she'd joined the team her previous years. Butler even admitted that Cross-country is better than Swim, her old sport. South's head coach, Christine Shaw, was full of excitement for her team, and what each individual accomplished this season.