Supreme Court nominates and confirms judge Amy Coney Barrett
Throughout the month of October, Judge Amy Coney Barrett has been through four days of hearings with the Senate Judiciary Committee; this is the first of many steps of the lengthy confirmation process of becoming a Supreme Court Justice. There has been much discussion around Barrett's beliefs and intentions as a Supreme Court Justice.
Before becoming a Supreme Court Justice Nominee, Barrett excelled through Notre Dame Law School and worked as a clerk for two well-known conservative judges: Judge Laurence Silberman and Judge Antonin Scalia. After her clerkships, she returned to Notre Dame Law as a professor where she won multiple awards for her teachings. 
The nomination alone caused an uproar from Democrats, as the timing of the nomination is a hot topic for debate in the upcoming 2020 Presidential Election. Democratic leaders argue that the Senate should not appoint a new justice during an election year, while the Republican leaders argue that it's the president's constitutional duty to appoint a new justice. Another reason the Barrett nomination sparked controversy was because of her different views from former justice Ruth Bader Ginsberg. Ginsberg was a passionate liberal, and Barrett is a fierce conservative, known for her strict interpretation of the Constitution. Her beliefs involving the Constitution was the very reason President Trump nominated her to replace Ginsberg's seat. Many Democrats fear that Barrett will undo all of the work the past judge did to create gender equality and pro-choice rights.
Barrett underwent the lengthy process of becoming a Supreme Court Justice. After finishing four days of brutal questioning at the hearings, the Senate Judiciary Committee reviewed Barrett's nomination on Thursday, October 22. The next step is for the nomination to be sent to the Senate, which depends on the efficiency of the committee. The Senate will then debate, and finally, the Senate will vote on the nomination. If there is a tie, the Vice President will vote to break the even split.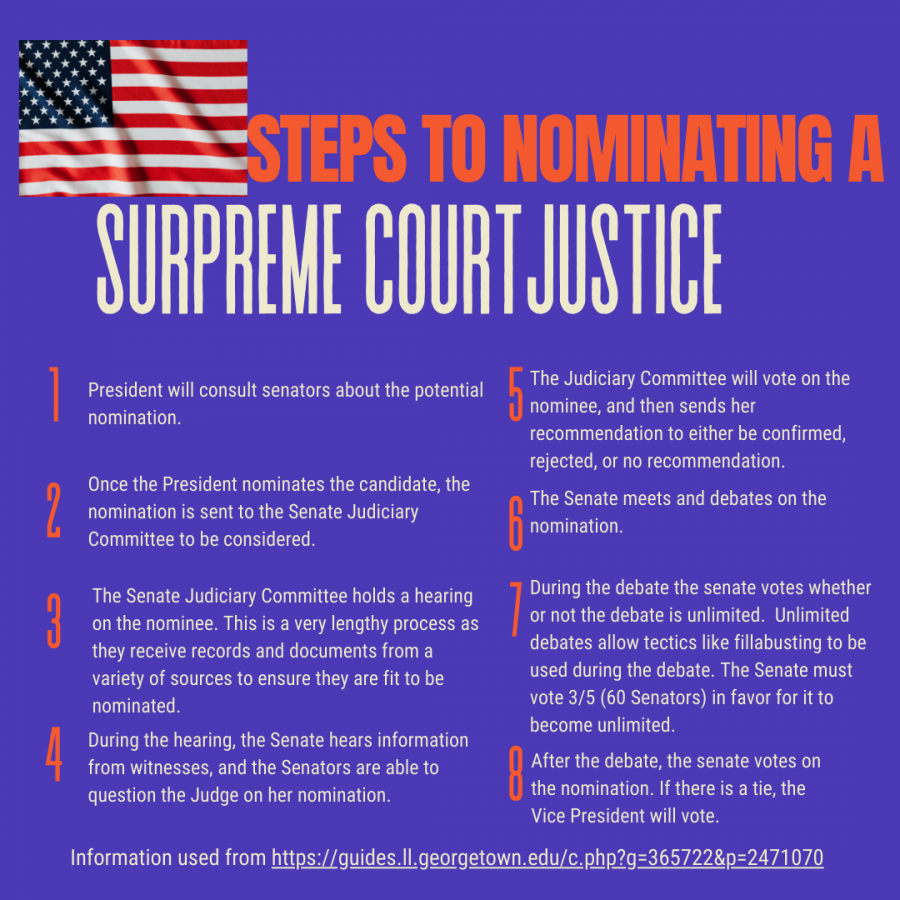 The hearings consisted of controversial questions in which Barrett had to answer honestly. One of the questions that arose was her affiliation with religion and whether she would be able to separate religion from state. The main concern with her strict, Catholic perspective is abortion rights; this includes whether or not the Supreme Court will overturn Roe v Wade, which legalized abortions across the United States. 
Another highlight throughout the hearings was her Constitutional beliefs; she believes in an originalist philosophy, meaning that the Constitution should be interpreted strictly the way it was written. 
The media covered Barrett's hearings, saying she skillfully dodged many questions using the excuse that judges should never weigh in on these issues beforehand. The media also reported that it was more sedate than Kavanaugh's hearings.  
After these lengthy and difficult hearings, the US Senate nominated Barrett on October 26th and confirmed her as a Supreme Court Justice, replacing Ruth Bader Ginsberg's seat. This only widened the gap between Democrats and Republicans, as the Supreme Court now officially leans more Republican. Many citizens wonder how this will affect the future of social rights issues in the US. 
About the Writers
Grace Drawdy, Editor-in-Chief
Grace Drawdy is a senior and has been a part of
The Bird Feed
for four years. After taking on the role of the Associate Editor, she is excited to be the Editor- in- Chief. She hopes to finish out her final year with a bang, and lead the staff to reach new goals. You can find her making a splash at the Swim Atlanta Sugarloaf location where she is a year-round, competitive swimmer. Grace loves to live life loud. Her heart beats for kids fighting pediatric cancer, and she wants to heal them all. She loves spending time with her friends. In a rare moment of downtime, you can find Grace having a solo dance party or binging Netflix. You can contact her via
twitter
or
email
.
Lucy Moon, Staff Writer
Lucy Moon is a senior at South Forsyth High School joining journalism for her first year as a staff writer. Along with writing, teaching her after-school students is one of her passions. They always enliven her days, and they inspire her to continue her career in education. Lucy spends her free time reading books, eating Cheez-Its, listening to Nicki Minaj, or playing cards. She also enjoys reading up on horoscopes and knowing everyone's zodiac signs (she will know signs before names). You can contact her through Twitter
@lucyreneemoon
or email
[email protected]
.