Harris and Pence face-off in the vice presidential debate
On Wednesday, October 7, Vice President Mike Pence and Senator Kamala Harris faced off in the first vice presidential debate at the University of Utah. Compared to the first presidential debate, which involved many interruptions and name-calling, there was a professional and calm atmosphere on the debate floor. Viewers gathered around their televisions with the hope of a less theatrical event as the moderator, Susan Page of USA Today, began the introductions. For each topic, Page gave candidates two minutes and additional time afterwards to respond to each other. 
Topic 1: COVID-19
Susan Page began the debate by asking how each candidate would handle COVID-19 and the vaccine within each of their administrations. Senator Harris claimed that Trump has been irresponsible since the first report of COVID-19 in the country and that he failed to control the spread of COVID-19. Vice President Pence, the leader of the Coronavirus task force, defended Trump by specifically mentioning Trump's decision to ban travel with China, which Pence claimed saved many American lives. 
Pence also added that "Biden's plan [for COVID-19] reads an awful lot like what [he and] President Trump… have been doing," slamming Biden for his first presidential run when he plagiarized speeches from his campaign trail back in 1988. Kamala responded by appealing to the American people, taking viewers back to the initial chaos of COVID-19 and the confusion and fear that Americans had faced. Pence replied that the Biden campaign focuses on federal mandates to better control the virus, but stated that Americans' freedom is more important. Harris countered that the safety of the American people should be the number one priority. 
Topic 2: Presidential Disability 
Pence deflected the question of presidential disability and returned back to COVID-19, mentioning that the Trump administration is handling the pandemic better than when the Obama and Biden administration handled the Swine Flu. Harris then evaded the question as well, choosing to use her allotted time to list her many accomplishments and emphasizing her successes as a woman.
Hoping to elicit a more direct response, Page continued to ask if they believe that voters have the right to know the health conditions of Trump and Biden. Once again Pence deflected this question, choosing to thank everyone, including Biden and Harris, for their concern toward Trump while he was in the hospital with the virus. Harris then switched the topic from health records to tax records in an effort to focus on the recent concern regarding Trump's taxes. With both candidates avoiding the question of presidential disability, moderator Page continued on. 
Topic 3: Economy
Page directed her first question toward Harris, asking if raising taxes on the wealthy could actually put the economy at risk. Harris responded by describing the positive impacts that raising taxes on the wealthy would have. She proceeded to describe what Biden would do with the additional money from the higher taxes. She explained how the additional money would benefit our society by allowing for greater investments in infrastructure, clean and renewable energy, and education, as well as allowing the government to help cut student loan debts. Pence challenged Harris' claim by pointing out that Biden plans to repeal the tariffs on China, end fracking, and raise taxes. This led to two major points of disagreement between the candidates. Harris stated that the Biden administration will not end fracking and will not raise taxes for families with incomes less than $400,000 a year, and Pence claimed that Biden's administration will.  
Topic 4: Environment
The mention of fracking led a smooth transition into Page's next topic: climate change. Pence and Harris both acknowledged that the climate is changing, but Harris specifically emphasized that she and Biden believe in the scientific evidence and research supporting climate change. They also discussed the confusion about The Green New Deal, which Biden opposed in the first presidential debate. The Biden administration's stance on the Green New Deal was left unclear to many viewers as Harris switched the subject to Trump rather than focusing on Biden. She stated that Trump has lost more jobs than any other president because of the trade wars with China, and Pence retorted that Biden is "a cheerleader for communist China." With no clear answers and insults from both campaigns, the debate moved on. 
Topic 5: Foreign Relationships
On the subject of China, Page asked the candidates to describe America's relationship with China. Pence blamed China for the Coronavirus, and he brought up his support for Trump's decision to ban travel from China again. Harris shared her belief that the U.S. should have peaceful relationships with foreign countries, and she thought that Trump's isolationism puts America at risk. Harris emphasized that she and Biden believe that America can find safety and support in strong relations with other countries, whereas Pence countered that Trump's approach allows America to stay strong and independent. Pence took the opportunity to further support Trump by stating that Trump's actions allowed the U.S. to kill ISIS leaders without losing American soldiers. Harris argued that Trump does not respect military personnel, and Page jumped in to move the debate along. 
Topic 6: Roe v Wade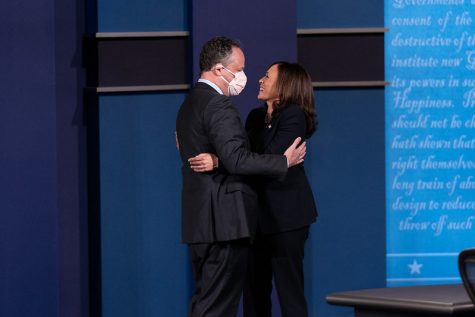 Despite both candidates evading the many controversial questions throughout the debate, both Pence and Harris were happy to share their stances on abortion. However, Pence used his first two minutes to go back to ISIS and Trump's success with handling the issue. Afterwards, Harris confidently stated that she is pro-choice, and Pence responded claiming his pro-life views. In defense of Pence's following insinuation that the Biden Administration will not respect the new devout Catholic Supreme Court Justice, Harris emphasized that Biden will be the second President who is a practicing Catholic. Page then asked if Biden and Harris will pack the Supreme Court, and Pence interrupted to say they will. Harris did not respond. 
Topic 7: Criminal Justice
On the next topic of racial issues, Page chose to ask the candidates about Breonna Taylor and if there was justice for her case. After Harris stated that there was no justice for Taylor, Harris commented that she has been a part of the peaceful protests herself. Harris claimed that she will reform the criminal justice system. She also highlighted her knowledge on the subject due to her past involvement with the justice system as a district attorney in San Francisco. In contrast, Pence claimed that he trusts the justice system, and then he condemned the violent rioting and looting that took place after Floyd's death. 
Topic 8: Political Polarization Concerns
Page ended the debate with a touching question about unity from an eighth-grade student, regarding her concern for the great divide between Democrats and Republicans. In his final statement, Pence told her not to worry because the American people are still able to come together and unite after debates and disagreements. In her final statement, Harris claimed that Biden will be the President to unite the American people. 
After the debate, the media focused on covering the candidates' discussion of COVID-19, the economy, and The Supreme Court. Most of the media agreed that it was a more orderly debate than the presidential debate. Trump fact-checked Harris through the whole debate on Twitter, the infographic below being just one example. The next day, Biden tweeted his support for his running mate with a recap video in favor of Harris. 
2010 to 2016 under Kamala Harris's watch as "TOP COP." https://t.co/L5OKBP4pr8 pic.twitter.com/LXaNlwRXFj

— Donald J. Trump (@realDonaldTrump) October 8, 2020
Last night @KamalaHarris showed America exactly why she'll make an incredible Vice President. pic.twitter.com/9BCqSUrl50

— Joe Biden (@JoeBiden) October 8, 2020
Students at South Forsyth shared their opinions on the debate. Senior Stephanie Gogita said the debate was beneficial to her, as she "learned a lot about Corona and its impact on the economy, healthcare, and on peoples' health and families."
She then shared that she didn't believe there was a winner, as "they both made and refuted points well." 
Senior and President of the High School Democrats of America Club at SFHS, Katy Gates, believes differently. She claims that Harris won the debate because "she articulated her positions clearly and answered the questions she was asked… and cited factual evidence to back up her claims."
This was the first and last vice presidential debate of 2020, leaving viewers to contemplate the different views and plans of each candidate and their corresponding administrations. It has yet to be determined if there will be a second presidential debate, yet many question if there needs to be one. Americans across the country have already made their decisions and feel prepared to vote in the presidential election. If you need to catch up on the presidential debate, make sure to read our article covering it. 
About the Writers
Kailee O'Donnell, Sports Editor
Kailee O'Donnell is a senior at SFHS and thrilled to join the journalism team as the sports editor of
The Bird Feed
. Kailee loves being involved with her school. She is the President of the National Honors Society; Vice President of BETA Club; a regional, state, and international competitor for DECA; and a member of Mu Alpha Theta. Kailee is active in her community as well. She spends her Sundays working with kids with special needs at Browns Bridge Church, and weekdays working as a Product Specialist/Marketing Associate for EventTitans, an online event management company. During her free time, Kailee can be found sprinting down the soccer field or relaxing with her friends at Lake Lanier. You can contact her by email at
[email protected]
or find her on twitter at
@DonnellKailee
. 
Lucy Moon, Staff Writer
Lucy Moon is a senior at South Forsyth High School joining journalism for her first year as a staff writer. Along with writing, teaching her after-school students is one of her passions. They always enliven her days, and they inspire her to continue her career in education. Lucy spends her free time reading books, eating Cheez-Its, listening to Nicki Minaj, or playing cards. She also enjoys reading up on horoscopes and knowing everyone's zodiac signs (she will know signs before names). You can contact her through Twitter
@lucyreneemoon
or email
[email protected]
.