Varsity Sideline Cheerleaders Benefit Their Team and Community
From September 15th to September 25th, the Varsity Sideline Cheerleaders for South Forsyth High School sold silver and blue masks studded with decorative eagles to their community for their 2020 cheer team fundraiser.
Last year, the cheerleaders sold t-shirts to support their extracurricular endeavors. This year, the head and assistant coaches for the sideline cheerleaders, Ms. Barth and Ms. McGray, decided to adapt their fundraiser to the current global situation. They developed a plan to sell SOFO inspired masks in hopes to promote safe habits in the community while supporting their athletes. They presented this beneficial idea to the SFHS Athletic Director, Mr. Gravitt, who approved and supported the plan.
The thorough details of the fundraiser allowed everyone involved to stay safe while interacting with each other. Anyone who desired to purchase a mask could do so by filling out the required virtual Google forms and paying for it through check. The cheer coaches sent instructions to buyers after their purchase on how to safely pick up their masks from the SFHS campus. 
The cheerleaders sold an impressive number of masks, each fulfilling a minimum of five sales. The cheerleaders were excited to take part in the fundraiser and share their experience.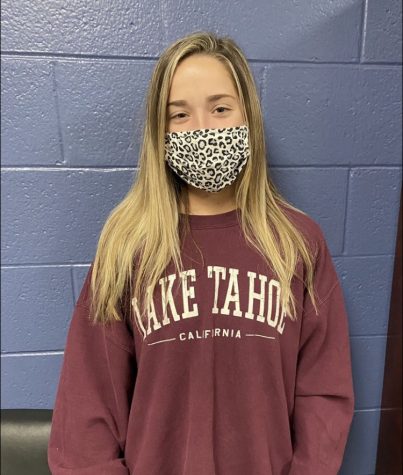 Senior Tori Watkins shared two important goals that the sales fulfilled: "We raised money for [necessary funds for transportation, equipment, and supplies for the] varsity sideline cheer team and it was a good way for our team to connect with our community." 
Senior athlete Maggie Eidson added on, explaining that the blue and silver masks provided another benefit by encouraging community members "to show school spirit as well."
The cheerleaders not only achieved these goals for their team and Forsyth county but also gained experience that spurred individual growth. The athletes pushed themselves out of their comfort zones to market the fundraiser. They posted on social media and promoted the masks to their family, friends, teachers, and other students to help further develop their communication skills.
Reflecting on the experience, Tori shared that she was grateful for her involvement in the beneficial mask fundraiser and had learned that "fundraising is the gentle art of teaching the joy of giving."
  The efforts of the varsity sideline cheer team was an admirable success, and the South Forsyth community looks forward to seeing what their future endeavors will entail. See the cheerleaders in action at the next War Eagle football game on October 9th against Alcovy High School, and make sure to check out the War Eagle football schedule!
About the Writers
Kailee O'Donnell, Sports Editor
Kailee O'Donnell is a senior at SFHS and thrilled to join the journalism team as the sports editor of
The Bird Feed
. Kailee loves being involved with her school. She is the President of the National Honors Society; Vice President of BETA Club; a regional, state, and international competitor for DECA; and a member of Mu Alpha Theta. Kailee is active in her community as well. She spends her Sundays working with kids with special needs at Browns Bridge Church, and weekdays working as a Product Specialist/Marketing Associate for EventTitans, an online event management company. During her free time, Kailee can be found sprinting down the soccer field or relaxing with her friends at Lake Lanier. You can contact her by email at
[email protected]
or find her on twitter at
@DonnellKailee
.