Restart Forsyth helps the start to in-person school
 As summer came to a close this year, county and school officials faced a crucial decision: in-person school or virtual learning. With the pandemic reaching a slight resurgence around the back-to-school season, many people faced important decisions regarding both in-person and virtual school options. Many counties, such as Cobb and Gwinnett, chose to have an all-virtual start to the year. Cherokee and Forsyth were one of the only counties in the metropolitan Atlanta area that chose to have an in-person option available to students on the first day of school. Faculty and Admin worked tirelessly to ensure that the necessary precautions developed to ensure social distancing and safety for all students and staff on the first day. 
In response to the in-person start, Forsyth County also began a new separate project called Restart Forsyth. This project is a way for students, parents and teachers to track the county's restart process and the confirmed cases within our school system.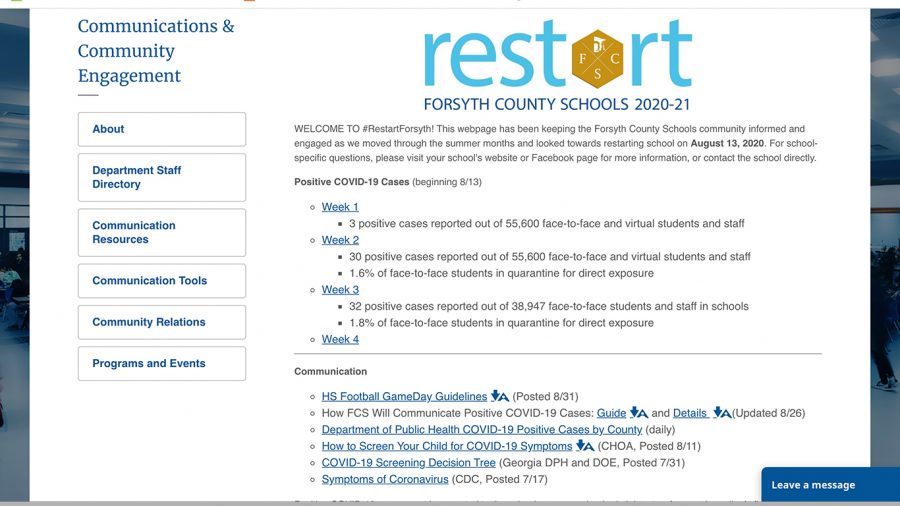 This section on the FCS website focuses on the cases and the guidelines for any school-related activities and extracurriculars. It allows leaders and community members to track Forsyth County's restart process and make changes when necessary. W
When the pandemic necessitated a school closure in the spring, Forsyth County's teachers and students gained three months of experience with distance learning. FCS uses the learning management system, itslearning, to manage the process of teaching and learning virtually. 
With the return to school for the 20-21 school year, students choosing to learn virtually will continue to learn via the itslearning platform, making it easier to access their coursework and stay on track. It also makes hybrid school days more accessible as well because teachers post their lesson plans and resources to itslearning for both face-to-face and virtual learning.
Many students are concerned regarding the risk and the spread of COVID-19. "We [my family] felt that it [virtual learning] was the safest option for me and my brother to stay home and reduce the risk of spread, for our family's well being and for the welfare of the community," said virtual student Shivani Murugipuram. 
The Forsyth Virtual Academy led the transition to virtual teaching for Forsyth County Schools. Having a virtual school tailored to the state standards and the county's teaching plan ensures that there is a seamless transition from in-person to virtual classes.
"I like the virtual setting because it is in my house; I'm more comfortable and at ease since I don't have to be anywhere," says junior Vyshnavi Ramanadham.
The virtual choice yields more flexibility and allows students to finish their work on time. It also allows students to explore hobbies and other interests outside of school.
"I spend about 12-14 hours doing classwork and homework on my computer, and in my other free time, I spend time with my family outside or working out," says Ramanadham. 
Some students chose the hybrid option which combines the benefits of face to face and virtual classes. Some students took advantage of the hybrid options to help ease their busy day filled with both academics and extracurricular activities 
"We decided it was more convenient for us to get out early because of swim practice and [have] more time for other things," said junior Gavin Cullinan. "My day as a hybrid student is like a regular school day, but when I get home, I can focus on other classes and spread out my workload throughout the week. It is nice to be able to come home and take a brain break or be productive depending on what I need at the time"
In this unprecedented and uncertain time, it is comforting knowing that Forsyth County has put its students, teachers and staff first and is working with each individual to find the right fit for their needs during this time. Hopefully, enforcing the restart plans will help reduce the risk of the spread of the virus as well as help all schools stay safe while returning to a new normal.