FCCLA bags of love help with mental health
Last month, Sophomore Kira Young created unique "Bags of Love" as part of her Region Star Events project for FCCLA (Family, Career and Community Leaders of America), spreading the importance of mental health throughout the campus. As part of her project, Young collected supplies for mental health kits, which she then distributed around the campus to teachers, who could give them to students they saw struggling.

"The purpose is to build a conversation between the student and teacher," Young explains. "It's kind of like a wellness check, but an easier way than just saying 'hey what's wrong?'" 
The sophomore recruited donations from all sorts of clubs and organizations across the school, including Beta Club, Key Club and FCCLA. During Flextime, her and several volunteers had a "destress day" where they listened to music, ate snacks and made the kits. They contained several items that improve students' mental health. 
"The items in the kits that we assembled include a small journal, colored pencils, a stress ball, pens, and a pack of gum, mints or tic-tacs," said Ms. Brawner, the school's Teaching as a Profession teacher, as well one of the advisors of South's FCCLA chapter, which deals with the culinary, teaching, and other CTSO pathways South offers. "This will help abridge a conversation between the teacher and a student, build those trusted relationships, and let the student know that the teacher cares about their mental health and well-being."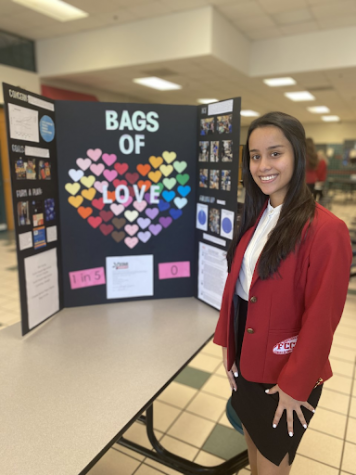 Young went on to win a Gold Medal at the Star Events as well as qualifying for state. She got to Nationals last year but says that she hopes the impact of this project will resound with more individual successes than just hers.
"To me, the main goal wasn't competing; it was just spreading awareness. So nationals would be an extra thing to me," she explains.
Young then went on to talk about the value of communication with students as well as the stigma around mental health, and how she hopes her project will impact that.
In the last several years, many have unspokenly prohibited talking about mental illness.
"When you're not talking about it, you can't do anything about it,"  Young continues, "so we need to get the conversations started in order to make moves to, hopefully, solve some problems."
Having doubled her goal of 50 bags and working to achieve her mental awareness goal, Young explains that her wish for this project was not only for students to be aware of others struggling but for teachers to be able to help their students in some way.
"Even if they don't give them (the bags) out, teachers can be like 'my students are stressed, so what can I do to help them?'', she explains. "Students can be like 'I see that person not having the best day maybe I should go talk to them' and we can bridge the gap between student and teacher." 
Many teachers received the bags and have already seen successes come from using them. "I was able to give a student a kit today who was crying, upset, stressed and overwhelmed and I saw the immediate impact that had just because it showed that I cared about that student. They even replied with a thank you for being there for me," recounts Ms. Brawner. 
While Young understands that AP classes are likely to come with more stress, she explains that "on-level classes and art classes, music, theater, sports, whatever, still come with a lot of stress, whether it's academic or at home, so we are catering to every audience we can."
Young hopes that the bags will continue to appear around the school as students struggle with mental health. Just days after they first started the project, Young walked into a classroom and watched as a teacher gave one of the bags to a struggling student. The student immediately took out the stress ball and started enjoying the contents of it.
"I think its something that's actually helping," she explains. "Even if it's not the student talking to the teacher, it's a way to escape. So we call them bags of love."
The impact has already started to spread among the students at South, and Young hopes it will be a great way to bring together the students and teachers. Although the kits are a small step, she hopes the connection between student and teacher will be enriching for their future.