New updates on the Coronavirus leave South's students concerned
The coronavirus, which started as an unknown pneumonia in Wuhan, China, in December of 2019, has now grown into a global cause of stress and concern. On February 25th, the Center for Disease Control and Prevention (CDC) sent out a press release confirming the first case of coronavirus spread by person-to-person contact. As of February 26th, there have been over 2,700 fatalities and over 80,000 reported cases of COVID-19 (the World Health Organization (WHO)'s name for the disease) globally. In the United States, there have been 15 confirmed cases with 454 people tested for the disease.
"My family and I were really excited to go visit my grandparents in California, but we don't think we can due to the new outbreaks of coronavirus, it is really scary to think it is very close to my loved ones," explained sophomore Sharon Pham.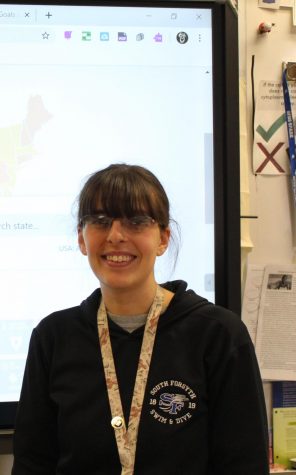 Earlier, the virus had spread only through people that had traveled to infected areas, yet the news of person-to-person contact has people even more worried. Although the CDC says the risk for COVID-19 remains low for the general American public, they also encourage the public to stay very alert for the future. "More cases are likely to be identified in the coming days, including more cases in the United States. It's also likely that person-to-person spread will continue to occur, including in the United States. Widespread transmission of COVID-19 in the United States would translate into large numbers of people needing medical care at the same time," their website states.
"I would say what concerns me the most is how it takes about 2 weeks for symptoms to actually start showing, which means it can spread very quickly. Also, the fact that what seems like a cold is going around the school just makes me more wary of diseases in general, especially the Coronavirus. Also, just looking at how deadly similar epidemics were in the past adds to the consternation since we probably won't have a cure till next year," voiced Junior Chris Efobi. 
As Efobi said, the symptoms of the virus are very similar to those of the common cold or flu. They can include fever, cough, and shortness of breath, and it can take anywhere from 2 days to 2 weeks for the symptoms to appear. Therefore, the precautionary methods for these symptoms are also similar to those of the common cold and flu. The CDC offers several ways to prevent exposure to the disease, including avoiding close contact with others and of your own eyes, mouth, or nose, disinfecting household items that may be prone to catching germs, adequately protecting yourself during a sneeze or cough, and most importantly, washing your hands regularly in a thorough manner.
In addition, there are many practices and mindsets to avoid when it comes to COVID-19. The CDC urges people to avoid purchasing face masks especially if they are healthy. They only recommend this practice to doctors or nurses who deal with patients on a daily basis and are regularly exposed to the virus. According to Business Insider, severe mask demands have led to things such as mask shortages for professionals and patients, mask prices skyrocketing on websites such as Amazon, and even counterfeit masks selling at a high rate and not offering adequate protection.
For citizens of the United States, the CDC has currently organized 3 levels of travel awareness. Level 3 includes China and South Korea, which are at high risk and citizens should avoid travel there completely. Iran, Italy, and Japan have level 2 risks, where travel should be avoided unless necessary. Hong Kong is currently at a level 1, with the CDC stating to practice usual precautions when traveling there. In terms of the US government, President Donald Trump sent out a tweet on February 26th stating his views on the virus:
Low Ratings Fake News MSDNC (Comcast) & @CNN are doing everything possible to make the Caronavirus look as bad as possible, including panicking markets, if possible. Likewise their incompetent Do Nothing Democrat comrades are all talk, no action. USA in great shape! @CDCgov…..

— Donald J. Trump (@realDonaldTrump) February 26, 2020
Junior Aditya Diwakar also voiced his concern about this facet of the virus: "The domestic concerns arising from the CDC announcement are prevalent, and the majority of the concern comes to the inadequacy of the Trump administration to respond to the potential pandemic- as stated by the CDC, the country is not prepared for an outbreak but our President is significantly understating the prevalence of the issue. I'm concerned if an outbreak occurs, the US will be severely underprepared," he said.
Finally, it is important to only trust reliable and credible sources when researching the disease. The Center for Disease Control and Prevention and the World Health Organization both have comprehensive websites with day-to-day updates on the virus. Trusting false websites as well as videos from the internet without cited resources will only increase the hype and negativity surrounding the virus. And with any confusion or personal questions, the most reliable person to ask is an educated doctor who can explain the scenario in detail. Mikhail Varshavski, a family medicine doctor as well as YouTuber, has a 3-part series outlining the disease with more videos to come, and his latest video highlights many of the important developments regarding the virus:
https://youtu.be/RSiW6ZvPqeg
As high school students, it's very easy to become anxious about the new disease and scared of how it will impact our lives, especially sharing a building with so many fellow students. However, the best prevention for the alarming updates is to stay hygienic, maintain precautions, and remain updated on the news regarding the virus. Remaining in a collected mindset and doing research through trusted sources is the only way to combat the virus in an effective manner.
About the Writers
Dione Geiling, Staff Writer
Dione Geiling is a sophomore and is in her first year of Journalism. She is a staff writer for the newspaper
The Bird Feed
. In her spare time, she loves to read and rewatch episodes of her favorite shows on Netflix. Dione loves science and literature and she hopes to pursue a career in the science department. She also loves hanging out with her friends and laughing until her stomach hurts. You can email her at
[email protected]
or contact her on twitter
@dionebirdfeed
.
Naisha Roy, Copy Editor
Naisha Roy is a junior at SFHS and beyond excited to start off her third year at
The Bird Feed
and her second year as the Copy Editor. This year, she hopes to help the Bird Feed reach new heights and help everyone on staff find their unique voice. Journalism is one of her biggest passions and she loves voicing her opinion on the website. She loves acrylic canvas painting and cuddling up with a good book - her favorites are Dan Brown's thrillers. She's also a huge potterhead and part of Ravenclaw. She most relates to Chandler from
Friends,
which is one of her favorite TV shows. You can email her at
[email protected]
.