An initial look at the upcoming varsity tennis season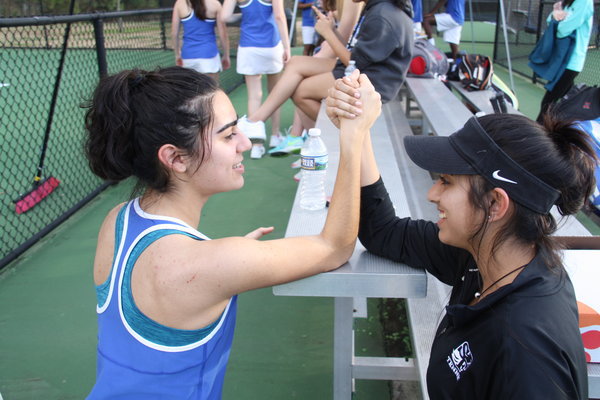 As spring semester begins, the South Forsyth varsity tennis team is starting to compete with other teams throughout the state. Currently, the girls' and boys' varsity team both stand undefeated, hoping to continue the winning streak all the way to state. The varsity boys' team won two away matches against Northview and Mill Creek High School, as well as one home match against Chattahoochee High School. Additionally, the girls team won two away matches against Mill Creek High and Chattahoochee High. Both girls and boys from the varsity team explained what holds them together as a team and what is needed to be victorious during the season. 
"We work really well as a team because we have a good mix of different players and personalities and we each bring our own unique experiences to better the team.  Our captains are always there to provide support and bring us together when we get distracted," explains senior Ved Janaki. 
The goal for this season seems to be clear for both teams: win state. In the past seasons, the wins have been close but no cigar. The players hope their winning streak will continue and help them bring home the gold this season. For many seniors, this will be their final year to leave a lasting legacy during the season.

"I hope we have an amazing season and win the state title. But in addition to winning, I hope the season is a lot of fun and I create lasting memories because it will be my last season playing," Janaki says.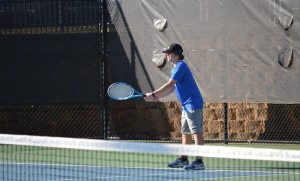 Senior Vidhula Prasanna also hopes this will be the season for the win.
"I know I can speak for my whole team when I say that we all hope to win state this year," she says. "We've gone to the Elite 8 the last two years and it would be pretty awesome if we brought home the trophy this time."
Behind each victorious game comes a great deal of practice. Both varsity teams spend many hours after school during the week to prepare and advance their skills. Players practice at different local parks such as Fowler Park or other community tennis courts. While they are quite lengthy, each practice prepares the team and enhances their team working skills. 
"We have practice Mondays through Thursdays for two and a half hours," said sophomore Braxton Wright. "We put in many hours of practice and dedication and many players on the team practice more than our scheduled practices.  Each practice we try to give it our best so we're improving."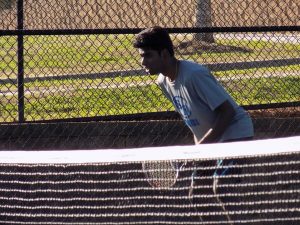 Before the start of each match, each team has their own traditions. The traditions differ for most individuals, but they are special and unique to everyone. The girls' and boys' varsity teams have their own cheer or chant that some seniors have been part of for about 4 years. Along with their team chants, some players have certain rituals they partake in to make sure they are ready for the game.
A very important ritual for me is that when I serve on the deuce side, I must have two balls in my pocket, but when I serve on the ad side, I can only have one ball in my pocket, said Janaki. "It's strange but it's important for me." 
While the season is still continuing, some of the seniors on the team made a commitment to pursue their passion for their future tennis and academic careers. Senior, Ashton Morrison, and senior, Will Fullett, recently signed to their preferred colleges. The coaches and other players are beyond excited to see what the future holds for these students.
In the upcoming week, the varsity teams are scheduled to play against the Johns Creek High School tennis teams. The tennis team is excited to see what the season holds for them and hopes to end the season victoriously.