Project All American teaches business to the local community
What started as a simple project has turned into a dream of helping Americans understand the financial systems of the United States. Havisha Murukuntla, Mitali Bidkar, and Dhriti Pentela put together Project All-American. After discovering the possible impact that this project may have on the community around them, these three girls expanded this to include many of the Americans in our community, especially targeting those who may not have wanted to learn before.
"Our message is basically to spread community love while also teaching the volunteers about finance and business" says junior Havish Murukuntla.  
Blooming Seeds
Blooming Seeds is a non-profit organization that helps special needs kids interested in STEM. On January 25, Blooming Seeds partnered with the organization to set up a computer store. The students were given Monopoly money and they bought and sold items to grasp the concepts of consumerism. 
Arbor Terrace
On February 5th Arbor Terrace, an elderly home, and Project All-American hosted a game night where senior citizens participated in games like Headbandz and Monopoly. FBLA has five pillars but with these games Project All-American focused on profit and right to private property. Through these games Havisha, Mitali, and Dhriti worked to reinstate understanding of business.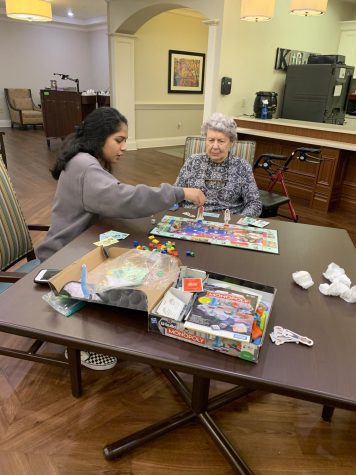 South Forsyth High School
The FBLA chapter has put together many workshops and guest speakers to explain financial and entrepreneurship advice to the students of South Forsyth. The students in this club have also put together pitches to give in depth examples to the student body. These presentations have been happening periodically throughout the school year and the last one was on January 23, 2020. 
Havisha Murukuntla expresses her feelings about the project, "Helping out our community made me feel warm inside. It's a real privilege to be able to take the resources that FBLA provides us with and utilize them for a good and better cause. It's a good feeling to spread your passion in the best way possible to the best people."
Havisha, Mitali, and Dhriti have more plans in mind. They have been working to create an instagram, projectallamerican, and make flyers for their project. At the moment, volunteer opportunities are limited to FBLA members but as the project grows, more students will be able to participate. The project will continue on until the end of the school year but plans for net year are still undecided.