Tame Impala releases new single and album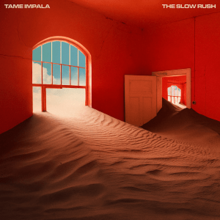 Tame Impala released a new single on January 8th titled Lost In Yesterday. Lost In Yesterday holds the weight of wallowing in the past and not focusing on today. 
The psychedelic rock band, from Australia, is working on a follow up to 2015's Currents. Multi-instrumentalist Kevin Parker, who writes all music for Tame Impala, released a new single from the new album following behind Borderline, Patience, Posthumous Forgiveness, and It Might Be Time. 
In May of last year, Parker talked to The New York Times about his new record. "A lot of the songs carry this idea of time passing, of seeing your life flash before your eyes, being able to see clearly your life from this point onwards," he said. Based on what Parker said, we can only guess the new album, The Slow Rush, will be full of anagnorises and revelations coupled with fleeting moments. 
Lost In Yesterday is a classic Tame Impala track. The song Starts with a simple drumbeat that leads into a complex bassline coupled with Kevin's spacey vocals. Similar to The Less I Know The Better, Lost In Yesterday captures listeners with bouncy instrumentals and vocals that float above it all. The chorus asks, "Does it help to get lost in yesterday?" telling listeners to let go of the past that is dragging them down.
The Slow Rush is available to buy now and released on February 14. Tame Impala's new material does not disappoint. Kevin Parker has created something for all outcasts to enjoy. 
About the Writers
Brantley Jenkins, Columns Editor
Brantley Jenkins is a sophomore at South Forsyth High School. He is a first year staff writer that also plays guitar, bass, teaches karate, and is a big theater nerd. Most of the time he will have earbuds in, blasting music. If you see him walking down the hallways you'll most likely see him with miss-matched Vans and ripped jeans. If you need to get into contact with him you can email him at
[email protected]
or his Instagram @settledbullet.