Keeping Us Up till Midnight: Taylor Swift Announces 10th Album "Midnights"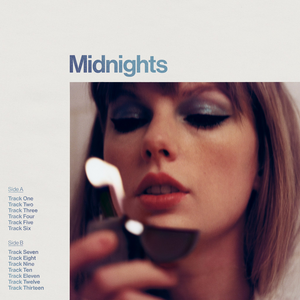 In the "'middle of the night, in our dreams'" fans were hoping Taylor Swift would announce a new album when the singer-songwriter attended the 2022 MTV Video Music Awards (VMAs).
Little did they know that their wildest dreams were about to come true.  
Taylor Swift announced her 10th studio album, Midnights, at the MTV VMAS held on Aug. 28. The announcement came during her acceptance speech for the biggest award of the night, Video of the Year.
While accepting the award, Swift stated, "I thought it might be a fun moment to tell you that my brand new album comes out Oct. 21." 
The crowd erupted into screams as she continued, "…and I will tell you more at midnight." 
Swift left fans in disbelief for the next 20 minutes. Her official website featured a white clock with the words "meet me at midnight" on the top of the screen.
As a fellow Swiftie, I will say I did in fact stay up until midnight in anticipation of the announcement. At midnight, Swift revealed the title and synopsis of the album on Twitter, Instagram, and her website.
Midnights, the stories of 13 sleepless nights scattered throughout my life, will be out October 21. Meet me at midnight.

Pre-order now: https://t.co/jjqUNkphuG pic.twitter.com/Fh96zK8vro

— Taylor Swift (@taylorswift13) August 29, 2022
The album's title is "Midnights," and will feature "the stories of 13 sleepless nights throughout [Taylor's] life."
When asked about how the album will express itself sonically, South Forsyth High School's teaching intern Kae Hall stated, "I feel like she really found her voice with 'Folklore' and 'Evermore,'" which bodes well for everything "Midnights" might bring to the table.
Swift has on multiple occasions expressed how the albums "Folklore" (2020) and "Evermore" (2020) were passion projects, and that she loved making both of those albums.  She has also always been keen on exploring night motifs, so this album's title and theme does not surprise fans.
However, the announcement had Swifties at the edge of their seats, as fans desperately wanted new content from Swift.  The singer-songwriter has been pretty silent this year, with only four public appearances and one song release, so the night was a rollercoaster of emotions for arguably one of the most passionate fanbases in pop culture.
Like many of Swift's greatest hits, the context of the album's announcement is also full of hidden meaning.
Thirteen years ago, Swift won the same VMA prize, Video of the Year, for "You Belong With Me." While accepting that award, instead of revealing a new album, rapper Kanye West famously interrupted her. He went on stage, grabbed the microphone from Swift, and stated that Beyoncé deserved to win. That night led to a feud between West and Swift which has yet to be resolved. Swift choosing to announce an album 13 years after that incident is a bold move that Swifties seem to have embraced. 
However, the album announcement was not the only surprise of the night.
Her appearance at the VMAs was shocking in itself, as Swift did not confirm her attendance beforehand. There were rumors and speculation, but there was no comment from Swift or her team. She walked the red carpet wearing a star-studded Oscar De La Renta dress made of ornate jewels and gems, a reference to Swifts 2017 single "Look What You Made Me Do." 
The night of Aug. 28 will go down in Swift history, and we couldn't be happier that she is taking this night into her own hands. 
In our minds, Oct. 21 and the release of "Midnights" cannot come any sooner, and you can be sure we will all be staying up until midnight to listen to Swift's latest work.