SOFO Swim and Dive kick-start the season
People could hear the splashes from dives and flip turns from across the Cumming Aquatic Center on Saturday night as the beginning of the winter Swim and Dive season started. Swimmers cheered on their teammates, pushing them to swim their very best. North Forsyth High School hosted the kickoff meet. Over 30 teams from many high schools including Lambert, North Forsyth, West Forsyth, and Denmark competed. SOFO Wet War Eagles debuted their best swimming against teams all around Metro-Atlanta, continuing their championship attitude into the following season.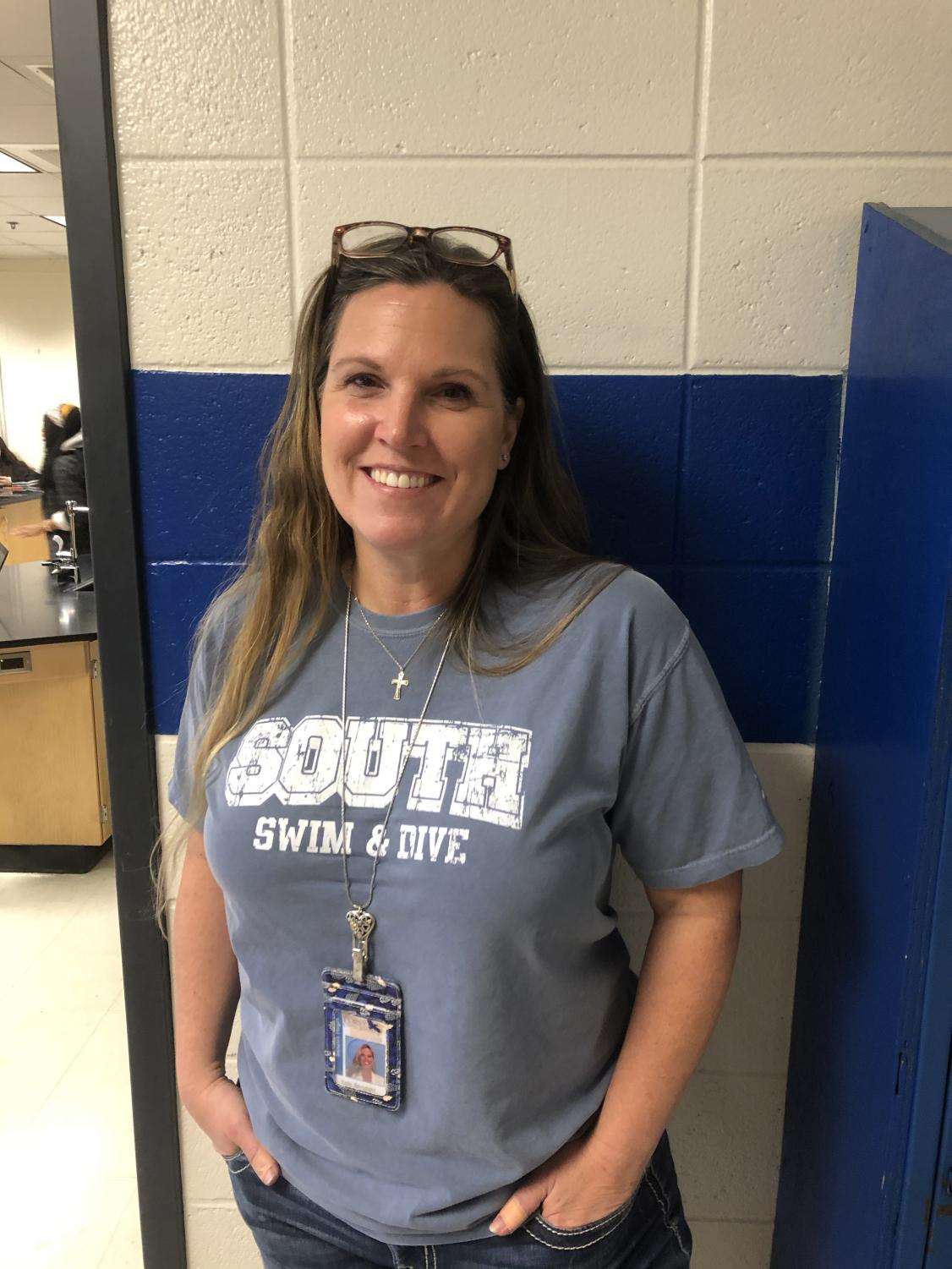 South Forsyth forensics teacher and head swim coach, Mrs. Bergdahl, comments on the past competition and the goals and expectations for the upcoming season.
Q. How did you think our swimmers performed given this was the first meet of the season?
A. Our swimmers, as a whole, did an amazing job for their first meet!
Q. Were there any swimmers that stood out at this first meet?
A. Yes, definitely the ones who made SQT [State Qualifying Times]: Jordan Edwards (200 Free), Gavin Cullinan and Ben Isakbayev (200 IM), Jordan Edwards and Caroline Blair (200 IM), Katie Herman (50 Free), Jake Taulbee (100 Fly), Sreenivas Yellayi (100 Free), Katie Herman (100 Free), Jenny Chung and Grace Drawdy (500 Free), Boys A Relay (200 Free Relay), Girls A and B Relays (200 Free Relay), Gavin Cullinan (100 Bk), Caroline Blair and Charlotte Tully (100 Bk), Boys A Relay (400 Free Relay), and last but certainly not the least (just the last event ) Girls A Relay (400 Free Relay).
Q. Have you changed any of your expectations from last season to this season? If so, can you give us a few examples?
A. I know that my athletes will reach as high as we set the bar. We will try to be returning champs for County and I would love to see the girls win State (ultimate goal) and get the boys on the podium at state in some form (of course 1st would be ideal).
Q. What are some of your goals and expectations for this season?
A. Some major goals I have include all athletes reaching the lettering qualifications; all make their PR [Personal Record]; we continue to unite the Swim & Dive as one team; bonding with genuine hearts. Some expectations the coaches and I have for the athletes and ourselves would be that coaches and athletes respect one another and others outside of our sport.  Swimming and Diving is a very unique sport – it takes incredible dedication and energy to succeed.  If we meet our goals than this expectation will be attained.
Q. How have the practices changed from last year?
A. This year we have an equal amount of dryland/weights and water time.  Ideally, we would have even more water time, but we will take, gracefully, what we can get.
Q. What are some specific events you are excited about in the upcoming swim season?
A. I am super excited to see what this group of young athletes can do – they are an amazing, hard-working group of athletes.  Overall their academic work ethic rivals their athletic ability – and that is saying something!
With over 20 newly-made state qualifying times, South Swim and Dive athletes leave the competition with radiating smiles and the satisfaction earned after a day of good work. The team hopes to continue the success they saw in the past few weeks into both the county and state championship competitions.
About the Writers
Sierra Wamsley, Editor-in-Chief
Sierra Wamsley is a senior at South Forsyth High School. She is beyond thrilled for her fourth year on
The Bird Feed
staff. You can often find Sierra splashing in the pool or writing a new story. She will be continuing on the South Forsyth Swim and Dive Team for the fourth year. She'll always have a big smile on her face and a positive attitude. Sierra spends the majority of her free time engaged in music. She is usually jamming out to pop music with her brothers in the car. One item that has always been on her bucket list for the future is visiting Greenland. You can reach Sierra on Twitter at
@wamsley_sierra
or email her at
[email protected]

.
Grace Drawdy, Editor-in-Chief
Grace Drawdy is a senior and has been a part of
The Bird Feed
for four years. After taking on the role of the Associate Editor, she is excited to be the Editor- in- Chief. She hopes to finish out her final year with a bang, and lead the staff to reach new goals. You can find her making a splash at the Swim Atlanta Sugarloaf location where she is a year-round, competitive swimmer. Grace loves to live life loud. Her heart beats for kids fighting pediatric cancer, and she wants to heal them all. She loves spending time with her friends. In a rare moment of downtime, you can find Grace having a solo dance party or binging Netflix. You can contact her via
twitter
or
email
.