Shane Dawson and Jeffree Star Release Conspiracy Collection
On November 1st at 10 a.m. Shane Dawson and Jeffree Star's Conspiracy palette and other related merchandise were released to the public on Jeffree Star's website to help support Shane's dream and create something meaningful to him. He has always wanted to make something that people will be genuinely interested in and enjoy.
The process of making this palette began in February, and released on the first of November, meaning this took him and Jeffree nine months to create and organize. In October, Shane began to post footage on his YouTube channel showing viewers the journey he took and the obstacles he had to face to get to where he is now, such as how when the website crashed as soon as he released this collection and when robbers took millions of dollars worth of Star's products.
"I woke up today and $1 million of product was stolen from my warehouse last night," Jeffree Star explained to Shane over a voicemail, "We believe that it was an inside job." This was obviously a major set back for them. Despite this devastating complication, the two of them continued to pursue Dawson's dream: to make something important to him and his fans.
They put forth a lot of effort, time, and money into this project. They worked together with Star's production team to create a logo, clothing, the different palette shades with their names for the palette, and many more makeup accessories such as the mirror, makeup bags, purses, lipsticks, and much more.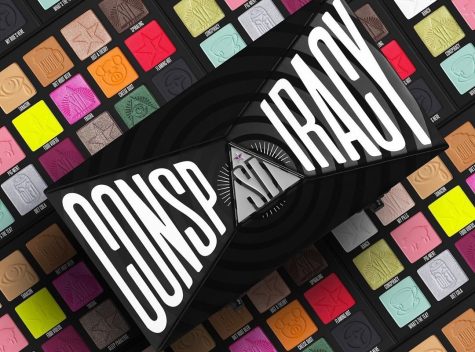 On Jeffree Star's Instagram he wrote, "Our site and the back end platform called @shopify (which hosts our store) had the most extreme traffic and took hours to process orders and finally now it's working back to normal!" Jeffree also explained, "When the collection when live, it crashed before all the items could be up and some of the collection didn't appear… We are so sorry about that issue and everything is back up!"
The Conspiracy Palette costs $52, the Mini-Controversy Palette is $28, all Velour Liquid Lipsticks are $18. The bundle for the Conspiracy Palette, Mini-Controversy Palette, all lipsticks, Lip Balm, and the Black Imprint Travel Bag costs $210. Many more prices can be found on their website.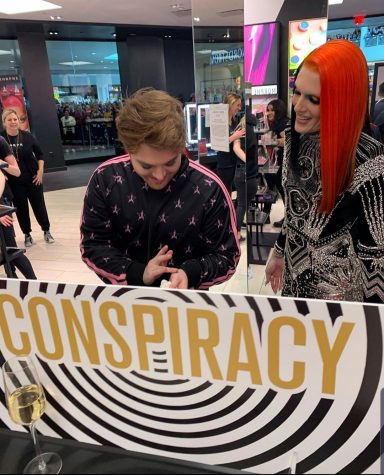 Thus far, the reviews for the Conspiracy Collection have been very positive. YouTube celebrity Trisha Paytas posted a review video of the Conspiracy Collection. "He (Dawson) just keeps challenging, creating, and changing the dynamic of YouTube," Paytas says, "He (Star) was really giving the spotlight to this (Conspiracy Collection) and priority to this. I think that's a really beautiful thing." Paytas makes it clear that she is very proud of Dawson and Star and what they have created as a team.
Millions of people are eager to get their hands on the Conspiracy Collection. On November 8th there will be one small restock of product, then the next full restock will be in 2020 because producing such a high quantity of merchandise takes time and resources.
"I was amazed by the dedication Shane put into making this," says South Forsyth junior, Lucy Taylor, "I was so impressed by the final products in his collection and I hope that I can buy his palette as soon as he restocks."
Lucy watched the entire series by Dawson that features him going through the process with Star as they made the Conspiracy Collection. She hopes to buy the main Conspiracy palette once Dawson is able to fully restock his store in 2020. Despite the wait, she remains eager to buy his merchandise.
"I really like the colors he chose for the Mini Controversy palette," South Forsyth freshman, Srija Chitti explains, "There are some regular shades along with some brighter ones that really make the palette stand out."
Chitti feels as though Dawson's Mini Controversy palette holds some unique shades which she found to be quite impressive. Chitti enjoyed watching Dawson's series on his Collection and was in awe when she saw his final product.
"I was waiting for the collection to release online and as soon as it did I bought it as quickly as I could," says junior, Ashtyn Larrison, "I was so excited once it arrived in the mail."
Larrison bought the palette as soon as it was released and was pleased once she received it in the mail. She waited on its release intently and was ecstatic when she was able to be among the very first group of people who bought from Dawson's. This, of course, was difficult considering the major traffic on the website from millions of other people trying to buy from him all at once. This goes to show how Dawson and Star were really able to "break the internet."
Dawson and Star spent many months working diligently on this project and now that it has finally released it has made a massive impact on the YouTube community, Dawson´s life, and students at South Forsyth who have been waiting to see the release of all of his final products.
About the Writers
Lisa Holiday, Staff Writer
Lisa Holiday is a senior at South Forsyth High School participating in journalism for her second year. Her passions include photography, writing, and helping others. She has done volunteer work through The National Honors Society and Key Club for Meals By Grace and other organizations. You can find her taking and editing photos of nature or enjoying a cup of coffee with her friends.  She joined
The Bird Feed
in hopes of making an impact on other people's lives by investigating the world of psychology in her journalism as well as being more involved in school events.  You can contact her at
[email protected]

mail.com
or her Twitter,
@Lisa91845159
.