The strength of loss
The South Forsyth theater program held two double features on October 10th and 12th, Lost Girl and The Strength of Our Spirit. Lost Girl is a psychological story centered on Wendy Darling, the girl who was taken to Neverland by Peter Pan. The Strength of Our Spirit is a play in remembrance of those that died during the Holocaust.  Wildly different but equally entertaining, the Southside theater program did not disappoint. Both shows were taken to competitions, Lost Girl went to One Act and The Strength of Our Spirit went to the Georgia Theater Conference (GTC).
Lost Girl
Lost Girl by Kimberly Belflower, explained what happened once Wendy was taken to Neverland. She has developed a dependence on Peter Pan who said to wait for her. Every day, she left her window open for him to return, but little does she know, the "boy who never grew up" finally grew up. The play showcased many characters that are played by the same person. For example, the actor playing Nibs also plays the detective.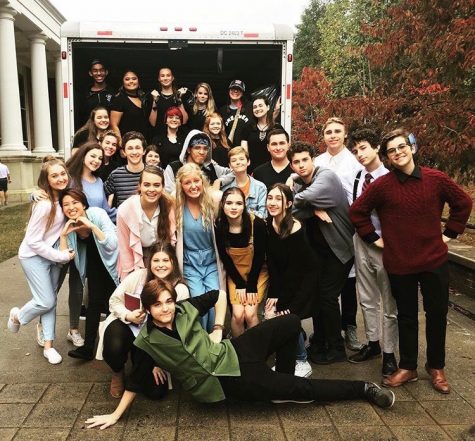 Wendy Darling, played by Northie Jackson on Thursday and Alexis Wentworth on Saturday, has come back from being trapped in Neverland. The play began with the entire cast walking onstage and speaking as a crowd saying, "Have you heard?" "That girl…" "Wendy was it?" Immediately the audience was plunged into suspicion of what is happening. Eventually, the crowd died out and Wendy was left alone, telling the audience how she only gave herself eight minutes a day to think about the past. Besides Wendy narrating her story, three girls (A, B, and C) narrated the story from an outside view. 
Wendy, being Wendy, started to recount her story of Peter. She began with the scenery of Neverland and started to describe the time she gave him her kiss. Not just kissed him; she gave her kiss to him. The psychological trauma of being taken to Neverland, then never seeing Peter again, left Wendy in a depression and in need of a therapist. A detective joined Wendy in attempts to try to find Peter. 
The biggest shock to the world is that Wendy came back with four boys known as the "Lost Boys." These four became her best friends and let slip that there were more girls than just her that Peter had taken. Wendy then decided to find all these girls and see if they could help her find Peter. One girl, Nina, helped her find Peter leading to Wendy and Peter's reunion. Lost Girl ended the same way it began, but instead of the entire cast on stage, Wendy was the only character on stage. 
South took Lost Girl to One Act and won a few awards. Elisabeth Moreau won best lighting design for the show. Northie Jackson got best lead actress as Wendy. Brandon Cook won best supporting actor for playing Slightly, the Lost Boy that liked Wendy. Lastly, Chris Kesserwani was selected to be a part of All-Star Cast. Senior Caroline Kok, who played one of the narrators, said that this was "straight up, my favorite show I've ever been a part of." The camaraderie on stage was evident. 
Strength of Our Spirit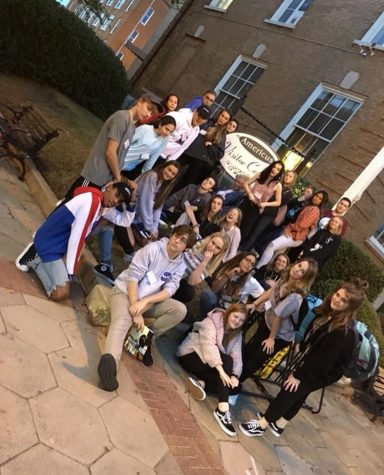 Unlike most plays, this play was a play of remembrance. The Strength of Our Spirit by Cynthia Mercati took place in Holland during the Holocaust. The play recounted the true story of people Anne Frank would have known and what life was like before concentration camps. Miriam was Anne Frank's best friend and the last person to see her alive, this is the story of what many believed Anne would have seen outside during her hiding. The show began with three Nazi soldiers in the audience shouting out the date. 
Miriam began her story of the Holocaust. She grabbed a chair and sat above the center stage on a platform. As Miriam started her story, a young schoolgirl ran on stage. This young schoolgirl was the younger Miriam from when she was a teenager during the Holocaust. On a walk home from school, a Nazi soldier took her and put her on a train to the concentration camps. 
On the train, she met a Christian rebel named Liese. Liese told Miriam about how the resistance fought against the Nazis making things harder for them, stealing things and annoying the soldiers.  Liese recounted her story of how the Nazis arrested her and sent her to the camps.
Before they left the train, Liese pulled paper out of her backpack for the two to write notes to their parents. 
They arrived at the camp and a new character named Johann entered. Johann was a Christian farmer that got sent to the camps for annoying a commander. He knew the Nazis to be racist and saw their antisemitism as unjust. Johann fought back by hiding Jewish children with his sister Rilke. A commander came to inspect their house one day and Johann blinded the commander with anger. Johann ended up arrested but saved his children. 
"
"Some of us found a way to fight. Some of us sang on the way to our deaths. Some of us could only hope. All of us had a name." "
— These were the words spoken in response to the Nazi's shouts. These were the words that started a show about the strengths these people held inside.
The final person was a Jewish partisan named Karl. A partisan was a Jew that fought back against the Nazis either physically or secretly. Karl started out as a Jew in hiding but felt helpless. He decided to fight back and started shepherding Jews to the sympathetic country of Sweden. On his way back to Amsterdam, Karl was caught and sent to the camps. 
In the end, everyone died except for Miriam. All of these characters were real people that Miriam remembers. The Strength Of Our Spirit ended with every member of the cast on stage as ghosts of people that died during the Holocaust. The only survivor on stage was Miriam. An emotionally charged play that left audience members crying. The Strength Of Our Spirit performed at GTC.
Even though The Strength Of Our Spirit did not win any awards, it was a much more emotional show as compared to Lost Girl. A big round of applause to all of the performers!