Taylor Swift's new album, "Lover" brings her back into the light with her most romantic album yet.
Taylor Swift's newest album Lover reflects her newfound positivity and takes a more personal look at her relationship with Joe Alwyn, her "lover," and herself. Her writing feels lighter, and after hiding in the darkness during her Reputation period, she has "stepped into the daylight and let it go." 
I Forgot That You Existed: Her opening track shows her smooth transition from dwelling on her many feuds and breakups to removing herself and realizing that "it was so nice/ so peaceful and quiet." 
Cruel Summer: The inspiration for Cruel Summer isn't clear, but the summer of 2016 proved to be a difficult one for Swift. That summer, her long feud with Kanye West, who infamously stole her microphone from her after she won Best Female Video at the 2009 VMAS, resurfaced in the media. Kim Kardashian, West's wife, labeled Swift as a snake and Swift retreated from the public eye due to negative press. However, the summer of 2016 was also when she started dating Joe Alwyn for the first time, hence the tortured love song. Her strong vocals are brought out in the third verse, "He looks up, grinning like a devil."
Lover: The most romantic song on the album, written solely by Swift, is filled with lyrics reminiscent of the "first dance" song at weddings. The third verse contains wedding vows which lead many to believe that she is engaged to or thinking of marrying Alwyn. "Ladies and gentlemen, will you please stand?… / I take this magnetic force of a man to be my lover." Her soft voice backed by a piano and drums shows that she hasn't lost her Speak Now persona, and gives off a warm and sincere take on true love. 
The Man: Taylor Swift shifts from her previous romantic songs to one that addresses the misogynistic tendencies of her critics and emphasizes women's double standards. In a recent CBS interview, she told Tracy Smith, "A man can react, a woman can overreact."
The Archer: Her third single and fifth track to be released is an emotional rollercoaster that continues with her other heartbreaking tracks. She cries out about her anxiety over her reflection as well as her fear that she might lose what she finally has. 
I Think He Knows: Swift jumps back into a bubbly love song about her lover and how "he got my heartbeat/skipping down 16th Avenue." This confident and sweet song contrasts the poignant song that precedes it.
Miss Americana & The Heartbreak Prince: This song is a cloaked metaphor about the state of America's government and its deep flaws. Her protest lyrics are hidden inside her comparison of America's flaws to a typical high school. "The damsels are depressed/ boys will be boys, then/ where are the wise men? Darling, I'm scared."  
Paper Rings: This upbeat pop song is one of the best included in the album, even if it lacks the depth seen in the other songs. It is a joyful song similar to Starlight off of her Red album and How You Get the Girl from her 1989 album. The chorus provides further evidence that Swift is engaged to Alwyn with the simple lyrics, "I like shiny things, but I'd marry you with paper rings."
Cornelia Street: This song is most likely inspired by her former New York apartment that was located on Cornelia Street. Although it seems to be a romantic song about love and loss, many believe that it is about her former friend Karlie Kloss, and their recent falling out. Her reflective relationship lyrics are most similar to those off of her fifth album, Red.
Death By A Thousand Cuts: This song has a catchy beat that contrasts the deep and meaningful lyrics about the physical pain caused by a break-up. 
London Boy: A sweet ode to her new lover, Joe Alwyn, she sings about all of the places that she associates with him and her confidence in their love. 
Soon You'll Get Better (feat. Dixie Chicks): This is one of her saddest songs to date. Accompanied by the soft back up vocals of the famous country band, The Dixie Chicks, she sings about her mother's cancer relapse. Her concern that she might lose her mother, Andrea, is brought out in her painful and raw lyrics along with her pleading voice. 
False God: Possibly the most steamy song since Dress in Reputation, in False God, she huskily sings about how she worships her love and protects it even though it could fall apart at any time. 
You Need To Calm Down: Her second single to be released is a popping song that shows her support for the LGBTQ community; in the music video, she features famous drag queens and other celebrities from the LGBTQ community. The lyrics, especially the unexpected "Cause shade never made anybody less gay!" angered many homophobic critics but led many of her fans to feel supported and proud of their sexuality. 
Afterglow: As the album is coming to a close, she sings a slow ballad about how she is part of the problem in the downfall of a relationship.
ME! (feat. Brendon Urie of Panic! At The Disco): Her first single to come out is slightly disappointing lyrical-wise but holds aspects of a fun song. The blending of Brendon Urie's voice with hers is nice but the line, "Hey kids!/ Spelling is fun!" ruins the mood.
It's Nice To Have A Friend: If anyone has seen the HBO show "Big Little Lies", then they will recognize the background music from the opening credits. This song is the most basic of the previous 16 and doesn't have the same tone as the other love songs. Lyrically, it isn't the best off the album and comes off as a bit repetitive. 
Daylight: The final song on the Lover album is the perfect ending to a romantic and self-reviving album. After suffering through her reputation era, being squashed under the public's eye, and going through years of rocky relationships that caused her to be labeled as a scarlet woman, she softly declares in her final lyrics, "You gotta step into the daylight and let it go".
Taylor Swift's seventh album is a step back into her old persona yet a transition into a new era. Reputation has faded and she has gone back to her roots in a romantic album reminiscent of 1989. Her music has entered new territory and her story of self-renewal resonates with her new and old audience.
About the Contributor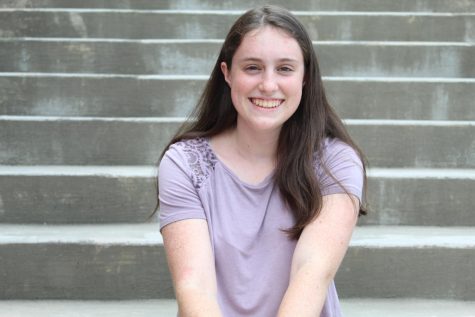 Kelsey Watson, Staff Writer
Kelsey Watson is a senior at South Forsyth High School and a first year staff member on
The Bird Feed
. She attended the Washington Journalism & Media Conference over the summer to prepare for her first year as a writer for
The Bird Feed
. In her free time she does gymnastics, reads, and watches Saturday Night Live. Her favorite singer is Taylor Swift and her idol is Audrey Hepburn. She is an avid Harry Potter fan and has read the series nine times. She hopes to attend Clemson University next fall. You can contact her through her email
[email protected]
or through her Twitter @kelseywbirdfeed.