Curiosity comes to life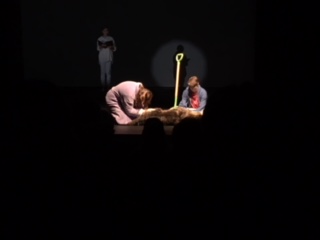 People walk into the Performing Arts Center with the lights dimming, filled with excitement for the show to begin. The actors and actresses all transform into their characters for the evening. Two and a half months of preparation are all put into one show.
"I've been participating in musicals since third grade, and this year I decided to try something different," junior Megan Riedinger explains. "I read The Curious Incident of the Dog in the Night-Time and absolutely fell in love with the story. When I found out South was putting on this production I knew I wanted to be a part of it."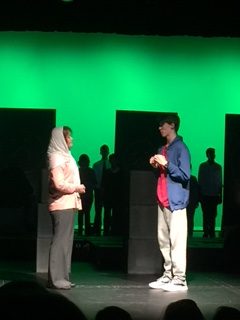 The Curious Incident of the Dog in the Night-Time is a show based around a small family of two. The mother, Judy Boone, who had been pronounced dead two years prior and 15-year-old Christopher Boone, who deals with Asperger Syndrome; a syndrome that affects his communication and other social skills. When his best friend, Wellington the dog, dies, Christopher begins sticking his nose in everyone's business to find the culprit. He hesitantly leaves the comfort of his home to ask strangers roaming on the street. Throughout the show, Christopher faces various challenges, such as detecting the mysterious killer of Wellington and more.
"
This show really makes people think, and that's not normal for a show put on in high school. We're bringing something new to the table that we normally don't put out there at this age level. I'm so lucky to have had the chance to put something this dense on stage"
— Senior Audrey Black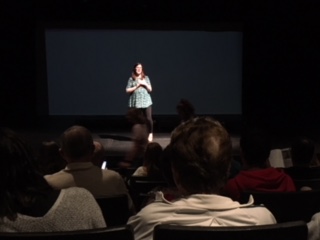 "The main message that speaks to me in the story is that it is impossible to judge a book by its cover when it comes to people and that life can be and is messy no matter who you are. My cast and crew, for example, began this process with very strong feelings about which of the two parents of our main character was the worse parent and by the end had either switched sides or come to the conclusion that they were both just flawed human beings," theater director Joni Smithwick said. "They also had trouble in the beginning relating to the main character who is on the spectrum due to his disability, but by the end were discussing all of the similar situations they go through that he also went through in the play. They grew exponentially in not only their acting abilities, but also in their level of understanding of someone other than themselves and it all happened organically due to the amazing story they were telling."
Senior Sammy Fodroczi plays Mrs. Alexander in another cast that performed on Thursday and Saturday.
"Mrs. Alexander specifically is a very caring woman who wants to help Christopher but doesn't know how to," described Fodroczi. "She ends up telling him some information that he wasn't supposed to know because she thinks it will help him solve his investigation, but it only confuses him more. I think she represents the side of human nature that just wants to do what is best for everyone, but sometimes it hurts us more than it helps us."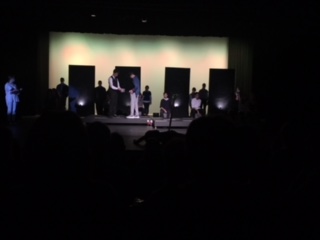 In preparation for the show, Mrs. Smithwick had exercises prepared for the students involved in the Advanced Drama Class. One they engaged in included the attempt to stay in sync helping the students build teamwork.
"The show is ensemble heavy, so we had to work on teamwork," Riedinger states. "One-day Mrs. Smithwick, our director, came in and played a song and we all had to jump in sync to the beat. This exercise was so important because if one person was off, it looked bad. Same goes with the show if one person doesn't do facial expressions or their lines, the play will be affected."
Enveloped in the show, many characters play a slice of Christopher's mind, displaying what he thinks and how he feels. In order to make that possible, much time had to be put forth towards research of the child on the spectrum by the actors.
"With this specific show, we all had to do a ton of research to fully understand what it's like to be on the spectrum since we all play a part of his mind throughout the show," Fodroczi stated. "It was very important for us to all have a mutual understanding so we could come together and make something big."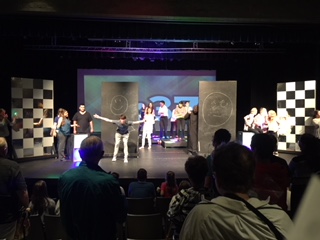 As actors and actresses pile onto the stage in all smiles to perform final bows, the audience roars their applause. One well-done show.
About the Contributor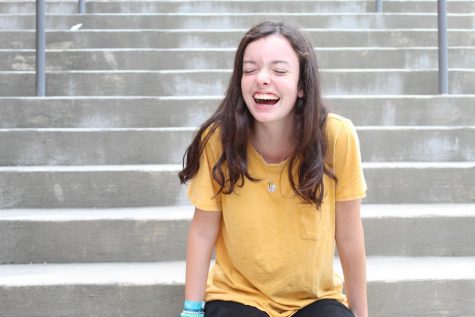 Sierra Wamsley, Editor-in-Chief
Sierra Wamsley is a senior at South Forsyth High School. She is beyond thrilled for her fourth year on
The Bird Feed
staff. You can often find Sierra splashing in the pool or writing a new story. She will be continuing on the South Forsyth Swim and Dive Team for the fourth year. She'll always have a big smile on her face and a positive attitude. Sierra spends the majority of her free time engaged in music. She is usually jamming out to pop music with her brothers in the car. One item that has always been on her bucket list for the future is visiting Greenland. You can reach Sierra on Twitter at
@wamsley_sierra
or email her at
[email protected]

.