Post Malone's new album on the rise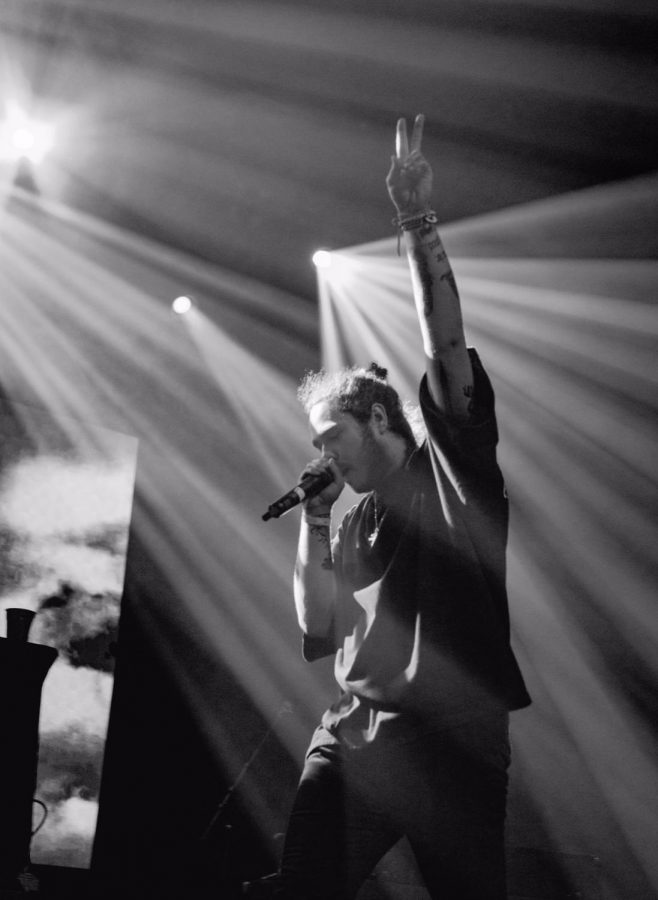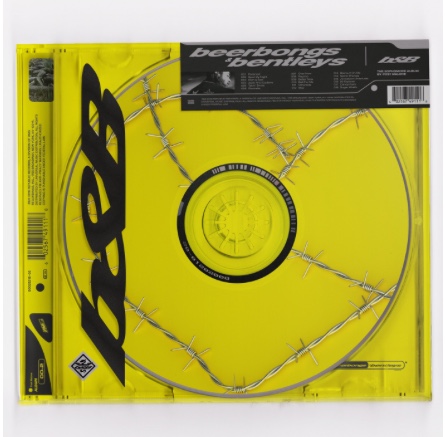 The clock ticked, minutes away from midnight. Teens around the world lay awake waiting for their favorite artist's new album to drop. As the clock finally hit midnight, fans begin to listen to the newest addition to rap culture. On April 27th, Post Malone released his Sophmore LP album, Beerbongs and Bentleys featuring collaborations with 21 Savage, Ty Dolla $ign, Swae Lee and Nicki Minaj. Fans have been waiting for this album since its original release date in June 2017. It is currently at number one for the second week in a row Billboard 200 and has sold  193,000 copies.

Post has said he has always loved music but what really made him realize he wanted to make music is the game guitar hero. As a child he played the game which gave him his love for guitar and a deeper love for music. He started off his career with the song White Iverson which he wrote in two days. Only a month after it was released it hit one million views which earned Post attention from many record labels. He signed a recording contract with Republic Record in August of 2015. This fast tracked his career to where it is today. He is fairly new to stardom and has only released a couple of albums.

Throughout the album, Post seems to be discussing the reality of fame and some of his experiences. He goes from pop/rap songs like Rockstar to a more acoustic sound of Stay.

Paranoid- This song starts off with a very haunting tune that pulls listeners in. He then talks about his paranoia and how it causes him to be sleepless.

Spoil My Night- Spoil my night is a song about Post Malone and Swae Lee nights that consist of women and showing off their money. They talk about how feelings always seem to get in the way of having a great night.

Rich & Sad- Post expresses how he would throw all his money and fame away to get a girl back. It has a very upbeat tune yet a contrast of very deep lyrics.

Zack And Codeine- The song "Zack And Codeine" references the Disney channel show, 'The Suite Life of Zack and Cody'. Post uses this comparison to talk about partying in luxery hotels like The Tipton, the hotel Zack and Cody live in the show.

Takin' Shots- With a very electric sound, this song emulates Post Malone's partying life by describing his drinking and drug habits.

Rockstar- This is a good addition to the trap vibe of the album through its party beat. Post recorded the entire song on the spot with a beat from Tank God. Post talks about living life on the edge and dying young.

Over Now- Post speaks of his bad experiences with a greedy woman. He realizes she isn't good for him and wishes her bad luck.

Psycho- Despite being overplayed, "Psycho" raps about Post's luxuries that he has for instance his convertibles, wristwatches, and other types of jewelry.

Better Now- The song, "Better Now", recollects one of Post's past relationships. He feels they both are hiding that they still feel for one another and expresses it through this pop beat.

Ball for me- Post and Nicki brag of their spending of money and grand lifestyles through many basketball motifs.

Otherside- Through the Chorus, Post expresses how all the models and alcohol in the world can't replace a girl. He speaks of his agony from her betrayal.

https://www.youtube.com/watch?v=deL8MWlNpkM

Stay- Stay features a more acoustic tempo in which Post describes his struggling to maintain a relationship.

Blame It On Me- It speaks to the consequences of the life that Post is living. He pities himself and feels he is to blame for what happens within his lifestyle.

Jonestown- The title refers the Jonestown cult massacre where a cult was massacred by Jim Jones, they're Reverand. The lyric 'drink the kool-aid' is refering to how Jones poisoning 909 people with cyanide in grape flavored kool-aid.

92 Explorer- Post dedicates the song to his 1992 explorer that he customized.

Candy Paint-  This is yet another song dedicated to his car with a candy-paint finish. It also references him fame and fortune throughout.

Sugar Wraith- In the final song to end his album, it talks about another one of his cars. It refers to both his Rolls Royce Wraith and a homophone for the band, "Sugar Ray".

Overall, this album was a good addition to Post's music. It is available to buy on iTunes and any electronic store.
About the Contributor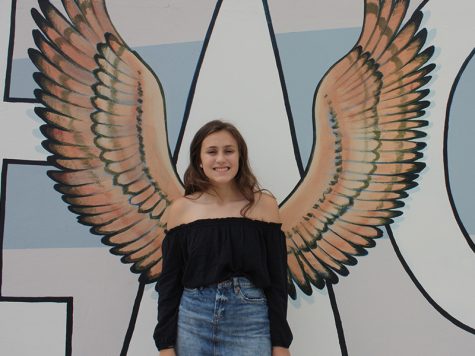 Lauren Bunker, Staff Writer
Lauren Bunker is your average teenager. She's super stressed about school, really bad about time management and a little bit too dramatic. When she is not dribbling through players at soccer, you can spot her drawing her favorite thing, eyes. But her absolute love is writing. She knows that someday, she will impact the world greatly through her writing. But for now she is not only excited about her first year of journalism but also her first season of competitive soccer. She loves watching law and order or any 80's movie while petting her cat and absolutely hates country music. She spends her time planning her future and avoiding eating meat because she feels bad for the animals. She dreams of working in global issues department of the UN so she can help make the world a perfect place for all people. She's lost count of the amount of books she has and likes so many she can't choose a favorite. Please contact me at
[email protected]
or at my twitter @lbunkerthefeed .