Autumnal Fashion Trends "Fall" Into Stores
Saahithya Gutta, Lifestyle & Features Editor, Social Media Lead
November 1, 2021
As the world wakes up from its pandemic-induced slumber, fashion trends are seeing a revolution. During the pandemic, people discovered the importance of comfort with the popularity of athleisure. This year, designers kept that sentiment in mind when deciding what belongs in stores. Comfy, yet bold and stylish, is a common theme with many Fall 2021 trends.
Check out five of the most popular trends for Fall 2021 taking over the fashion world below:
1. Saturated colors
Get ready to shed the neutrals of 2020 because this fall is all about big and bold when it comes to color. Think cherry red, fuchsia, and deep indigo. The color palette for this fall is eye-catching and intense. Fashion enthusiasts and shopaholics can expect to see rich green jackets, navy blouses, bright red pants, deep purple hats and more of the like inundating stores.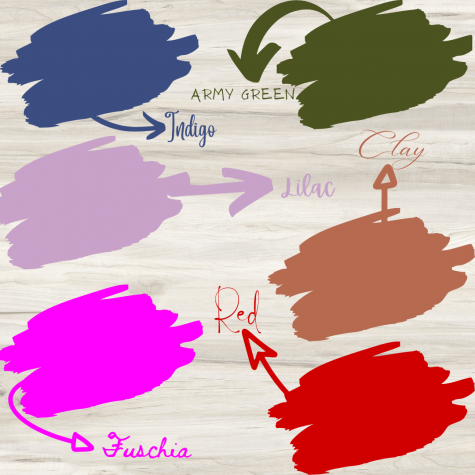 2. Elevated knits
Just because we have to start looking presentable again doesn't mean we have to sacrifice comfort. Last year all throughout quarantine, knitwear stole our hearts; this year, it's back and better than ever. Now in a variety of silhouettes, colors, and lengths, knitwear will continue to dominate the fashion scene this fall. 
3. Sequins
Fall 2021 seems to be all about making a statement; we saw it with the saturated colors, and we're seeing it now with fashion trend number three. Get ready to let your inner first-grader shine because sequins have entered the chat. This fall, show up bedazzled and leave lasting impressions. 
4. Menswear 
Menswear is a trend as cyclical as the seasons and it's coming back this year with the emergence of the Dark Academia aesthetic. This fall, expect masculine silhouettes; styles like structured coats, shoulder pads, blazers, and trousers fit the bill. 
5. Lilac
All pastels are popular this fall; however, lilac specifically seems to be taking over. Although lilac isn't typically considered an autumnal color, this year it'll be taking over fall fashion catalogs. From bodycon dresses to pantsuits to accessories, lilac is everywhere. 
While all these trends stand out on their own and would make brilliant additions to any autumnal outfit, multitudes of them would work together in the same outfit as well. Lilac knits with structured, indigo blazers would go right in line with the color palette and masculine silhouettes popular this season. Of course, people should always wear what they're comfortable with and what makes them happy, but sometimes trends can provide that extra little oomph to an outfit. Trends are great to (pumpkin) spice up any fall ensemble!