Ariana Grande adds on to her album "Positions" with five new tracks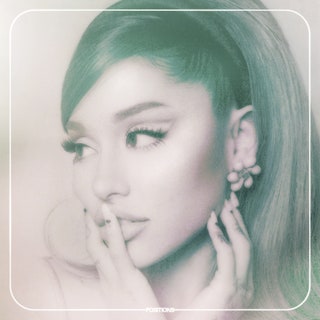 On February 19, 2021, Ariana Grande released "Positions (Deluxe)," adding five new tracks to her album released earlier in the year, "Positions." Upon further review of these tracks, there's no denying that these songs are lighthearted to listen to, but it just extends the lack of depth portrayed in "Positions."
South Forsyth High School senior Holly Bratcher listened to Grande's album: "I heard the previews [of the songs] and got pretty excited to listen to them fully."
Fans of the singer known as Arianators, such as Bratcher, were definitely excited to click play on "someone like u (interlude)" and listen through the final songs of the album.
someone like u (interlude): "someone like you" maintains the loving vibe displayed previously in "pov." Grande shows off her vocal range, specifically how low her voice transforms this song's chorus along with her breathy high notes in the backtrack. The chimes in the instrumental also add to the dreamy tone. If Grande decides to tour with this album, this interlude would be perfect as a transition. 
Senior Bratcher wishes that it was a full song: "I know that it's an interlude, but it would've been so much better if she made it into a full song. It just kind of ends with nothing and doesn't feel complete, even as an interlude."
test drive: Becoming a fan favorite, "test drive" has gained popularity among Arianators, including Bratcher. The whole track is a metaphor for commitment, relating jumping into a relationship to skipping a test drive before buying a car. She also embeds mini metaphors, such as "No second guessing, checking the rearview / Ain't looking back unless it's right at you." Figurative language in any song makes listeners think, and that's the beauty of her music especially in her song "test drive." Bratcher stated that it's her favorite track amongst the extended songs: "This song has a really upbeat tone to it and makes me want to dance. It also shows her vocal range a little bit, and she, in general, did very well with background vocals mixing with her voice and the track too."
34+35 (Remix) [feat. Doja Cat & Megan Thee Stallion]: Teaming up with two of the most admired female rappers right now, Grande adds a Doja Cat verse and Megan Thee Stallion verse to her track "34+35" released in the original album "Positions." This remix appeals to rap listeners, broadening Grande's usual listening audience. This track adds more versatility, hearing lyrics from two different female artists. Moving into the summer, I believe this song will be on most people's summer playlists.
worst behavior: This song is a poppy track that focuses on the idea of not caring about others' opinions- an essential asset to any playlist moving into warmer weather. The breathy pre-chorus moves into a low-toned chorus, and the message and lyrics work perfectly with the rest of Grande's album about a fun type of love. 
main thing: "main thing" is about an infatuation with someone new in one's life. It details instances and feelings usually felt at the beginning of a relationship, also implied in the line, "You might be the main thing, baby," expressing a slight caution. It's easy to listen to, and once again, showcases Grande's amazing vocal range.
Overall, Bratcher believed that "Positions" wasn't Grande's best work.
"I felt the album was alright. Some of the songs are pretty catchy, but it's not her best album overall. I miss when she honed into her voice and showed her vocal chords in older albums like 'My Everything' and 'Dangerous Woman.' The album seemed very playful and childish in a way. She definitely has better work, but the album wasn't that bad."
After "Positions (Deluxe)" release, there will definitely not be a shortage of love songs from Ariana Grande. Grande's recent engagement with Dalton Gomez could have influenced her to take on writing love songs this era. While these songs discussed a variety of themes, I still feel that the Deluxe version of "Positions" adds nothing of depth to the album, but there's no doubt that these tracks are pleasant and lighthearted to listen to. It's unclear if Grande will be going on tour, but Arianators are speculating, and we can only hope!
About the Writers
Lucy Moon, Staff Writer
Lucy Moon is a senior at South Forsyth High School joining journalism for her first year as a staff writer. Along with writing, teaching her after-school students is one of her passions. They always enliven her days, and they inspire her to continue her career in education. Lucy spends her free time reading books, eating Cheez-Its, listening to Nicki Minaj, or playing cards. She also enjoys reading up on horoscopes and knowing everyone's zodiac signs (she will know signs before names). You can contact her through Twitter
@lucyreneemoon
or email
[email protected]
.