Fasten your seatbelts: The story behind "Drivers License"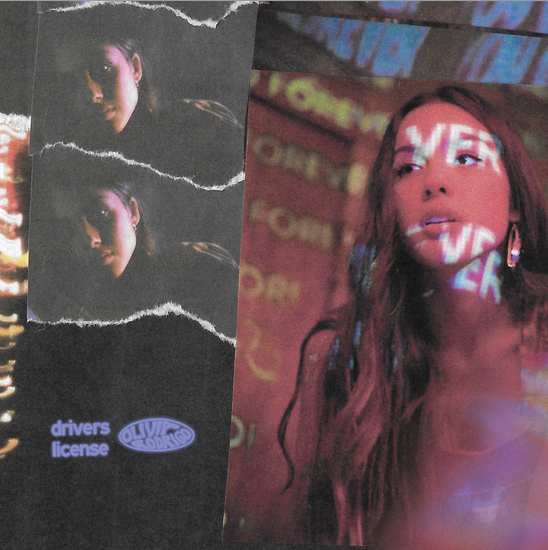 The whole world gathered their boxes of tissues and hopped into the front seat of their cars after the release of "Drivers License" by Disney star Olivia Rodrigo. The heartbreaking lyrics and emotionally-charged bridge became an instant favorite among listeners all throughout the globe. The song accumulated a series of controversies regarding Rodrigo's speculated relationship with her co-star, Joshua Bassett, based on their interactions on the show High School Musical: The Musical: The Series. But single or not, the song sparked everyone's inner love-struck emotions. 
Used from https://www.youtube.com/watch?v=jvLy1xNeqjU&ab_channel=TheTonightShowStarringJimmyFallon
On January 8th, 2021, actress Olivia Rodrigo released her debut single "Drivers License" which received a large amount of attention from listeners around the world. The song went viral upon its announcement and over the weekend of its release, it exceeded 15 million global streams, and it broke records for most streams in a single day for a non-holiday song. The single topped Billboard's The Hot 100 chart for four weeks in a row, and it continues to hold its position at no. 1, surpassing A-List celebrities such as Ariana Grande's "34 + 35" and The Weekend's "Blinding Lights". Additionally, Rodrigo's hit single made it to the top of both Apple Music and Spotify, two popular music services. However, her successes don't stop there. On February 5th, The Tonight Show Starring Jimmy Fallon invited the young actress to perform "Drivers License" on his show. 
Rodrigo's journey to fame began as she starred in multiple movies and television shows throughout her youth. In 2015, she took her first steps into the Hollywood industry by starring in an American Girl movie Grace Stirs up Success, and she soon took over Disney Channel with her role on Bizaardvark as Paige Olvera starring beside YouTuber Jake Paul. However, the show that brought meaning to her newly released single is known as High School Musical: The Musical: The Series (HSMTMTS). On the popular show, Rodrigo plays the character of Nini Salazar-Roberts, who soon goes to embody the role of Gabriella Montez in their school's musical production. 
A popular Disney+ original, HSMTMTS currently has one aired season with ten episodes that adds a modern twist on the old fan-favorite, High School Musical. The setting of the show takes place in the same location as the original movie, East High School in Nevada, creating a sense of nostalgia and excitement for the viewers of the show. As cliché as it sounds, this show documents the fun-filled and climatic life of a group of students who audition for a role in their school's drama show: "High School Musical." Each student in HSMTMTS auditions for a character in their school's musical. Throughout the series, the cameras follow each student's journey through East High as they discover who they are and where their passions lie. As in any high school environment, the show is filled with moments of drama, friendships, and romantic relationships. Nini (Olivia Rodrigo) and Ricky (Joshua Basset) are two of the main characters that test their love for each other throughout the season. In the first season, Ricky and Nini face some challenges in their relationship, as jealousy and love triangles arise in their lives. For a more detailed explanation about the show and its cliffhanger ending, click here to watch the show. 
The background of HSMTMTS connects to the popularity of the song. Fans of the show believed there was more going on off-screen between Rodrigo and Bassett because of their seemingly "too-real" chemistry on-set. In fact, one of the main reasons the song blew up was because of the speculated history and drama surrounding the two actors. Although it was never confirmed, rumors grew behind Rodrigo's relationship with her HSMTMTS co-star, Joshua Bassett. When "Drivers License" released, the crowd was quick to point fingers at the song being about her past relationship with Bassett. Most notably, her lyrics read: "And you're probably with that blonde girl / Who always made me doubt / She's so much older than me / She's everything I'm insecure about." Many believe she is referring to Bassett's new relationship with Disney star, Sabrina Carpenter, who is not only blonde but is also four years older than Rodrigo. Bassett and Carpenter never confirmed their rumored relationship; however, fans spotted them out in public together on multiple occasions, and they posted a few TikTok videos together during Halloween. 
The love triangle between these actors continued to soar after Bassett released his single "Lie Lie Lie." As he released his song only a week after Rodrigo's release, many fans surmised a connection between the meaning of the two songs. While Bassett claimed he started writing this song months ago and was just now publishing it, the lyrics in the song have made many fans think otherwise. Specifically, his lyrics included "So you're telling them it's all my fault / You're the victim this time." and later in the song, he sings "You can't seem to get me off your mind." Many listeners believe he was implicitly referring to Rodrigo, as she was the one who fans thought was "blaming Bassett" in her song. In response to the growing speculations regarding who Bassett was referring to, he posted information regarding his song on Youtube. In an interview with Genius, he claimed that his inspiration for the song came from an individual who he thought to be his "friend" but was instead spreading rumors behind his back. However, Bassett did not reveal any further information regarding the true meaning of his song, but he still clearly mentioned that he did not directly address any particular person in his song. Fans are still skeptical of Bassett's words as a variety of social media posts and images claim otherwise. 
As if the drama that came from Bassett and Rodrigo's song was not enough for this year, Sabrina Carpenter released her song "Skin" shortly after Bassett released his single. As soon as she released her song, listeners immediately recognized she was talking about Rodrigo through the line "Maybe blonde was the only rhyme" as Rodrigo referenced a blonde girl in her song. Unlike Bassett, Carpenter clearly addressed the purpose behind her song through an Instagram post. She claimed to write a diss track to counter Olivia's song as she posted "I wasn't bothered by a few lines in a (magnificent) song and wrote a diss track about it." 
However, she mentioned how she hoped to convey a bigger message through her lyrics. While certain lines referred to the current situation taking over the media, Carpenter's experiences in 2020 along with negative encounters she faced inspired her unique lyrics. Ultimately, she voiced that individuals can interpret this song in many ways; however, she suggested not sending any hatred toward anyone in the song, possibly referring to Rodrigo or Bassett. Furthermore, even though Carpenter received a vast amount of hate after the release of her single, Rodrigo continued to remain silent, avoiding the tension in the air.
In the end, all three songs accumulated a large following and a larger amount of streams, proving they were quite successful. The release of "Drivers License," "Lie Lie Lie," and "Skin" led to a lot of publicity for the songwriters not only due to the drama that furthered with each release but also due to the emotional meaning behind each song. Ultimately, despite the rumors and speculation fans had regarding the connection between all the songs, each artist wrote their songs with a deeper purpose in mind, one that drove past just the lyrics. Check out the infographic below, to listen to each one of their songs.  
Song Previews by Shree Delwadia
About the Writers
Shree Delwadia, Editor-In-Chief
Shree Delwadia is excited to be part of
The Bird Feed
as a senior! This year is her fourth year on staff, and she cannot wait to take on her new responsibilities as the Editor-In-Chief. By working on the staff as a writer and an editor, she has learned a variety of communication, teamwork, and accountability skills that she will take on to other roles in her life. At school, she is a part of MDJunior, Beta Club, and UNICEF.  In her spare time, she loves spending time with her friends and family or discovering new things to do. Two of her ride-or-die tv shows are
Grey's Anatomy
and
Friends
. Moreover, Shree has a strong interest in medicine and hopes to pursue a career in healthcare one day. You can contact her via twitter
@ShreeDBirdFeed
or using her email
[email protected]
.
Maggie Craig, Editor-In-Chief
Maggie Craig is currently a senior at SFHS and is super excited to be this year's Editor-in-Chief for
The Bird Feed
. If she isn't writing stories, you will find her jamming out on her guitar or ukulele. She is a performer at heart and is a member of the voice company at RISPA. Maggie loves musicals such as
Waitress
and
Miss Saigon
. In her spare time, she binge-watches anime and plays on her Nintendo Switch. Never hesitate to approach her and say hello because she loves meeting new people. You can contact her through her email @
[email protected]
or through her Twitter @
Smrcraig108
.