South Forsyth students help prepare for the upcoming elections
As the November elections are getting closer, more and more individuals are working hard to make sure all citizens get a fair chance to vote. This year, citizens have alternate ways to cast their ballots. However, they are still able to vote in person, early, or on election day. 
Many individuals work to assemble bunches of paperwork and materials for all the polling stations in the 2020 General Elections. In order to help prepare for the elections, many students from South Forsyth High School volunteered to pack the needed supplies and other materials necessary for successful voting. Volunteers met on the weekend for 3-6 hours to finish all the polling assignments for the week. 
"Volunteering for polling preparation was an exciting experience," said junior Rasagna Vuppala. "I was able to learn the backstory behind everything that goes into polling, such as the heaps of paperwork involved in this important process."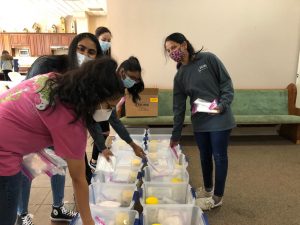 This past Sunday, student and parent volunteers arrived at the McDonald's & Sons Funeral Home eagerly awaiting their different assignments for the day. In the past few weeks, students have gathered to pack disinfectant and cleaning materials such as hand sanitizer, gloves, and masks. Students organized all of these cleaning materials into corresponding bins for the different voter places within Georgia. As the 2020 election coincided with the pandemic, all polling stations tried to be as healthy and safe as possible. 
On the weekend, volunteers organized all the different forms needed for each polling station such as signature and registration forms. Students separated 12 different forms into their corresponding plastic bins. Alongside form organization, students proofread the papers to make sure each county received the correct type of polling materials. Moreover, volunteers also labeled different bags containing towels, garbage bags, and dry clothes to help clean the touchscreen voting tablets.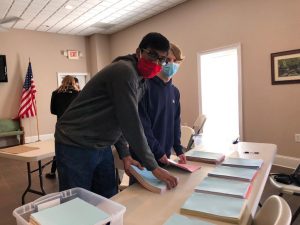 "My favorite thing about this experience was collaborating as a team and being able to take initiative for different
projects," said senior Rinisha Ramprakash. "I was able to help guide the volunteers when organizing and stacking the papers as well. All in all, it was a great experience to develop my communication skills and more relations from other schools in Forsyth County." 
Forsyth Board of Elections appreciates the effort and dedication of all the volunteers. Since a lot of groundwork goes into preparing for Election Day on November 3rd, these volunteers are a critical component to make sure elections are successful. 
Moreover, student volunteers interacted with their peers from other Forsyth County high schools. All volunteers received service hours for their work with poll supply packing assistance.
Although some of these opportunities have passed, students can still sign up for an upcoming election preparation opportunity using the link here. By participating in these opportunities, students gain essential communication skills and memorable volunteer experiences that they can use when they are able to vote in the future.