The German Club brings Christmas cheer with their annual Christmas Market
On December 7th, 2019, South Forsyth High School held its annual German Christmas Market, a community-wide event filled with traditional German cuisine and Christmas traditions. The German Club mimicked the hundreds of Christmas Markets that are set up during the holiday season in Germany to spread Christmas cheer to all.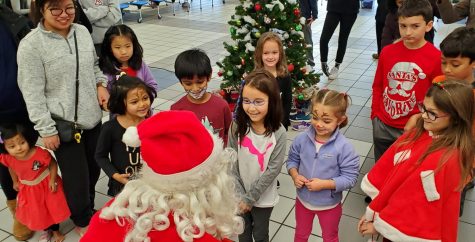 Christmas is a popular and widely celebrated holiday in Germany. Although celebrated similarly to America, Germany has its own special customs as a way to welcome the Christmas spirit into their homes. The children are visited by Sankt Nikolaus and Krampus who decide whether the children have been naughty or nice. Sankt Nikolaus is as friendly as any Santa Claus but Krampus is quite the opposite. He punishes the children that have been naughty throughout the year while Sankt Nikolaus provides the good children with various gifts. South Forsyth welcomed its own Sankt Nikolaus and Krampus who decided whether the children were worthy of gifts or deserved to be punished by Krampus.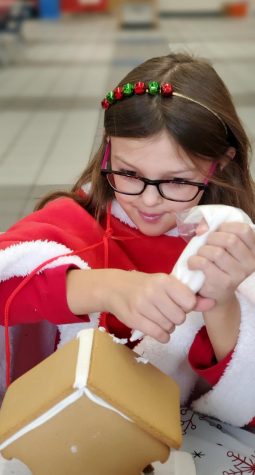 The German program set up various booths where kids could walk around and take part in fun activities, get their faces painted, and get a taste of some delicious German food. A big crowd-pleaser with the kids was the gingerbread house decorating station. The explosion of frosting and gumdrops covered the table and even some of the kids. Next to that messy but exciting booth was the face painting station where kids got festive makeovers. After getting their faces painted, kids could make their very own Santa beard with shaving cream. Additionally, the arts and crafts station was a big hit as kids made bird feeders and wrote letters to Santa. The booth attendance dwindled when the kids were told to place one of their shoes around the Christmas tree so that Santa could put candy in their shoes. 
The South Forsyth German Christmas Market brought the community together with fun German Christmas traditions. The delicious food and fun activities kept the children excited for the arrival of gifts, and a visit from Sankt Nikolaus made the day especially sweet for all the children looking to get into the Christmas spirit.