Flying into academies: Innovation Academy
"
Through the academies, we want to inspire students to learn more and reach their fullest potential."
— Mr. Wolff, South Forsyth Assistant Administrator
With students spending around 8 hours or more hours at school, South Forsyth High School wants to provide its students many opportunities to discover their passions. In response to that, SFHS is rolling out different academies to help students discover their different passions and interests. Each academy is centered around a specific career cluster, allowing students to connect and interact with those who share similar interests. After introducing the SPARK academy earlier this year, the next one up is the Innovation Academy. To learn more about the academy and its teachers, students can watch this quick overview video.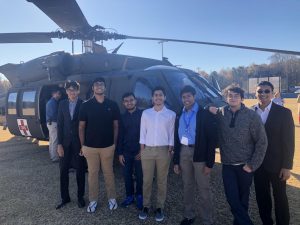 The Innovation Academy is focused around the fields of computer science, technology, engineering, and architecture. The academy connects the standards in students' everyday classes to the problems and opportunities of today's societies. Through the different exhibitions and activities of the academy, students get a chance to display their personal talents in fields such as coding or engineering.
At South, there are a variety of classes and clubs that support the different areas within Innovation. Pathways at South such as Manufacturing, Engineering/Technology, Information Technology, and more support the different areas of the academy. Additionally, South has a variety of clubs, supporting each and every one of its diverse groups of students. The Coding Club, Cyber Patriot, Game Development Club, Vex Robotics, and more allow students to dig deeper and explore in a specific context. To find a brief description and more clubs that support this pathway, students can click the link here.
This academy, like the others, develops many characteristics in individuals, some of which include solving, exploring, and understanding. Through its opportunities and connections, the academy prepares students for rigorous college classes or even post-secondary work. One hope of the academy is that its students analyze the community around them and imagine the different innovative possibilities within it. As the leaders of tomorrow, students can never start too early to make the world a better place for everyone.
Through the development of leadership, communication, and critical thinking skills, students gain insight into how these skills are used in everyday companies. Also, South's wide networking web allows for students to connect with different businesses and groups in the community, gaining greater access to real-world skills and knowledge.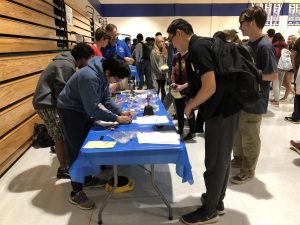 During the takeover, the academy showcased many different organizations and businesses related to innovation. There were two big Innovation Academy expos; the first one included different booths and presenters, allowing students to interact and network with the leaders in our community. For example, companies such as the National Guard and Siemens demonstrated the use and application of various skills in engineering. Even teachers in the academy had presentations such as Mr. MaclLvain, AP World History teacher, who held a booth where students competed in a game of Super Smash Bros. Other activities included building circuits, learning basic coding information, and viewing the use of drones through the Sheriff's Office.
Additionally, the second academy expo had four or five presenters from different companies such as Martin Marietta and Fort Safety. After the presentations, a UH-60 Black Hawk Helicopter took off from South's fields, giving students an opportunity of a lifetime. 
Alongside the expos, there were many different activities going on every day in school such as the water bottle rocket competition. Students in their Instructional Flex (IF) classes chose to build a water bottle rocket with only basic materials and their creative minds. The class whose rocket had the longest air time would receive a pizza party. Other activities going on throughout the school included a Habitat for Humanity service project and a door decorating contest where IF classes designed their doors to match their favorite video games. Teachers' doors ranged from games such as Minecraft and Pac-Man to games such as Flappy Bird.
To unite the school body, South held a Spirit Week for the academy. Students wore different colors each day to represent the different parts of the Engineering Design Process. Eagles wore red to represent asking questions, green for imagining unique solutions, purple for planning prototypes, blue to represent testing and evaluation, and orange to show 'improvement and development. Through participating in spirit weeks, students got to enter raffles to win items such as Beats or even a drone.
All in all, the Innovation Academy's motto is 'iQuest for Excellence.' Through the different presentations, opportunities, and activities during the takeover, students viewed a variety of areas related to the field of innovation.
"The whole purpose of the academies is to expose students to different and unique experiences," said Mr. Wolff, South's assistant administrator.
With three more academies to go, South students are beyond thrilled to see what else the school has in store for them. Something to keep in mind is that all the academies support each other even though they are based around a different subject.
"I think the main point of the academies is trying to find something that really inspires you to want to learn more about it," said Mr. Wolff. "Whether it's engineering or coding, anything that sparks or motivates one's interest to dig deeper is really the purpose of South's academies.