The Joker is a cinematic masterpiece
Brooke Eldridge, Opinions and Arts and Entertainment Editor
December 18, 2019
A twist that made cinematic history to the iconic Joker character, Joaquin Phoenix portrayed the aberrant backstory on how the Joker got his name, his behavior, and his psychotic mind. Critics from Rotten Tomatoes stated, "Joker gives its infamous central character a chillingly plausible origin story that serves as a brilliant showcase for its star — and a dark evolution for comics-inspired cinema." With ratings of 69% critics and 89% audience, Joker reveals the dark truth behind the making of criminals and psychopaths.
Neurocriminologist Adrian Raine, who has been studying the brains of violent criminals for over 40 years, reports he was speechless by the psychological accuracy of Phoenix's Joker. The writers, Todd Phillips and Scott Silver, tied in how childhood trauma, genetics, untreated mental illness, lack of medications, and abuse are exactly how a man becomes clinically insane. While Raine was unsure about the movie at first, leaving the theater he was blown away by Phoenix's accurate performance of a mentally unstable and violent individual: the almost painful laughing, his awkward movements, sinister facial expressions, and an exemplar presentation of committing truly evil murder.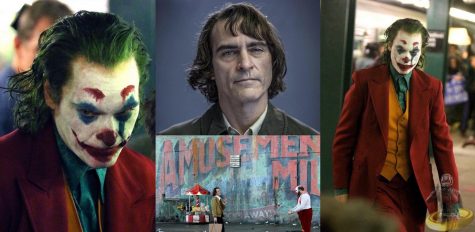 Joker was a different expression of Arthur Fleck, with a deeper look into his childhood and life before Batman, and what led to the ultimate rivalry between the two. Joaquin Phoenix needed to indulge himself into the character of Fleck, and in doing so could've ended in him having the same fate as talented actor Heath Ledger, who played Joker in The Dark Knight. Ledger, unfortunately, he died shortly after the completion of The Dark Knight; he was recognized as the best Joker. While Heath Ledger was phenomenal as the Joker, Phoenix wanted to add a different twist to the character. He did so by portraying the progression of insanity among a mentally disturbed individual. The process of creating this character was all-consuming and mentally challenging; Phoenix described the process of him fully indulging himself in the mind and heart of Arthur Fleck as "maddening". The first step for Phoenix was to focus on the body image, which led him to lose weight. In just a few weeks of losing the amount of weight he did, it almost made him go mad. Not only was the image important, but the laugh was key to the face of Joker. The creation of Phoenix's sinister Joker laugh was not created by watching past Joker movies, but by studying the inspiration for the Joker, which is presumed to be based on the 1928 silent film, The Man Who Laughs.
The setup of the movie, from the shocking connection between Bruce Wayne and Arthur Fleck to the events that ultimately led to the Joker's psychological decline, is a true masterpiece worthy of many Oscars–especially for Phoenix's impressive performance of a true madman.