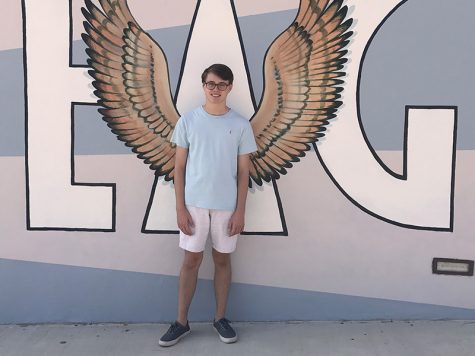 Will Logsdon is enrolled in the International Baccalaureate program and spends much of his time participating in student organizations and clubs. He is passionate about history and literature and is an officer for the Rho Kappa Honors Society. In addition to these subjects of study, Will also enjoys Spanish and is the communications officer for the Spanish National Honors Society. Will's dog, Beanie, is his pride and joy who he wishes he could bring to school every day. Will aspires to be a lawyer or a political scientist and ideally hopes to live in Europe. As a senior, this is Will's third year in South's Journalism program which he hopes to grow in order to attract more members. He is also the President of South's chapter of the journalism national honor society, the Quill and Scroll.
If you ever have any questions, please contact me at
[email protected]
or on Twitter @LogsdonWill.
Will Logsdon, Senior Editor
Apr 16, 2018

Facebook scandal shines a light on the lack of social media regulation

(Story)

Apr 02, 2018

Using YouTube as a study tool for AP exams

(Story)

Mar 20, 2018

South's VEX Robotics chapter recognized at GA state competition

(Story)

Mar 01, 2018

FBLA RLC Competition is a success for South

(Story)

Feb 22, 2018

IB Committee visits South

(Story)

Feb 01, 2018

South students visit the hill for AP Day

(Story)

Jan 23, 2018

Rohingya refugees flee ongoing genocide in Myanmar

(Story)

Dec 13, 2017

#MeToo: America's women speak out

(Story)

Nov 28, 2017

Transitioning time is extended to accommodate the student body

(Story)

Nov 07, 2017

Africa on alert for plague

(Story)

Oct 31, 2017

Habitudes: A Movement in 21st Century Education

(Story)

Sep 15, 2017

Suicide month at South changes mindsets

(Story)

Sep 10, 2017

Hurricane Irma is a 'nuclear' storm

(Story)