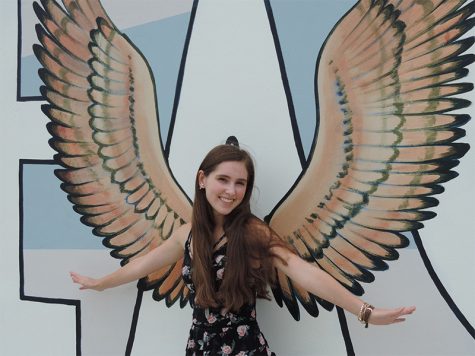 Sophie Ralph is a quirky sophomore and has been on staff with
The Bird Feed
for two years. She loves this opportunity to express herself through writing and design! Photography is a passion of hers, even though most of her camera roll is pictures of her dog. She loves to sing and dance like a dork. In her natural habitat, she can be found out and about with her friends or curled up in bed watching Netflix wearing fuzzy socks. Sophie's a writer, a geek, an optimist, and a Christian. She believes happiness is the most important thing in life, and has learned to find and appreciate it every single day.
You can reach Sophie on Twitter 
@sralphbirdfeed
or email her at
[email protected]
! She would be happy to hear from you!
Sophie Ralph, News and Multimedia Editor
May 21, 2018

Development in Forsyth County: Interview with Cindy Mills

(Story/Media)

Mar 31, 2018

German club celebrates old Easter tradition

(Media)

Apr 02, 2018

Budgeting for a "night to remember"

(Story/Media)

Mar 26, 2018

Leukemia and Lymphoma Society Fundraiser: Interview with Watson Kimel

(Story/Media)

Feb 28, 2018

Glimpse into Forsyth County's Newest High School

(Story/Media)

Feb 13, 2018

Top 16 movies to watch this Valentine's Day

(Story/Media)

Jan 30, 2018

Reaching the peak of the 2018 flu season

(Story/Media)

Jan 11, 2018

Finding the keys to success through the X-Factor

(Story)

Dec 20, 2017

Hunchback takes the stage

(Story)

Dec 15, 2017

Teen drug use epidemic

(Story/Media)

Dec 01, 2017

Dear Evan Hansen: A musical with powerful messages and strong emotion

(Story/Media)

Nov 15, 2017

Mountain View topples South Forsyth

(Media)

Sep 20, 2017

Splash of color improves school spirit

(Story/Media)

Oct 10, 2017

Honey takes Homecoming

(Story)

Sep 15, 2017

Suicide statistics

(Story)

Aug 17, 2017
Aug 23, 2017
Aug 25, 2017

Kayleigh Emberton

(Media)

Aug 24, 2017
Aug 14, 2017
Aug 27, 2017
Aug 15, 2017
Aug 26, 2017
Aug 16, 2017
Aug 20, 2017
Sep 30, 2017

Adithya Ramanujam

(Media)