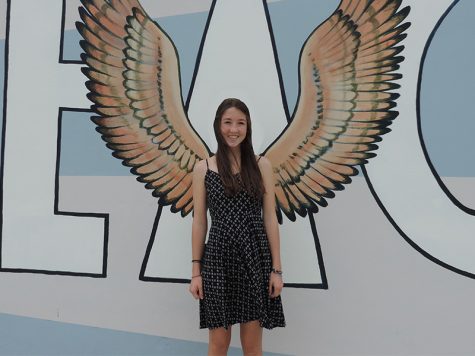 Erin Murtha is a freshman and is excited to be on
The Bird Feed.
You can see Erin spending her time at the lacrosse field, hiking, or swimming as she loves being active. She enjoys spending her Friday nights at South Football games and supporting her team. When she is not playing lacrosse or doing homework Erin enjoys hanging out with friends and watching Netflix. Her Netflix go to's consist of
Stranger Things, The Office, Riverdale, and White Collar
or sometimes watching a good Disney classic. Her future plans include becoming an NFL news broadcaster or going into the medical field.
You can contact her at
[email protected]
or directly message me on twitter
@emurthabirdfeed
 !
Erin Murtha, Staff Writer
May 14, 2018

Lindsay Burnell and her added development to South

(Story)

Apr 11, 2018

Student voices on immigration

(Story)

Mar 13, 2018

South's The Bird Cage wins gold level certification

(Story/Media)

Mar 02, 2018

Students stand South strong in a walkout for Parkland

(Story/Media)

Feb 18, 2018

The humane society in Forsyth

(Story)

Jan 22, 2018

How to drive safely in the winter

(Story)

Jan 11, 2018

FOCO Cure fights to end childhood leukemia

(Story)

Dec 13, 2017

Personalized learning evolves at South

(Story)

Dec 01, 2017

Review: The new Taylor Swift album digs its own grave

(Story)

Sep 20, 2017

Student athletes shouldn't be required to take physical education

(Story/Media)

Sep 15, 2017

Therapy dogs and their positive effects on students' well-being

(Story/Media)