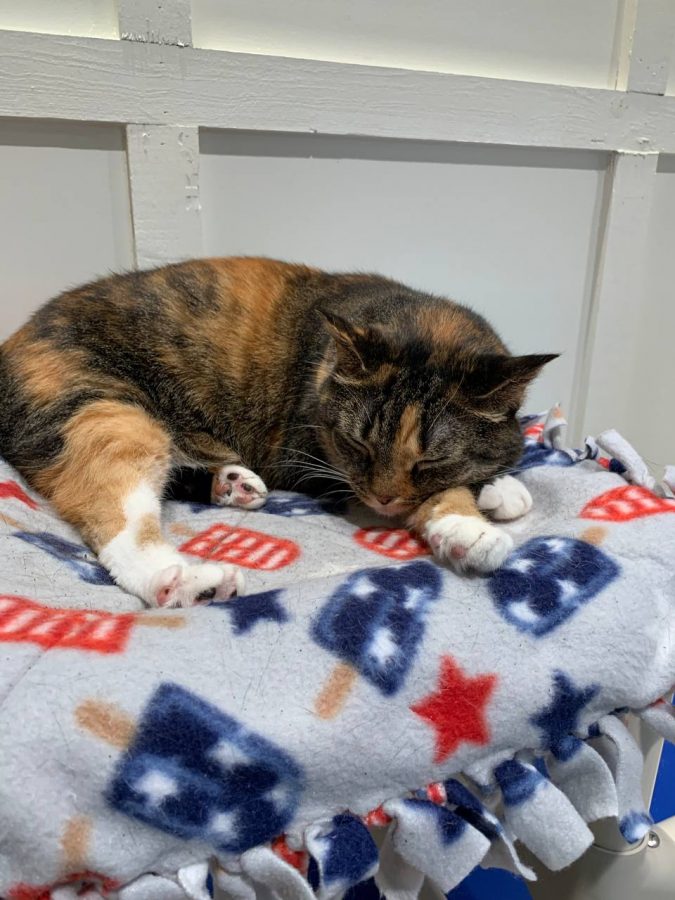 Swapnika Gullapalli
On December 4th, members and officers from South Forsyth FBLA gathered at the Furkids Cat Shelter and Headquarters in Forsyth County to volunteer three hours of their weekend towards cleaning the headquarter grounds, organizing materials, and socializing with furry friends.
FBLA volunteers wore wide smiles as they greeted the cats perched on the office windowsill. At 3:00 pm promptly, Samantha Shelton, the CEO of Furkids Animal Shelters joined the group with a contagiously cheerful attitude, ready to start the busy day. 
Swapnika Gullapalli, an officer and volunteer with FBLA said, "Opportunities like this one allow members to come together and help to the community while also networking and getting to know each other. I really enjoyed spending time with friends, and am looking forward to future service events." 
Furkids Animal Shelters began in 2001 when CEO Samantha Shelton rescued a litter of kittens, refusing to allow them to be euthanized at neighborhood shelters. From that moment onward, Shelton worked tirelessly to assemble a small team of volunteers and successfully open two animal shelters in 2003. As more Furkids shelters opened, the Furkids team expanded, uniting thousands of dogs and cats with forever homes. 
This holiday season, our thoughts turn gratefully to our Furkids family for helping us save so many lives this year.🧡 Thank you for supporting our daily mission! We wish you a joyful and abundant Thanksgiving! 🐾 Love, Furkids Animal Rescue and Shelters pic.twitter.com/lLFMe5DhxQ
— Furkids, Inc. (@furkidsinc) November 25, 2021
In 2019, the Furkids team opened their Headquarters and Cat-Shelter in Forsyth County, at 5235 Union Hill Rd, Cumming, GA 30040. This beautiful property is 9 acres long and houses large spaces for cats to relax indoors and outdoors, as well as several facilities for operations and office space. 
Shelton discussed the incredible strides Furkids has made with students, who were energized when it came time to assist Furkids volunteers. Furkids planned to throw a large holiday party for their volunteers and sponsors on the night of the FBLA event, and FBLA volunteers helped tremendously in decorating and organizing the Headquarters space for the celebration. 
With approximately 40 student volunteers attending the event, the shelter was able to assign several different tasks to students. First, FBLA members sorted through Christmas lights and stored them in the proper area. Then, members honed their design skills as they planned and set up tables and chairs in a large seating tent located outside of the Headquarters. A group of volunteers banded together to pick up the large, sturdy Christmas tree and place it in the center of the tent, requiring both patience and strength from members. 
Once the decorating was complete, members moved to the cat shelter, excited to socialize with kittens and older cats. The cats were in several different rooms, cages, and "catios," which allow them to roam freely indoors and outdoors. Socializing with cats at shelters helps to improve their temperament with humans, especially if a cat was previously abandoned or came from an abusive situation. FBLA members interacted with the different cats in each room, helping with their socialization goals.
The afternoon ended with the arrival of Cranberry, a puppy who came from an adoption event that took place earlier that morning. The arrival of an energetic, adorable puppy was the cherry on top for FBLA members who were preparing to head home. Volunteers took turns playing with the puppy, allowing her to exert all of her energy with a variety of different toys. 
SFHS FBLA will host more community service events throughout the year. They encourage members to keep their eyes out for similar invitations and unique opportunities to support community initiatives such as Furkids.