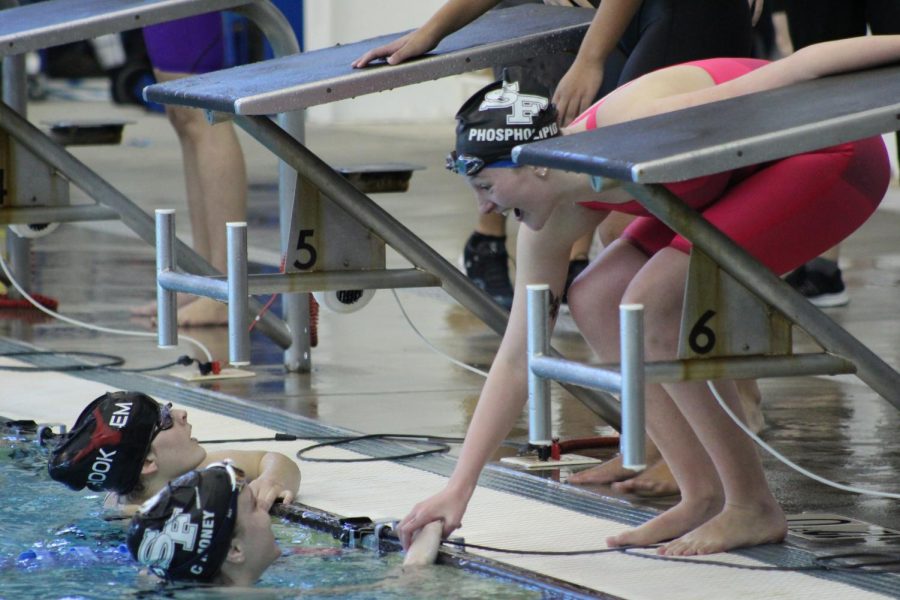 Photo used with permission from Lisa Burt
On a crisp Saturday morning, swimmers from all high schools in Forsyth County filled the stands, excited to see what the day held. Bouncing legs of nervousness and colored tech suits filled the stands of eager swimmers, ready to race their best for their team. On January 23rd, the South Forsyth High School Swim and Dive team competed in the Forsyth County Swim and Dive Championships hosted by Denmark High School. 
Due to the pandemic, high school swim meets look a little different compared to the previous years. First of all, the size of the meets this season are drastically smaller. When scheduling meets, GHSA limited high schools to dual and tri meets. Additionally, during the meet, no spectators are allowed in the stands, swimmers must wear a mask besides when they are swimming their race, and there are new "staging areas" that allow swimmers to line up for their races while maintaining social distancing. For the county meet specifically, the participating schools separated their teams by gender, girls in the morning, boys in the evening. The diving portion of the meet took place between the two sessions. 
Fantastic swims and dives filled the day from schools across the county. First place finishes from South include:
 Charlotte Tully-200 Free
Jordan Edwards- 200 IM
Girls 4×100 year free relay- (Charlotte Tully, Grace Drawdy, Jenny Chung, and Jordan Edwards)  
The final overall scores, separated by gender, were as follows: 
South Forsyth Girls- 2nd (545 Points) 
South Forsyth Boys- 4th (454 Points) 
The final results for diving were as follows:
McKinlee Taulbee- 2nd (247.35 points)
Makenna Segal- 6th (176.80 points) 
Olivia Adams- 9th (169.70 points) 
Hailey Brakke- 11th (163.30 points)
Oakley Jackson- 13th (161.30 points) 
After the girls' session and before the diving session, Forsyth county took the time to honor their seniors at each participating high school. Each school decided on a theme for their seniors to dress for, and they were recognized along with a short bio stating their plans after high school.
"[Senior recognition] was bittersweet because we got to look back on the last 4 years but also realizing that our high school careers were coming to an end," said Senior Jordan Edwards, who has committed to swim at Texas Christian University in Fort Worth, Texas.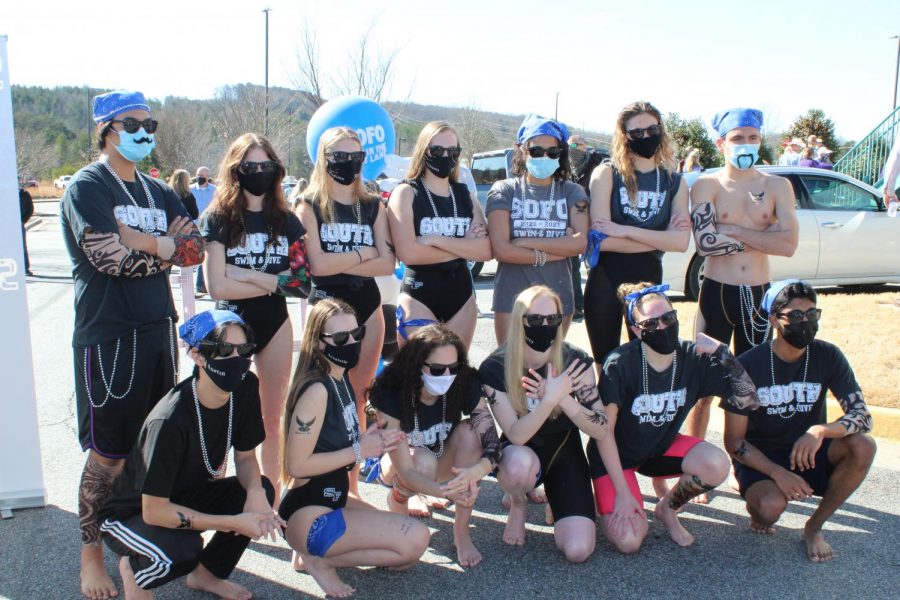 The meet wrapped up the 2020-2021 swim and dive season. While it may look different compared to previous years, swimmers are thankful they were able to participate in a season. The team takes one last dive in the pool at the GHSA 6-7A State meet from February 4th to the 6th.