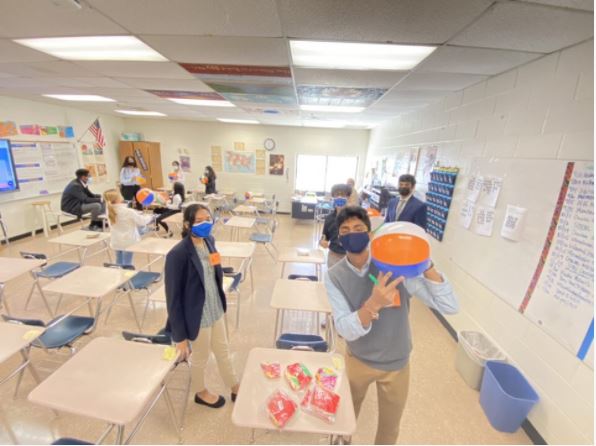 Ayush Gundawar
The COVID-19 pandemic and social distancing guidelines caused clubs and organizations at South Forsyth High School to find innovative ways to foster creativity and continue club activities. South's FBLA has planned and executed several socially-distanced community service events and donation drives. Students can participate in these service events and activities from home or at school, creating a club environment that does not limit any student's participation in a club.
Members of FBLA have adapted to the COVID-19 restrictions, and the FBLA officer team has constantly created opportunities for members, making sure they are still immersed in the club. I caught up with an active member of FBLA, Junior Amogh Kusam, who has placed nationally in previous FBLA competitions and has continued to participate in socially-distant FBLA service projects.
To begin, we spoke about the ways that FBLA has changed this year. These changes included virtual meetings and conferences and streamlined virtual communication with FBLA members.
Kusam commented, "Our FBLA chapter has always been fairly good at planning and executing club activities to make it fun for our members, this year is no different even with our COVID-19 restrictions." However, we also spoke about the lack of excitement surrounding certain conferences and events as a result of lost interactions.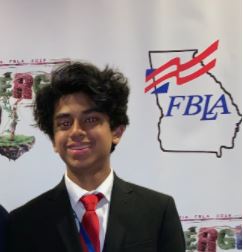 "Exciting events like the Regional Leadership Conference have lost the thrill of missing out on school to spend a day doing workshops and competing while being able to spend time with friends, but I believe that our advisors and leaders are working hard to make this enjoyable for everyone."
Furthermore, FBLA, and several other clubs at South, have held numerous different conferences and club meetings virtually.
"Our FBLA [chapter] has weekly meetings to keep new and returning members up to date, and also has guest speakers that give insight into the business world. I've seen significant efforts from FBLA in particular, and it's really nice as a member to still feel active."
Georgia FBLA has initiated several virtual conferences and activities like, FUEL, their Fall Leadership conference, and CREW, a social media challenge to replace their Fall Rally Conference.
Kusam, when commenting on his opinions on the virtual events, said, "I participated in CREW week activities and testing. I placed first in my testing event. I also attended the workshops, which were very fun and enjoyable."
Besides FBLA, Amogh has several academic goals for Junior year, and much of them intertwine with his FBLA achievements and goals.
"As a junior, my main concerns for this year are boosting my GPA and securing a good SAT score to ultimately get into a good college. I also want to have good involvement in extracurriculars in order to boost my college portfolio. Our chapter advisors and officer team have started to prepare all of the members for competitive events, in order to help us place higher and aim for nationals after RLC and RLC."
All in all, FBLA continues to embark on new types of activities, meetings, and conferences, continuously encouraging virtual and face-to-face students along the way. In order to become a member of FBLA, and gain access to newsletters, chances for projects and competitions, and exclusive meeting information and links, students simply need to pay the membership fee located on MyPaymentsPlus.